Your LinkedIn Profile isn't just a placeholder – it has a job to do! Your LinkedIn headline can help you network and help employers find you based on search terms or keywords.
By marketing you effectively, your LinkedIn Profile serves as your digital identity and an online promotional workhorse.
If you've filled in only part of your Headline or let LinkedIn populate it with your current job title and employer (which is the default value), you could be missing out on valuable traffic to your Profile. Don't let that happen!
Use as many of the 220 characters available in your Headline as you can – ensuring that it represents your career level and personal brand, while distinguishing you from your competition.
If you are currently unemployed, read The Best LinkedIn Job Title When You Are Unemployed.
What Should My LinkedIn Headline Say? The 4-Part Headline Formula
Try the following formula when you're stumped for an effective LinkedIn Headline that leverages your industry expertise, achievements, and keywords:
1 – Add your target job or position level, such as:
CEO
VP
Administrative Assistant
EVP
Developer
Call Center Rep
Account Rep
IT Project Manager
Here, you will probably want to use the shortened, commonly abbreviated version to conserve space (and ensure the right keywords).
You can also add a similar title, particularly if you are targeting jobs at a similar level (for example, Director / VP or Administrative Assistant / Executive Assistant / Office Manager, etc).
2 – Add your primary industry or job function.
Keep in mind that this should be a strong keyword that encompasses your industry (Consumer Products, Beverage, Manufacturing) or function (IT, Finance, Sales, Marketing, etc.). By doing so, you're giving employers an idea of your main career path and background.
Operations
Technology
Front Desk
CPG
Manufacturing
IT
Accounting
Customer Service
Healthcare
Order Processing
Employee Relations
Billing
3 – Pull in your strongest areas of expertise.
Add at least one, if not several, keywords that represent your areas of strength (your superpower, so to speak), such as Profit Growth, Team Engagement, Consumer Insights, or New Sales Territories.
Be sure to look at job postings in your field for ideas on desirable skills and competencies.
Look at these examples for ideas:
Go-To Market Strategy
Software Sales
M&A Due Diligence
Corporate Restructuring
Customer Relations
Channel Management
ERP Systems
Financial Reporting
4 – Add a signature achievement.
Here's where you'll want to get specific about your career success stories, focusing on the results you've generated or a major accomplishment.
You can either list a more general accomplishment that doubles as a keyword (such as Sales Results, Customer Satisfaction, or Production Increases), or you can share quantified details (35% Annual Growth, $125K First-Year Sales, or 56% of New Reseller Alliances).
To convey your brand value to employers, your "achievement" should resonate within your industry and reference results that you can spell out in greater detail in your Summary and Experience sections.
Top-Line Growth
On-Time Projects
Profit Turnarounds
Successful Company Exits
Highly Available Systems
Technology Upgrades
Organizational Efficiency
Better Customer Retention
Cost Savings
The results should look similar to these LinkedIn Headline examples:
COO, Manufacturing. Production Efficiency, Market Entry, Union Relations, Capacity Increases, & 32% Yearly Profit Growth

Project Coordinator. Planning, Billing, & Reporting. Better Performance From Organizational & Documentation Improvement

VP Software Engineering, CTO. Technology Roadmaps, Program Management. 20%+ Cost Savings, New Revenues, Staff Retention

Marketing Assistant. Expert Calendar Management, Collateral Development, & Events. Strong Lead Generation

GM. Sales, P&L, US & Offshore Greenfield Manufacturing Startups. APAC Market Share Improvements & Production Increases

Project Analyst. Financial Services & Trust Accounting. On-Time Delivery & Accuracy Through Stakeholder Collaboration
Us as many of those 220 characters as possible for your Headline. Make the message about your ROI clear and compelling.
The Bottom Line on LinkedIn Headlines
Your LinkedIn Professional Headline accompanies your name and photo almost everywhere in LinkedIn. With a Headline that makes it clear what you want and what you have done, you are marketing yourself to everyone who sees your name. Choose the Best Keywords for Your LinkedIn Profile, and your Profile will be found more often in LinkedIn searches.
More About Leveraging LinkedIn for Your Job Search and Career:
---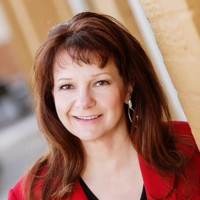 About the author…
Job-Hunt's LinkedIn for Job Search Expert Laura Smith-Proulx, Executive Director of An Expert Resume, is an award-winning executive resume writer, national columnist, author, LinkedIn and SEO enthusiast, and past recruiter. Laura is author of How to Get Hired Faster: 60+ Proven Tips and Strategies to Access the Hidden Job Market. Follow Laura on Twitter at @ResumeExpert and on LinkedIn.
More about this author…