Do you want to use LinkedIn for your job search, but worried that your employer will find out?
Worried that your boss or colleagues will react negatively to changes in your LinkedIn Profile?
You are smart to be cautious!
Employers have traditionally distrusted employees who are job hunting, often terminating those employees when the job search becomes clear.
They know that the job seeker won't be focused on the job.
They also fear that the job seeker may take important information, like client or customer names or other confidential information, with them when they leave.
Being careful when you update your LinkedIn Profile is very wise if you value your job.
[MORE: Guide to Stealth Job Search.]
Stealth Updates to Your LinkedIn Profile.
Job hunting or not, smart people keep their LinkedIn Profiles "alive."
They update and revise their Profiles, adding new information constantly.
They are also consistently active and visible on LinkedIn, through Groups, writing posts, and sharing or commenting on others' updates.
If you're concerned about updating LinkedIn for fear of revealing your intentions, try using these strategies for leveraging the site for an effective job search – without giving yourself away:
  1. Update your Profile slowly.
If you've followed advice on building an effective LinkedIn strategy, then you know that a well-written and keyword-optimized Profile will reap the best benefits during your job search.
However, just because you've created the information, you don't have to update it all at once!
Consider adding a paragraph on a regular basis to your LinkedIn Profile, filling in the details of each job or adding information to the Projects section. You could also populate the Skills & Expertise section with one competency at a time.
This slow-update strategy can help make your updates less obvious to others (who would need to monitor your Profile constantly to figure out your intentions).
[MORE: 3 Reasons Your LinkedIn Profile Is Failing You.]
  2. Update your Profile from the bottom up.
A great keyword strategy includes using common terms and skills for your field and expertise, with plenty of repetition on important phrases.
Because LinkedIn search algorithms rely on these keywords to "rank" your Profile, you can add them in nearly every section. This means the terms you select will help boost your findability, no matter where you've placed them (although they count more in heavily indexed fields, such as your Job Titles and Professional Headline).
Start getting found for your important skills by updating your Profile from the oldest job first, then slowly working your way to your current role. Since most users check your Profile from the top down, similar to how they'll read your resume, you can start benefiting from the increased keyword content without giving yourself away.
[MORE: The 25 Best Keywords for Your Job Search and Choosing the Best Keywords for Your LinkedIn Profile.]
  3. Update your Profile by touting your employer's achievements.
Many people use LinkedIn to promote their employer's products or reputation, since prospective customers can comb the site to find out more about the company offerings.
Here's where updating your Profile can make you look good to your boss: by including details on new services or the company's competitive edge, you can surreptitiously add keyword terms or skills that make you look good at the same time.
For example, an operations executive might mention "new production and process improvements that place XYZ Company among the fastest industry-wide for delivery," or an IT project leader can specify "initiatives that incorporate cloud-based strategies and allow us to offer increased data security to customers."
[MORE: Employer Benefits of Employee LinkedIn Activity.]
The Bottom Line
Injecting more content into LinkedIn – and benefiting from it – without exposing your job search to others is doable. Start with deliberate, well-planned updates to your Profile for a better reception from employers. And, when you land that new job, stay active on LinkedIn. Don't drop it until time for your next job search.
More About LinkedIn for Stealth Job Search:
More About LinkedIn for Effective Job Search:
---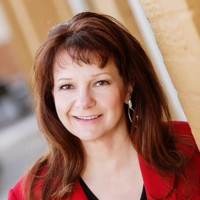 About the author…
Job-Hunt's LinkedIn for Job Search Expert Laura Smith-Proulx, Executive Director of An Expert Resume, is an award-winning executive resume writer, national columnist, author, LinkedIn and SEO enthusiast, and past recruiter. Laura is author of How to Get Hired Faster: 60+ Proven Tips and Strategies to Access the Hidden Job Market. Follow Laura on Twitter at @ResumeExpert and on LinkedIn.
More about this author…