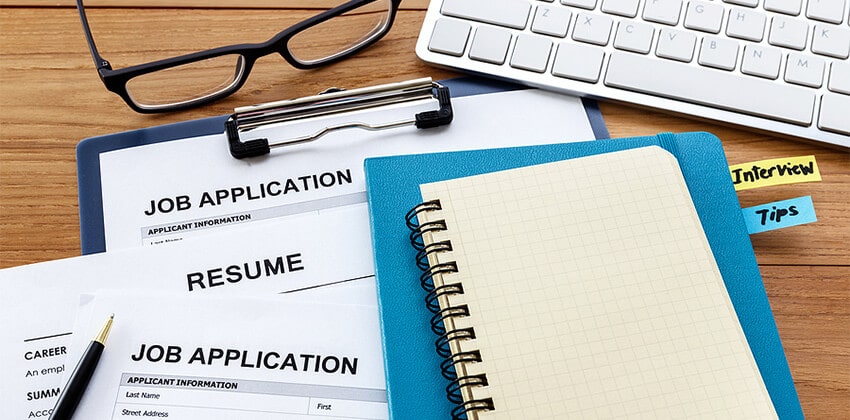 Have you spent hours tweaking your resume and cover letter to get the wording just right? You might assume that you've finished creating paperwork for your job search. Acknowledging that you'll be tailoring your resume, what else is there beyond that?
If this is your first job search or it's been a while, you might not realize that most employers will require you to fill out a job application. Perhaps you've never seen one or think they're a thing of the past. Realistically though, they're still the standard throughout any job search, and you can expect to fill out a job application for almost any role you apply for.
What Is a Job Application?
Does an application seem redundant to you? Sure, you have the most applicable information on your resume, but if an employer requests that you also fill out an application, don't try and skip it by emailing a resume to the recruiter. Why is that? Standardized job applications ensure that employers have all of the information they're seeking from the applicants, along with the information they require for personnel files.
They'll quickly filter multiple submissions for specific criteria, as all the information will be presented in a standard format. Resumes can come in various forms, from a traditional chronological format to a more modern hybrid version. A standardized job application ensures recruiters aren't spending time combing through different styles seeking the needed details.
Organizing Your Job Applications
The best way to ensure a stress-free job search is to create an organized plan before beginning. Consider making a folder on your computer for online job applications and a physical one for printed and in-person applications.
Inside your folder, gather all of your job search information, such as verified dates of employment, addresses of previous employers, and contact information for your references. That way, you'll be able to quickly access the information, efficiently filling out forms without having to rely on your memory.
Types of Job Applications
There are four different versions of an application that you might come across throughout your job search.
Online: The vast majority of your applications are likely to be online. When you're applying from home, store your information in a Word doc so you can easily copy the information, which will expedite the application process.
In-Person: Occasionally, you'll be submitting an electronic application but in person. Larger companies, such as restaurants and hotels, request that you fill out an application via a kiosk or tablet. Sometimes in conjunction with job fairs, this helps the HR team to analyze job seekers for qualifications quickly.
Email: Some companies will post a form online that you can either download, fill out in writing, and scan back in, or a PDF that you fill out electronically and attach to an email.
Paper: Whether in person or printed from an online site, paper applications don't have an option for submission. You'll be printing them off and handing them to a company representative.
Information Needed to Complete Your Job Application
Ensure you're not having to pause while filling out your application part-way through the form. Consider all of the details you're most likely to need to complete each section. There is no standard application form, and some may require less information than others.
Some specific information often requested is:
Name and Contact Information
Ensure that you're double-checking your contact information, and if it's in print, ensure it's legible. Your name and contact information might be the most essential pieces of information on your application, as the recruiter can't advance you to the next position if they can't reach you.
Pro tip: Create a professional email address specifically for your job search. That ensures that you're presenting a polished first impression and prevents valuable emails from getting lost in your crowded inbox.
Company-Specific Information
Most companies will ask you questions regarding your legal right to work, the hours you're available, whether you're seeking part-time or full-time employment, and whether or not any relatives currently work for the company.
Pro tip: Many applications include questions about your expected salary. Rather than eliminate yourself from consideration, fill in "Open" and be prepared to negotiate salary further along in the process.
Position-Specific Information
Some companies will have specific information pertaining to the role. For example, restaurants might ask about any functional food or alcohol permits. And jobs that require you to operate motor vehicles will generally ask for verification of your driver's license and any history of moving violations.
Pro tip: When possible, read the job description beforehand to ensure that you have obtained the dates of any tickets and violations you've received, if applicable. Often, the length of time will impact your employability.
History of Education
Most applications will ask you to list your high school and college attendance. This is a great place to list any professional certifications as well.
Pro tip: If you haven't completed your degree yet, don't leave it off. Instead, list it as "Anticipated Completion [month and year]."
Employment History
Here, you'll list your previous company along with the supervisor's name. You'll also be listing dates of employment, the reason for leaving, and granting permission to contact if it's a current employer.
Pro tip: Ensure that the contact information you're providing is for the HR department of your previous company whenever possible. Your previous supervisor may have moved or been promoted. If you are using your previous supervisor as a reference, list their professional contact information in your references section.
Skills
In this section, companies seek to gain insight beyond simple dates and titles. You'll list skills that apply to the role based on your education, applicable awards, and any licensing that you've received.
Pro tip: Review the job description before beginning the application and analyze how your skill set and experience make you the best candidate. Rather than list generic skills, tailor your responses to the position to get your job application noticed.
References
Most companies will ask for anywhere from two to four references they can contact to get better insight into how you present yourself professionally. Ensure that you've reached your connections before listing them to verify that their information hasn't changed and that they'll be responsive to any inquiries.
Pro tip: If you don't have any previous work contacts available to utilize, consider any teachers or professors you've had that spoke highly of your performance. Also, use any volunteer work or unofficial work experiences you've completed if you lack official work histories, such as yard work or babysitting.
The Legality of an Application
The final section of your application is where you certify that you're providing truthful information. It's never a good idea to lie or stretch the truth on an application. You can be terminated down the road if it ever becomes known that you were dishonest.
A final tip for application best practices is to ensure that every line of your job application is filled out. If something doesn't apply to you, insert "N/A" rather than leave it blank. Doing so ensures you don't give the impression that you missed something because you weren't detail-oriented.