You may have noticed significant changes to your LinkedIn Profile…
Now, the introductory section is called About (similar to a website page that describes the person or organization behind the site).
If you are not filling in this section with good content, you're missing a golden opportunity to educate employers, colleagues, recruiters, team members, bosses, Boards of Directors, and the professional world about your competencies, value proposition, leadership, and approach to your work.
Increase the Power of Your LinkedIn About
These 3 tips can help you think of the About section as a personal brand advertisement – and spark new ideas about populating it to your advantage:
1 – Define your brand and leadership approach for other LinkedIn users in the About section.
Sure, you can plop a boring executive resume summary into your About section, but why not educate readers on what makes you tick as a leader or corporate strategist?
Consider using the About summary to explain your passion for your work or what drew you to your field in the first place. By describing your affinity for numbers as a Controller or your interest in engineering as a VP of Infrastructure, your message will be memorable and paint your expertise in a different light.
This About section example leverages the power of storytelling to reinforce a compelling personal brand:
Transformation and turnarounds are my forte as a VP of IT Operations. By investigating obstacles to business growth, I'm able to identify new automation and global IT operations efficiencies, allowing my teams to deliver faster value to the business.
How I work: Not only do I rely on analytics to tell a compelling story and influence action, I also build confidence among investors and stakeholders for my findings. Data is our greatest asset, and it's my job as a digital and data officer to show how we can leverage it.
2 – Tailor your About section to fit LinkedIn's visibility constraints.
When you look at another user's Profile, the first 3 lines of text will appear, showing only the first 45-50 words (approximately 315 characters including spaces), until you click "See more." These first few sentences are critical!
Most LinkedIn users won't click to see additional text unless these first characters pique their interest, so form an introduction that quickly presents your skills, professional stature, and career drivers.
For example, you can inject your desired job titles, blended with your industry expertise, to form a quick snapshot in your About section, as shown in this introductory text for a COO:
Operating Officer, Global Manufacturing: Turning Around Challenged Manufacturing Sites.
At Ford, Crestone Manufacturing, Dow Chemical, and Boeing, I've shaped changes that produced our first growth in years despite stagnant results and a 15% increase in market competition.
I'm brought in when problems are seemingly insurmountable, identifying what's needed to win…
By using a blend of professional and personal information, combined with your track record of results as an executive, you can design an About section that resonates with recruiters, colleagues, investors, Boards, and new team members.
3 – Use your About text to strengthen keyword density for LinkedIn's algorithm.
Your former Summary section is one of the best places to reiterate keywords aligned with your target executive positions, helping ensure you can attract more traffic for your strongest skills.
Spend time not only looking at job postings matching your career aspirations, but also reviewing the Profiles of people you admire (or who hold the position you aspire to). Let this information inspire you, particularly in terms of the hard skills and executive abilities they mention.
Take each keyword you see in a job description or competing Profile and consider whether it merits mention in your About section. If so, spend time describing how you've used this skill. For example, some COO job descriptions mention strategic planning, stakeholder relationships, manufacturing, greenfield operations, and consensus building. Weaving these into your About section could look like this:
I achieve objectives through long-range strategic planning, working closely with executive teams on growth initiatives including greenfield operations and new manufacturing opportunities.
Building consensus for these actions requires carefully cultivating new stakeholder relationships… a crucial step I've taken in tuning our flagship operation for 26% additional growth.
You can also create a mini-section in your About text called Specialties, listing individual keywords for further traffic from LinkedIn's search algorithm.
The Bottom Line
Think of your new About section as the pathway to gaining more traction on LinkedIn, with a fresh and vibrant story that outlines your unique contributions and executive value. Leverage this opportunity.
More About Succeeding on LinkedIn
---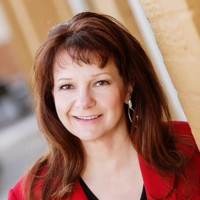 About the author…
Job-Hunt's LinkedIn for Job Search Expert Laura Smith-Proulx, Executive Director of An Expert Resume, is an award-winning executive resume writer, national columnist, author, LinkedIn and SEO enthusiast, and past recruiter. Laura is author of How to Get Hired Faster: 60+ Proven Tips and Strategies to Access the Hidden Job Market. Follow Laura on Twitter at @ResumeExpert and on LinkedIn.
More about this author…