LinkedIn has become unavoidable for most professionals.
Organizations and careers are marketed and supported via social media with LinkedIn typically being the most respected and credible.
Recruiters, and many others, tend to be skeptical of people lacking the "proof" potentially provided by a LinkedIn Profile, demonstrating that they understand how the world works today.
And, most of us do a quick Google search on the name of someone we have met or are considering working with. LinkedIn tends to have excellent credibility with Google so it is at or near the top of search results on most names.
How to Get Started on LinkedIn During an Executive Job Search
Ready to launch an executive job hunt – but feeling daunted by all there is to learn about LinkedIn? If you've long neglected LinkedIn during a busy executive career, you're hardly alone.
Plenty of leaders are reluctant to publish career information online due to confidentiality reasons or because they're unsure what data to publish. However, now that LinkedIn has exceeded 610 million members and a record number of recruiters are using it to find talent, most executives are ramping up their LinkedIn efforts.
No matter the reason, it's never too late to update your Profile and start gaining attention on LinkedIn, even if you're only thinking about leaving your present position.
Follow these steps to launch and promote a digital identity that can help you put your best foot forward.
LinkedIn's Focus
Understand that LinkedIn is essentially a database that rewards strong content and user engagement.
By grasping the basics of LinkedIn, you'll be in a far better position to add the right content and play the algorithm to your advantage. In doing so, you'll become more visible to employers and recruiters, 90%+ of which (according to most studies) use the site to find and qualify talent.
  Finding and Leveraging the Right Keywords for You  
Much like your resume, LinkedIn relies on keywords as an indicator of your strengths, so you'll get the most traction from researching and then using the right keyword content in every part of your Profile. It's important to note that keywords or skills are useful in attracting attention on LinkedIn, but they don't necessarily give away confidential information – so there's very little downside to this activity.
Finding keywords is a matter of reviewing and collecting common terms from job descriptions of your target role.
For example:
A Chief Medical Officer could identify Patient Care Quality and Physician Relations as appropriate keywords.
A Revenue Office role could identiify Market Share and Strategic Partnerships as appropriate keywords.
Once your keywords are identified, add them in different fields on LinkedIn, especially your Headline and Summary.
  Appropriate LinkedIn Activity and Visibility  
LinkedIn also "ranks" users based on how active they are on the site, and then shows your Profile more often when someone searches on your keywords.
So, take the time to accept connection requests from others, share articles of professional interest, and Like or Comment on content others have shared. This activity serves a purpose: you will become more visible and searchable for your professional and leadership capabilities.
Your LinkedIn Profile's Foundation
  Build the basics: your personal information, Experience, and Education  
You can use LinkedIn's built-in navigation tools to create your presence on LinkedIn, following the prompts that take you from signing up and providing an email address, to filling in job entries and providing details on your Education.
Let the system guide you to add sufficient information to get your Profile started, or to fill in additional detail (LinkedIn sometimes prompts users to add more data in other sections).
As long as it's keyword-focused and relevant to your field, you will benefit from populating these areas more fully.
Spend some time tuning your Contact information (located under Settings) to verify that others can reach you through the site. Also, add at least a sentence or two under each Job to describe the scope of your work, impact on the company, and achievements.
  Expand on your goals and career wins in the Headline and About/Summary  
Resist the urge to incorporate generalities in either of these sections, as they're displayed prominently on LinkedIn as a core part of your brand.
Your Headline is also considered a highly indexed field, meaning that any word you add to it will be counted as if it appeared dozens of times in other sections.
To write an effective Headline, use a combination of your current career level and achievements, plus the role you are pursuing (as shown in these examples):
VP of Operations | COO. Increasing Capacity & Bottom-Line Results From M&A Strategy, Integration, & Process Improvements
Division CFO. Cash Flow, Automation, IT, & P&L Strategy at Multinational Supplier. Fiscal Strategist & Growth Leader
Keep your LinkedIn About (formerly the "Summary") focused on your brand proposition and keywords as well. While you might be tempted to incorporate a bland resume summary on LinkedIn, strive for personal engagement.
Write your About section in first-person form where possible, starting with opening lines such as these:
As a sales leader and Chief Revenue Officer, I've always enjoyed the thrill of the deal – leading consultative contract negotiations to ensure mutual benefit among our B2B customers. My work includes direction for teams across the US and Canada who are involved in channel development, partner enablement, and business development.
Note the heavy emphasis on keyword content in this About, along with first-person statements and mention of this leader's multinational experience, B2B market focus, and team leadership.
  Add Skills & Expertise, then seek Endorsements  
This section is similar to the Core Competencies shown on many resumes. Here, you'll want to add as many keyword entries as possible that are specific to your industry and career level.
For example, Infrastructure Strategy, Big Data, or AI would be relevant to a technology officer or IT leader. Sales executives could add Consultative Selling or Channel Sales, while an operations executive might use Cost Savings or Process Improvement.
Next, generate Endorsements: first ask colleagues to endorse you for these skills, then you'll start to accumulate them as others learn about your expertise through regular activity.
The value of populating this section, plus earning Endorsements? LinkedIn will present your Profile to other users more frequently, depending on the volume of competencies and the actions of others.
Maintain LinkedIn Visibility
Remember to stay reasonably current on LinkedIn in order to reap benefits.
Look around at other leaders in your field, especially those who seem active on the site. Perhaps they are commenting on industry news or describing their latest projects. Take a cue from these activities and start by issuing a Like on articles of professional interest to you.
The more activity you generate, the more you will become known outside of your immediate circle for your areas of specialty.
Take care to keep your activities strictly professional on LinkedIn; refrain from involvement in polarizing topics such as politics or other debatable subjects. By keeping your personal and professional brand message consistent, you'll be able to present the same image online as you would in an executive interview.
The Bottom Line:
In summary, LinkedIn remains the place to heighten your visibility, even if you're not yet ready for a job search. By taking steady steps to create a strong online identity, you will be in the best shape when targeting your next position.
More About Succeeding on LinkedIn
---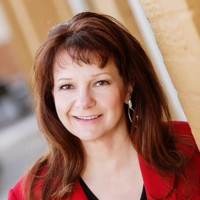 About the author…
Job-Hunt's LinkedIn for Job Search Expert Laura Smith-Proulx, Executive Director of An Expert Resume, is an award-winning executive resume writer, national columnist, author, LinkedIn and SEO enthusiast, and past recruiter. Laura is author of How to Get Hired Faster: 60+ Proven Tips and Strategies to Access the Hidden Job Market. Follow Laura on Twitter at @ResumeExpert and on LinkedIn.
More about this author…