As an executive using LinkedIn, you might find it challenging to be seen and heard above the other 705 million-plus LinkedIn users.
You might also be unaware, however, of the ways you are actually blocking or preventing others from seeing your Profile.
These include valuable changes to commonly misunderstood settings and new content that can greatly boost your rankings in employer searches.
6 Ways You Are Making Your Profile Hard to Find on LinkedIn
Here are 6 ways you could be making your LinkedIn Profile difficult to find on LinkedIn, along with corrections for greater visibility:
  1 – Hiding your full name from other users.  
LinkedIn affords you the opportunity to lock down and hide information in your Privacy settings, including your full name.
However, being seen as Joe T. in a list of other users looks like you are not willing to be found or contacted.
If you are concerned about privacy and safety, consider this: when your full name is searched on LinkedIn, the site displays your Profile, even if you have abbreviated your last name.
The result: Joe T.'s complete Profile will be shown in a search for Joe Thompson. If someone wants to find you on LinkedIn, there is little to stop them.
Reality: Abbreviating your last name will only prevent recruiters from viewing your full name when you pop up in a search. So instead of remaining mysterious as Ann C. or Justin N., put your full name on display.
Change it by going to Settings & Privacy.

  2 – Neglecting to post content or comment on other posts.  
When employers search for executive (and other) candidates with a specific skill, LinkedIn shows them a list of Profiles arranged in order by the site's proprietary algorithm. While this set of criteria is a closely-guarded secret, it is well known that user engagement (meaning posting or commenting) helps your Profile be shown more often to others.
Because LinkedIn's AI-backed algorithm measures how often you maintain direct activity with others, playing by the rules is important – especially if you're involved in a job search!
When you increase your engagement, others will also see your activity in their News Feed or Notifications, which serves as a prompt to get them to interact with you – which will also increase your engagement value in the eyes of LinkedIn.
Try it! Start commenting on others' posts, particularly those of interest in your field. You can also share or create your own posts on leadership or industry topics – and even "tag" other LinkedIn users to respond with comments of their own.
  3 – Keeping your LinkedIn photo hidden.  
If other users see your executive Profile with the standard gray avatar and no personal shot, they might wonder if you're deliberately avoiding displaying your headshot, or if you have neglected to add one.
Studies have often shown that LinkedIn users and employers do not contact users with missing photos – with the reasoning that they feel these executive applicants might not be authentic.
If you're reluctant to show your photo because you do not have a professional headshot, relax. Many users take a variety of shots in executive-worthy attire (even using a phone), then selecting the most appropriate photo for their personal brand.
To ensure your photo is visible, place your mouse under your avatar, and click on Me, then choose View Profile.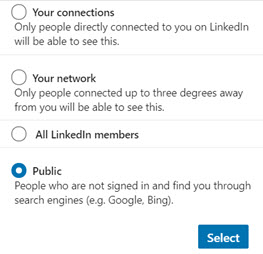 Click directly on your Profile Photo image, and you will see an eye icon labeled Visibility. Select it to see your options.
At a minimum, "All LinkedIn Members" or "Public" are the best options for a job seeker on LinkedIn.
The Public option is usually best choice because that option allows your profile to be visible in Google and other search engine search results.
If you decide to make your photo public, do not be surprised if this leads to more outreach from employers!
  4 – Using the Default Headline.  
Too many LinkedIn users let the site choose their Headline – and if you are adding a current position while leaving the "Update My Headline box" checked in your newest Experience entry, you are one of them.
This option can cause problems. If you're pursuing an EVP of Operations position, but your current job title is VP of Widget Production, your most important qualifier (Operations) is not being used in the site's top field for keyword ranking.
As a result, you could be losing out on opportunities to appear ahead of your competitors.
Your current job title is also likely to waste the Headline's available 220 characters, since most job titles are significantly shorter than this limit.
If you are unsure how to create a strong Headline for an executive role, try the simple exercise illustrated in A Fast Formula for Your LinkedIn Headline.
At a minimum, incorporate your desired job title and the areas of expertise you would like to advertise on your Profile such as "IT Director | Cloud-Based Service Delivery, Software Engineering, & AI in Agile Settings. Healthcare, Pharma, & Biotech."
You will very likely find an increased flow of traffic to your Profile after making these changes.
  5 – Failing to make your public profile visible.  
A public profile (which is the URL to your LinkedIn Profile) makes you findable OUTSIDE of LinkedIn from search engines – that is, IF you deliberately make it visible! By doing so, you have just made it easier to be located by users signed out of LinkedIn.
You may be surprised to know many recruiters conduct executive candidate searches from outside LinkedIn on purpose, so they can find a richer pool of leadership talent.
A visible LinkedIn URL will also come up in an online search for your name, allowing employers to dig up information about you prior to the executive hiring process.
To build your public profile and ensure its visibility, use LinkedIn's Privacy Settings to select "Edit your public profile." Here, you will see what others can view when looking at your Profile from outside of LinkedIn, along with the sections you can opt to show or hide.
You will also see a setting called Your profile's public visibility. When you set this to On, the URL of your public profile will be shown in search engines.
  6 – Ignoring the powerful impact of keywords.  
Keyword strategy is one of the main ways to be located on LinkedIn because employers might not know YOU, but they know the type of leadership acumen they need. They use job titles or skills to locate the best candidates in searches – and if your Profile lacks those executive titles or competencies, they will not find it.
If you're a software engineering executive, for example, adding DevOps, ML, or Agile can help attract employers interested in these skills. For a CFO or VP of Finance, Audit or Compliance could spark interest among employers. A healthcare executive might find Patient Care or Quality Standards in job descriptions, and a Chief Marketing Officer could list Ecommerce, Digital Strategy, or Branding as common terms.
The easiest way to identify the best keywords is to look at a group of ideal executive job postings and paste them into a word cloud generator (such as TagCrowd.com) to find the most commonly mentioned terms.
Add your keywords in your LinkedIn Headline, About, Job Title, and Skills sections for the best results, either by including them in accomplishments or building a simple skills list in the About section. You will probably notice an uptick in interest for your Profile as a result.
For more about choosing your best keywords, read Guide to Personal SEO for Job Search and Career Success.
The Bottom Line
Alter your LinkedIn Profile and engagement patterns for better results in an executive job search. Take a few minutes to check Settings and keyword content – which can pay off in stronger results.
More About Succeeding on LinkedIn
---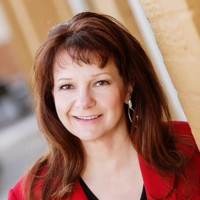 About the author…
Job-Hunt's LinkedIn for Job Search Expert Laura Smith-Proulx, Executive Director of An Expert Resume, is an award-winning executive resume writer, national columnist, author, LinkedIn and SEO enthusiast, and past recruiter. Laura is author of How to Get Hired Faster: 60+ Proven Tips and Strategies to Access the Hidden Job Market. Follow Laura on Twitter at @ResumeExpert and on LinkedIn.
More about this author…