You might be all "settled in" using LinkedIn – updating your Profile, gaining new Connections, researching companies, applying to jobs, and even issuing some Status Updates and publishing articles.
But did you think of using it to research your competition?
You can bet that a good percentage of LinkedIn users are there for the same purpose as you – finding their next choice job, or trying to catch the attention of recruiters.
Therefore, they're also polishing their Profiles, linking to industry leaders in your field, and even applying to the same jobs. If you're continually being edged out for great jobs, you may as well learn something from others in line for the same positions.
Here are some ways to evaluate (and effectively utilize) the competition in your field, all by using LinkedIn as a marketing, keyword analysis, and career assessment tool:
Search for yourself – not by name, but by keyword.
Type the keywords appropriate for you into the search box at the top of most LinkedIn pages. Use keywords such as your industry (Mobile Devices," "Manufacturing," "Retail") or your target job title.
On the search results page, click on "People" at the top and "More filters" which will enable to you specify your Job Title ("IT Director" or "VP Sales"), location, and other "filters." These include Industries, Past companies, and other options. Click on the "Apply" button at the top of the page, and LinkedIn will perform the search.
The results you see are very much in alignment with how recruiters find candidates in your field. You're now viewing the direct competitors for jobs in your niche!
Make a note of the first 10, 20, or even 30 names that pop up.
Assess how you stack up.
Next, click on each Profile to review the details. Are you finding commonalities among your competitors that could push you out of the running? For example, do most of them have an MBA, while you didn't finish a Bachelor's degree?
Conversely, what trends do you see with regard to their years of experience? Have you been promoted more often (and at a higher level)?
These results can give you a good indication of how to position yourself with employers. Are you aiming too high (and perhaps need to consider a Manager role in addition to the Director job you're seeking)?
In addition, you might find that you possess expertise or skills that uniquely qualify you among these professionals. If so, it makes sense to convey this edge, with a description of your credentials in the Summary portion of your Profile.
Analyze any missing keywords in your own Profile.
Take note of the keywords that are highlighted in each Profile (using the helpful feature of LinkedIn that shows you why each Profile came up in your search).
The point of this exercise is to find the crucial keywords that may be missing in your Profile, keeping in mind that many of them will be in places you didn't consider populating. (This is particularly important if your Profile is barely findable among that of other talented candidates.)
Job titles,Summary, Experience, Volunteer Experience, Accomplishments, Skills, Education, and even Articles & Activity sections can be used to add more keywords. You'll want to keep in mind, of course, that this exercise can be repeated occasionally to verify your Profile's internal "search engine ranking" on LinkedIn for your top skills.
[For more details, read Guide to Being Found by Recruiters on LinkedIn (LinkedIn SEO), 12 Steps to Outrank Your Competitors in LinkedIn Search in 2020 (Personal LinkedIn SEO), and The 25 Best Keywords for You in Your Job Search.]
The Bottom Line
The job market is more competitive than ever, with new candidates constantly entering the race to win top positions. Since LinkedIn allows job hunters to openly display their credentials, you'll benefit from using this information to review your direct competitors, accurately target your search, and polish your Profile for better results.
---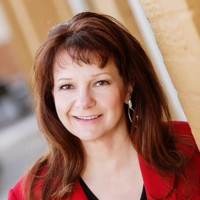 About the author…
Job-Hunt's LinkedIn for Job Search Expert Laura Smith-Proulx, Executive Director of An Expert Resume, is an award-winning executive resume writer, national columnist, author, LinkedIn and SEO enthusiast, and past recruiter. Laura is author of How to Get Hired Faster: 60+ Proven Tips and Strategies to Access the Hidden Job Market. Follow Laura on Twitter at @ResumeExpert and on LinkedIn.
More about this author…