There has never been a time like this in the history of job search, where nearly every candidate has publicly qualified themselves, with promotions, degrees, and job titles all laid out online for the world to see on LinkedIn.
If you're using LinkedIn only to provide some history on your qualifications and to seek out job listings, you are missing a great opportunity to assess (and leverage) your competitive edge.
By tapping this wealth of information, you can assess your marketability, improve your ranking in LinkedIn search, and find out about new trends in your field.
Without copying anything, notice what information is presented effectively as well as where and how it is presented. Also, notice the quantity and quality of their LinkedIn Updates and other LinkedIn activities.
5 Steps to Leveraging the LinkedIn Profiles of Your Job-Hunting Competitors
Here are key steps to finding and capitalizing on the LinkedIn Profiles of your job-hunting competition:
  1. Use the People Search function to find competitors.  
Click in the "Search" box at the top of the LinkedIn pages, and select "People" from the drop-down list.
The LinkedIn search "Filters" offer many different search options, like Connections, Location, Schools, and more. You can also type keywords into the search bar, pictured above.
Click on "All Filters to see all of your search options. On the "All People Filters" page, scroll down to see all of the search options that LinkedIn makes available.
Search for competing candidates in many ways, like their alma mater, their current or former employer, industry, or job title. You can find them based on whether they work for a Fortune-ranked company, and add a string of terms related to your target job in the search bar.
For example, to find people who are in either a senior vice president of sales or an IT infrastructure director, type this query in the search bar. Be sure to include the quotation marks and the capitalization shown in this example —
"senior marketing manager" OR "vp marketing"
For best results, add the Zip Code of the area you're targeting in the Locations field, as this will show you how employers will look for local candidates. Select all the other options LinkedIn makes available, like the different levels of Connections, to include all contacts, no matter their relationship to you.
  2. Analyze the Profiles in your search results.  
After looking over the list of candidates from your search, delve into some of the top Profiles to see how they are constructed in comparison to yours.
What trends do you notice in your industry when looking at these Profiles?
Are other Profiles more fully written, with a more complete Summary and Experience history than your Profile?
Do the other candidates go back farther in their professional history?
Have other candidates included specifics of related projects?
Is the Skills & Endorsements section fully used with nearly 50 entries and Endorsements?
Like you, recruiters will be quickly scanning these Profiles to look for key skills and descriptions of achievements. If your Profile seems to fall short in detail, you'll benefit from a fast makeover and additional detail on your success stories.
  3. Rank your marketability against other candidates.  
One thing you'll quickly realize when sizing up your competition is where you rank – in terms of skills, education, career trajectory, and years of experience.
This is particularly important intelligence to use in your job search if you believe you're striking out with employers.
Perhaps you're not quite at the rank of VP yet, and a quick look at the competition tells you that you'll need a few more years in the industry. You might also realize that you're aiming too low, and that you're overqualified for the roles you've pursued.
  4. Improve your keyword strategy.  
If you can find these Profiles, so can employers! Now's the time to figure out why they're popping up in your search results – and if their Profiles contain keyword content valuable to you.
Professional Headlines:Look first at the Headline used by your competitors. This is the strongest field in terms of search optimization (next to the Name) on LinkedIn. How does your Headline rate in comparison?

If you're not using hot terms in your field ("VP Operations | 25% to 48% Production Quality Improvement From Lean Six Sigma & 5S | Outsourced Manufacturing Efficiency"), your Profile might not register in the top results from a recruiter's search.

Job Titles:Job Titles are also heavily weighted within LinkedIn's indexing scheme.

While you should not change your title on LinkedIn, you can add specific skills to this field (Project Manager – Global Program Management) to aid in better keyword strategy.

About/Summary and Experience:Pull some of the better About (formerly Summary) and Experience sections into a Wordle.net (or TagCrowd.com) application. Then, do the same with your own LinkedIn sections, and make note of areas in which your Profile may be lacking or using different terminology.
Skills & Endorsements:Look closely at the Skills & Endorsements sections of the Profiles in your search. Adding more terms in this section and gathering dozens of Endorsements (thought to rank in the indexing strategy) will help increase your findability.
Again, take the time to compare your own Profile keywords, even with a brief glance to gauge how effectively you have used this section.
[More: Read Choosing the Best Keywords for Your LinkedIn Profile and Leverage LinkedIn Skills & Endorsements for a More Powerful Profile.]
  5. Find a (more) ideal job target.  
Your search may turn up some intriguing clues to your ideal career path, especially if you see that other professionals in your target position have a job description that fits your strengths.
You might also find that the past work experience or degrees of your competitors will spark some ideas for pursuing slightly different positions.
Candidates with a Psychology degree, for example, are often sought for sales and marketing roles, while IT leadership positions are sometimes gained through years of industry or domain experience.
Make note of job titles and descriptions that interest you as possibilities for your own search.
If these professionals are already working in your dream job, then your dream job does exist, and there are employers looking to hire someone like you for it.
The Bottom Line
Analyzing the LinkedIn Profiles of your job-hunting competition can provide you with a few surprises – as well as clues to the effectiveness of your own Profile. Don't just read these Profiles; put what you find into an actionable plan for your own job search, whether it's adjusting your expectations or realizing how many other roles you can pursue.
More About Being Successful on LinkedIn:
---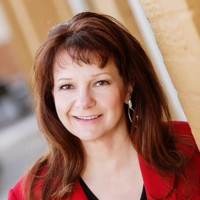 About the author…
Job-Hunt's LinkedIn for Job Search Expert Laura Smith-Proulx, Executive Director of An Expert Resume, is an award-winning executive resume writer, national columnist, author, LinkedIn and SEO enthusiast, and past recruiter. Laura is author of How to Get Hired Faster: 60+ Proven Tips and Strategies to Access the Hidden Job Market. Follow Laura on Twitter at @ResumeExpert and on LinkedIn.
More about this author…