Practically every employer has a Company page on LinkedIn.
Company pages have a couple of key sections that you can use to get the attention of these employers, get more interviews, and get more job offers.
The best part is: Most of your competitors are not taking advantage of LinkedIn Company pages and are not paying much attention to this resource.
Leveraging Company pages is an opportunity to do things differently in your job hunt and set yourself apart.
In this article, I'm going to walk you through a few simple yet effective ways to use an employer's LinkedIn Company page to your advantage to get hired.
How to Find LinkedIn Company Pages
The easiest way to access a Company page on LinkedIn is to type the company name into the search bar. Then, look for the search result that says "Company" next to it. For example, results in a search for Apple:
In the search for apple, the Company page is the third search result, labelled "Company."
6 Very Smart Ways to Leverage LinkedIn Company Pages
Now that we've looked at how to reach any employer's LinkedIn Company page, let's talk about the top ways you can use this to your advantage as a job seeker…
1. Check for mutual connections before applying for a position.
One step I always recommend taking is to see if you have any mutual connections at a company before applying. Being referred or recommended by someone the company knows or trusts (whether by a current employee or a former employee) makes the best impression and provides an advantage over other job candidates.
You can see mutual connections at a company near the top of the page, as seen in this screenshot:

If you see that you have one or more connections at a company, consider sending them a message before applying online. If you can get them to refer you, then you are a lot more likely to get interviewed.
You could write to them and say:
Hi (name),
I was viewing (company name)'s LinkedIn page, and saw that you work there now. Have you enjoyed it since moving over 2 years ago? I was thinking of applying to the Senior Customer Support Representative position and read some positive company reviews online, but I always like to ask someone first-hand about a company!
That's a nice way to start a conversation. Then, if they get back to you, you can be more direct, and ask them if they know the hiring manager for the position and/or if they would be willing to refer you.
If you are very close friends with an employee, then you can ask for the referral right away, and skip the message above. But, if the person is not a close friend, start off slow and build rapport by asking a simple question, like whether they've enjoyed the company since joining, is the best way to start.
2. View their current employees.
Even if you don't spot a mutual connection,checking a company's current employees to see if you spot any trends is still worthwhile.
For example, I studied Finance and I worked in Business Development in the past, so when I view Apple's LinkedIn page, LinkedIn shows me this information: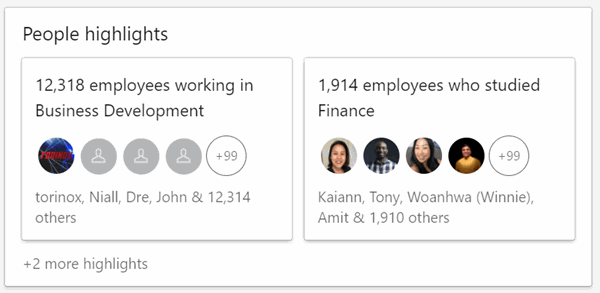 That could provide a unique angle when writing my cover letter.
For example, I could say,
I noticed on LinkedIn that a few of your current employees in the ___ group followed the same career path that I have taken; first studying finance and then moving into Business Development…"
You are showing them that you have thoroughly researched the company, and then you are pointing out some similarities between yourself and their current employees!
3. Follow the employer's Company page.
When viewing a company's LinkedIn page, following them is a good idea, too.
Following an employer's Company page can help you get noticed, and also help them become familiar with your name.
Even if they do not reach out to you immediately, you will still build a bit of familiarity with at least one person on the team (whoever manages the LinkedIn account). In addition, you will now see the news and updates that they share in the future, which will give you another opportunity to leave comments and get your name seen again!
If 100 people applied for a job, but you are the only one who has been commenting on their recent posts and engaging with their brand online, this could be the difference-maker!
4. Check out recent company news.
This is a step that you can do briefly while applying, but this is also a must-do before your interview!
If a company invites you to interview, go to their LinkedIn page, and read recent articles and updates.
Find something interesting that they have shared, such as a press release, blog post, or other news-worthy update, and think of a question you can ask about it. In the interview, ask them,
I read your recent LinkedIn update about ___. I had a question about ___.
That is going to excite any interviewer.
5. Read their "About" section.
This is another good step to take before your job interview.
You should never go into a job interview without knowing some basic details about the company, like what industry they are in, what they do or sell, and who their typical customer is.
Reading the LinkedIn "About" section will provide you with much of this information very quickly.
6. View similar companies.
As a final step, if you look on the right-hand side of your computer screen, each LinkedIn Company page will show you a couple of similar companies in the "People also viewed" section.
This list will give you ideas of other related employers you can apply to!
Now, in the example here, you will see very well-known employers because we started with a huge company – Apple.
But, if you are looking at smaller companies, this step can help you discover new employers that you were not even aware of!
And you can view those Company pages to find even more related (potential) employers!
You can also see any connections you share with each company before clicking on the company's name.
I attended UMass Dartmouth, so LinkedIn is showing me that that 72 UMass Dartmouth alumni work at Amazon and 38 work at Microsoft.
There is a good chance I attended at the same time as at least a few of those people, and I could reach out to them to try to get referred.
Even if you did not attend university at the same time, you may still find that some alumni are willing to help you get your foot in the door with their employer!
The Bottom Line:
In a competitive job market, you will see a lot more success if you find ways to operate differently than other job seekers and stand out.
LinkedIn Company pages provide an under-utilized way to do this – by allowing you to quickly and easily research employers, get noticed by employers, and turn the interview into a job offer by asking great questions and showing off all of the research you have done.
More About Succeeding on LinkedIn
---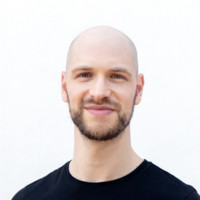 About the author…
Biron Clark is a former Executive Recruiter for multiple Fortune 500 firms and venture-funded tech startups, and founder of the job search advice website Career Sidekick. His advice is read by more than one million people a month and has been mentioned/quoted in CNBC, Forbes, Business Insider, Business.com, Yahoo Finance, The Muse, and more. Selected by LinkedIn as one of 10 "Top Voices for Job Search and Careers," follow Biron on LinkedIn and on Twitter at @bironclark.
More about this author…