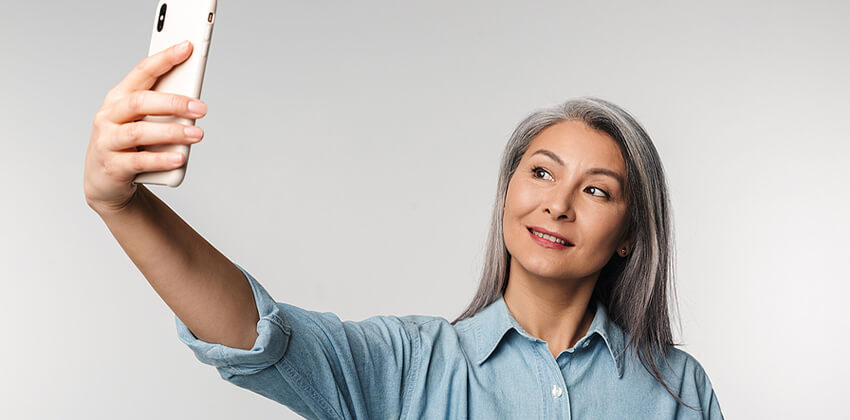 Before I explain, step-by-step, how to take the best possible portrait photo for your LinkedIn (and other) Profiles, let's be frank.
I understand that although you're reading this article, you're reluctant to take a Profile photo.
I understand your reluctance, and I'm writing this article to explain why avoiding a Profile photo is a really bad idea.
When you're over fifty, crows feet, double chins, and under-eye bags seem to appear overnight.
Although you know intellectually this happens to everyone, it's still a shock when you look in the mirror.
You may be uncomfortable about how you look. You may also think, I'll take a photo when I lose twenty, forty, or sixty pounds — or never…
My Profile Photo May Ruin Opportunities
Many of you, or at least some part of you, believe that no one will want to hire you because of your age.
You think that employers will think you are younger if you avoid posting a photo.
Some career professionals will agree with you.
They'll say, "Leave the photo off your LinkedIn Profile. If employers don't see how old you are, they'll invite you in for an interview. "
"Once you're there in person, you'll wow them with your skills and experience, win them over, and get the job."
I don't agree.
Let's assume you don't have a Profile photo and still get invited for an interview.
If the employer has an age bias, or thinks someone younger will be a better fit for the job, you are unlikely to overcome that mindset — even in person.
Your interview effort and time will be wasted.
Having No Profile Photo Does Ruin Opportunities
Without a good photo, chances are very slim that you will be invited for an interview.
In JobVite's most recent annual survey of recruiters, 96% use social media to find candidates, with LinkedIn, by far, the most popular site, followed by Facebook and Twitter. Of the six seconds recruiters generally spend scanning a Profile, 20% is used in evaluating Profile photos.
On LinkedIn, you are forty times less likely to be approached with career opportunities if your Profile lacks a headshot photo.
LinkedIn requires a photo for 100% completion of your Profile (known as an "All Star" Profile), and your Profile's visibility is greatly increased when ite is complete. Without a photo you are unlikely to be found by someone searching for your skills. (See LinkedIn's Simple steps to a complete LinkedIn Profile.)
If hiring managers and recruiters do find you or look you up online after receiving your resume, they will wonder why your photo was omitted. They'll wonder if you have something to hide. Or, are you behind the times?
If you do use a photo, you will be found by more potential employers, and if they contact you, they are already convinced of the potential in your experience, judgment, and therefore; your value to their company.
When I lead LinkedIn workshops for older workers most do not have a Profile image. Of the ones who do I often see:
Profile photos that are so heavily retouched that I've asked, "Is this a photo or a drawing?"
Old, old, old photos… 1980's hair
Dark glasses
Caricatures
Large hats shading faces
And on…
Choosing to upload one of these options will also make viewers wonder what you're hiding.
The Best Profile Photo for Over 50
The following is a brief primer on how get the best professional photo — one that you will feel proud of. It explains how to minimize the parts of your appearance you feel uncomfortable with, and what to emphasize instead. At the end of the article you'll find links to resources where you can find more detailed instruction.
Who to Take Your Photo
One possibility is to have a professional photo taken. A professional already understands how to help you pose, how to get the most flattering lighting, and how to edit your photo.
If that isn't an option, a friend who is a talented amateur will get good results when they take many, many photos. It's been suggested to me that it may take as many as one hundred frames to allow you to become comfortable being photographed and present the natural shifts in expression that create the best images.
Making Your Best Impression
Enter PhotoFeeler.com, a website designed to offer users free, unbiased responses to the effectiveness of Profile photos. According to their research the top factors in creating a positive impression are Profile photos that convey likeability, competence and influence. The following are most important in order to express these qualities:
Eyes:
Make eye contact with the viewer. Look in the direction of the camera, and focus beyond it. This will create an impression of immediacy.
Smile:
A smile is important. Show a few teeth if that feels natural to you. Research has shown that smiles showing teeth convey a more likeable impression.
Dress:
Dress professionally and simply in a current style. Avoid dazzling patterns. Keep the focus on you rather than your clothes.
Double chins:
Double chins and sagging jaw lines can be camouflaged by moving the jaw forward while holding the face steady.
Crows feet and other lines:
The impression of facial lines can be lessened with light photo editing.
Simple background:
A blank wall is best, if possible. The goal is to have something that is not distracting.
Now the fun part – choosing which photo to use.
Choosing Your Best Photo
You can ask your friends for feedback but you'll likely get a wide range of opinion that won't help you make a decision. Instead upload your photos to PhotoFeeler where strangers will rate your photos on which ones are most effective in conveying friendliness, competency, and influence.
You may be surprised by the results. Your photo where the lines on your face are prominent, but where you have a genuine smile, might be the winner.
Profile photo resources:
New Research Study Breaks Down "The Perfect Profile Photo"
Free feedback on which of your photos is most effective: PhotoFeeler
How to pose to get a clean jaw line: "It's all about the jaw" video by Peter Hurley
Free photo editing software:

Gimp – https://www.gimp.org/
Fotor – https://www.fotor.com/
PIXLR – https://pixlr.com/
More About LinkedIn for Job Search
---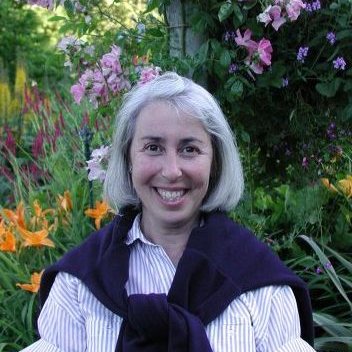 About the author…
Phyllis Mufson is a career / business consultant and a certified life coach with over 25 years of experience. She has helped hundreds of clients successfully navigate career transitions. You can learn more about Phyllis and her practice at PhyllisMufson and follow Phyllis on Twitter @PhyllisMufson.
More about this author…