I hate to start with the bad news, but, if you are over 50, many employers will assume you are not technically up-to-date.
You can combat this negative perception that you are behind the times by following the step-by-step plan outlined in this two-part article.
I'll show you how to quickly develop an online presence (in this part).
In Part 2, Beating the "Too-Old" Bias: Learning New Skills, I'll show you how to prove your currency through your resume and in job interviews. You will also learn how to update your skills to state-of-the-art.
Why Do You Need an Online Presence?
If you haven't looked for a new position in awhile, you'll find that job search methods have changed.
One of the major changes is that the job search has largely moved online for many fields.
Many positions are listed online, but even more important to you, 90% or more of recruiters, hiring managers and company leaders are searching for candidates and checking their qualifications and reputations online.
When recruiters and hiring managers have open positions they search LinkedIn and other social sites to fill them.
When they received a resume from you, a highly experienced baby boomer, and they are interested, they will research you online. And what do you think they'll assume if they don't find you?
If they can't find you online, they'll assume that you haven't kept up with the times.
If you want to be found, and if you want to be considered up-to-date, you must have an online presence.
Be inspired by 60-year-old Joe's example.
Joe lost his position as a marketing manager at a mid-sized company.
A capable man with a resume full of achievements and recognition, Joe was not being interviewed for jobs he knew he was qualified for.
He was certain he was being discriminated against because of his age.
However; when I looked him up online before our first appointment, I found an incomplete LinkedIn profile with only seven connections.
And someone with a similar name was visible in Google as a tax cheater.
Then, Joe began to manage his online reputation
As he began raising his visibility online, he began getting responses to his inquiries. And after updating some skills and making adjustments in how he interviewed (as described in Part 2 of this article), he landed a new job.
7 Steps to Take:
This is not "mission: impossible." Nor will it happen over night, but best to get started now rather than later.
Step 1: Google yourself.
Check if and where you show up and also if you have any "digital dirt." 70% of employers state they have rejected candidates because of negative impressions they received of the candidates online.
So you must vacuum up that "digital dirt."
If you find information on social sites that is negative, or simply too personal, change your profile settings to "private."
Push any harmful data about yourself further and further back in your search results by generating positive professional content using the methods below. Most people will not search past the third page on Google.
If there are mentions of you but they don't show up on the first Google page because your name is Jane Smith (or any common name) or Johnny Unitas (and you are not the football player), add your middle name or initial to all of your communications, on or off-line.
[For more information, read the Guide to Defensive Googling to understand why and how you can stay up-to-date on what Google shows employers, and others, associated with your name.]
Step 2: Set up a complete ("All-Star") LinkedIn Profile.
If your profile is complete LinkedIn estimates that you are 40 times more likely to be found by recruiters and potential employers.
LinkedIn states that you include the following to have a complete profile: your industry and location, an up-to-date current position, two past positions, education, a minimum of 3 skills, at least 50 connections, and a profile photo (YES! A profile photo!).
For more information on improving your LinkedIn Profile and visibility, read 10 Elements of an Effective LinkedIn Profile and Why Just Joining LinkedIn Is Not Enough.
But here are a few tips:
Don't hesitate to include a photo, thinking people will reject you because you are older. Instead focus on conveying the relevance of your experience to today's challenges.
If you are unemployed, list your current position as "Seeking an opportunity as…"
Doing the above is the minimum requirement.
Here are a few additional ideas to add clout to your profile and show employers you are up to date in your field.
Join LinkedIn groups in your industry and participate in questions and answers to demonstrate your expertise.
Use your "Status Updates" (a section in your LinkedIn Home Page where you can post information and share it with others) to show your relevance. Here you can write about when you attend a conference or professional event, take a class, read a new industry publication, etc.
Add your resume to your LinkedIn profile.
Step 3: Write comments (signing your full name) on respected blogs in your field.
If you're not sure what people in your industry are reading, search on Alltop. Use the alphabetical directory on the top search bar to find blogs in your field, and consider forming your own MyAlltop which will give you a custom URL where you can show off your savvy by your choice of industry publications or keep close track of the content on your favorites.
Be professional in your comments. Avoid being negative and don't be nasty.
Step 4: Create a SlideShare presentation in your field.
SlideShare.net is owned by LinkedIn, and anything you publish on SlideShare can be easily added to your LinkedIn Profile. Without violating any employer confidentiality, share presentations that are relevant to people in your field.
Step 5: Write Amazon.com reviews of books and products relevant to your field or become a Kindle author.
Again, use your full name. Write thoughtful, well-reasoned reviews that reflect your professionalism.
If you have the time, talent (or support), and inclination, write a short Kindle book on a topic in your field that you know well. Check out the instructions in Amazon's Kindle Direct Publishing.
Your book doesn't need to be 50,000 words long. It could even be 5,000, and there is no Amazon charge. Then, you will have earned the title of "author."
Step 6: If you like to write, start a blog.
If starting a blog is too much of a commitment, write articles and post as a "guest blogger" on someone else's blog. Or, often easier, publish short blog posts on LinkedIn Pulses using your LinkedIn account.
If these suggestions appear overwhelming, start with a single step, or part of a step, and then go on from there – and feel free to begin in any order. Which brings me to a final, very easy and exciting step.
Step 7: Set up a Google Alert on your name.
With your Google Alerts, you'll get email notification every time you are mentioned online. It is exciting to see your name on the Internet – and if you follow the steps outlined above you will be mentioned. For more information, read 5 Google Alerts for Your Job Search.
Bottom Line
Watch your presence grow and know that employers will perceive you as relevant and up-to-date. You'll find this feedback very motivating. You may not change how employers view older workers as a group, but you can certainly change how they view you.
For More Information
For articles that will help you in developing your LinkedIn profile further and other tips for using Guide to LinkedIn for Job Search, including 12 Steps to Outrank Your Competitors in LinkedIn Search in 2020 (Personal LinkedIn SEO).
For additional help with Google Alerts, see Job-Hunt's articles on Setting Up Google Alerts and 5 Ways to Leverage Google Alerts for Your Job Search. For more help with your online reputation, see Online Reputation Management and 5 Ways You Look Out-of-Date in Your Job Search.
NEXT: Beating the "Too-Old" Bias: Learning New Skills,
More Information:
---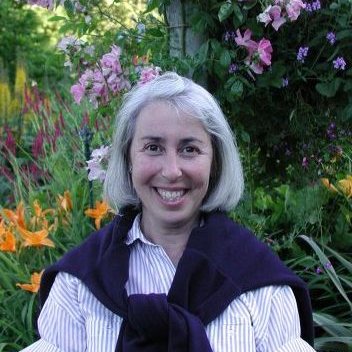 About the author…
Phyllis Mufson is a career / business consultant and a certified life coach with over 25 years of experience. She has helped hundreds of clients successfully navigate career transitions. You can learn more about Phyllis and her practice at PhyllisMufson and follow Phyllis on Twitter @PhyllisMufson.
More about this author…