Job search is a process. Very much like a sales funnel, it will take a lot of activities to generate an interview. Therefore, you will want to measure where you are investing your time and energy.
The reality is this: securing your next job will take you longer than you want or expect. This post is about learning how to take control of your job search by tracking your activities.
Hours Speak
The Wall Street Journal published the results of a study showing how job seekers are spending their time. As you can see, below, the majority of time was spent reactively looking at job ads and sending out resumes and applications.
To have an effective job search, you will want to be proactive in your approach and spend more of your time contacting friends and relatives and networking with potential employers.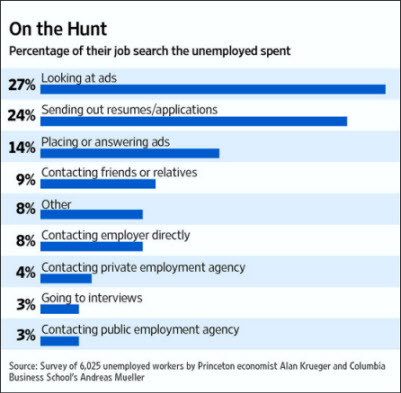 Start Tracking Your Hours and Activities
Make it easy to track your hours. Keep a log with your job search folder. Use the categories below to understand where you are spending your time. Start keeping track so you can increase or decrease activities based on their results.
Additionally, setting weekly goals will help drive you in the right direction.
Perhaps you will make one more call or attend that one meeting that will net you a great connection. Keep track of the number of hours spent in these activities each week and the number of units. For example: you spent 20 hours applying for jobs on-line, and you sent out 20 applications.
Activities
Networking in person: one on one and groups
On-line Networking (LinkedIn, Twitter, Facebook)
Contact with recruiters/search firms
Directly contacting employers
Volunteering
Professional development (workshops, reading, professional associations)
Research & Administration (resume and cover letter writing, marketing plan update, other administrative tasks)
On-line job postings
Interviews
There are phone screening interviews, first interviews and second interviews. You should see a conversion here. If you are getting first interviews – but not second interviews – that probably means you will need to work on your interviewing skills.
Phone screen
First Interview
Second Interview
Assess Your Progress Weekly
You may be thinking that tracking this stuff is a waste of time. My belief is that it is critically important to track this information. How can you improve what you are doing or change what you are doing if you can't tell exactly what you are doing?
Surveys and statistics prove that networking (in person and on-line) ultimately generates better results. Your goal should be to spend more time in these areas.
Weekly, are you asking yourself these questions?
Looking back over the past week, what do you feel you've accomplished?
Where do you feel you fell short?
What will you do to fix or change this?
What are your goals for next week?
How will you accomplish them?
Is there an issue or problem you need advice on?
The Bottom Line
From my experience working with job seekers, it is going to take hundreds of hours, networking contacts, and 100% of your commitment to make your next job happen. Yes, employers are taking longer to make their hiring decisions. Factor that in. Know that your job search will take longer than you want and be prepared for the long haul. While there are certain metrics that are more successful than others, job search is individual. You may have success in one area and not another. By tracking your time and activities, you will have a much better sense of how to modify your search for better results.
---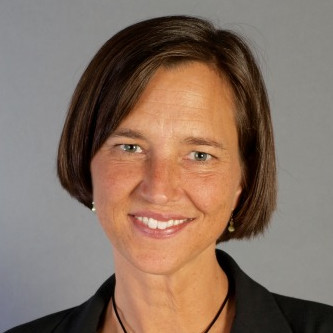 About the author…
Hannah Morgan, Job-Hunt's Social Media Job Search Expert, maximizes her own personal branding and online visibility using social media platforms. She is a job search strategist and founder of CareerSherpa.net. Selected by LinkedIn as a "Top Voice for Job Search and Careers," follow Hannah on LinkedIn. Also, follow and connect with Hannah on Twitter (@careersherpa) and Facebook (Career Sherpa). To read more articles on how to use social media for job search, visit her site: Careersherpa.net.
More about this author…