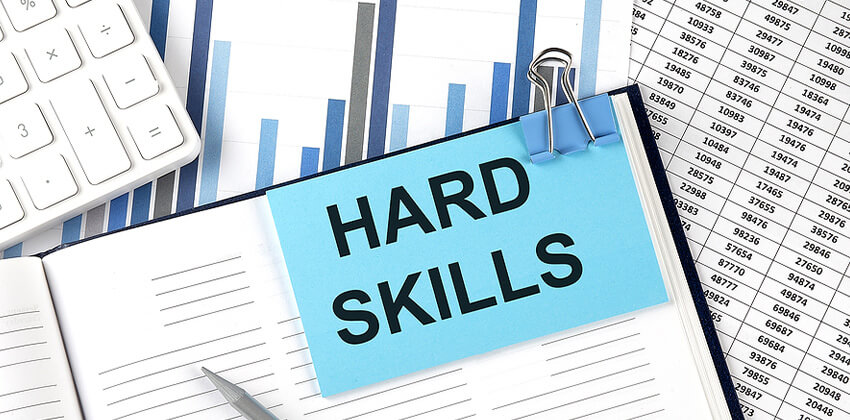 When you apply for a job, you know that the hiring manager will look at your skills and abilities. And though your skill set is unique to you, like every applicant, it's made up of two types of skills: hard and soft.
Though both skills are equally important to an employer, if you lack certain hard skills, you likely won't land the job. Here's what you need to know about hard skills, and how you can acquire more.
What are Hard Skills? Definition & Meaning
Hard skills are the specialized, technical skills you need to succeed in a role or industry. They can be learned in a class or on the job, but unlike soft skills, hard skills are objectively measurable (meaning you either have the skills or you don't!).
Employers require applicants to possess specific hard skills to be considered for the role. These are usually listed in the "required skills" or similar section of a job posting. And though many hard skills are transferable skills, not all are.
Examples of Hard Skills for Your Resume
Here are some examples of common hard skills employers look for:
Computer skills: coding, but also Google Suite or Microsoft Office, pivot tables, Adobe Suite
Analytical skills: analytics, data mining, data visualization
Marketing: SEO, email marketing, social media, A/B testing
Management: supervising others, but also project management, office management, scrum, or agile
Writing: translation, transcription, press releases, copywriting, editing, scriptwriting
Why Hard Skills Are Important
Hard skills matter to employers because it shows that you have the experience and ability to get the job done. More importantly, possessing specific hard skills lets the employer know you can hit the ground running when they hire you.
However, hard skills are also crucial in helping the employer understand what you can do for the company, allowing you to stand out from other applicants. For example, if you're a designer that also understands how to conduct A/B tests or how SEO impacts design, the employer will see that you have a diverse skill set that can contribute to the company's overall success.
How to Obtain Hard Skills
If you find you're lacking the hard skills you need to land a job, or you just want to add to your career toolbelt, there are many ways to obtain additional hard skills.
Take Some Classes
Going back to school is one way to increase your hard skill set. While you can return to school for a degree, it's not always necessary.
You can attend a certification course or even a single class. And these days, many courses are online, allowing you to learn at your own pace.
Volunteer
Volunteering can be a great way to develop your hard skills. For example, running the social media accounts for a local animal shelter can help you improve your social media, copywriting, and data analysis skills.
Find a Mentor
A mentor can help you learn the hard skills you need for a job without going back to school. It's like having a private tutor that knows the ins and outs of your business. And connecting with a mentor in your field can help you better understand which hard skills are most relevant for career success.
Practice
Practice makes perfect! So, as you're learning new hard skills, make sure you're practicing them too. If you want to learn how to repair computers, hit the secondhand store, buy some old equipment, then spread it out in your basement, garage, or kitchen floor.
Likewise, if you're taking a class, go beyond the homework. Start a blog and analyze the data, code a website, or help a local business with its marketing efforts.
Hard Skills Make a Difference
While you don't need to possess every hard skill listed in a job posting, it is crucial that you have many of them, particularly the ones most relevant to the role. But if you lack the hard skills required for your dream role, some informal or formal education and practice can help you develop the hard skills you need for career success.
Looking for more skills to make your resume stand out? Read Best Skills to Put On Your Resume (Examples).