You might be keeping up with current contacts on LinkedIn, following Companies, or applying to Jobs listed on the site. But did you know there are other ways to find employers or career opportunities by using the Advanced People Search function?
A helpful feature tucked into the site's People Search (visible at the top of any screen in LinkedIn), Advanced People Search is more than just a list of parameters or industries.
Consider tapping into this huge, nearly 200-million-user database for your own purposes by using the 3 following strategies:
Locate the Companies that Hired Your Former Colleagues
Didn't stay in touch with former co-workers? No worries—you can look them up on LinkedIn and find out if they're open to connecting with you, continuing to network, or even helping you get hired at their current places of employment.
1. Find the Advanced People Search screen by clicking on "People" on the drop-down box at the top right of your LinkedIn display. Click "Advanced" to the right. You'll then see the Advanced People Search display, which contains numerous parameters for finding contacts.
2. From this screen, enter the name of your former employer in the "Company" field.
3. Next, use the drop-down box next to Company to choose "Past not current," which will ensure you receive names of professionals who've left the company.
4. Click on "Search" to see the results.
While you can also search by "Name" or "Title," leaving these fields blank is a good idea, because you can find colleagues you'd forgotten about, or locate LinkedIn users who didn't spell out their old job titles the same way.
Of course, you can plan to connect with the resulting list of users (and ask them about current job opportunities within their departments). You may also see trends in the companies that regularly hire your past contacts—and can, therefore, apply at these employers without waiting for a new job posting.
Find Out Who Hires Candidates with Your Education or Skills
Graduated with an unusual degree or struggling to find companies that value a unique skill set? The Advanced People Search function works very well for this purpose.
1. Access the Advanced People Search screen.
2. Use the Keywords field to search for the specific skills you're hoping to use in your next role. You can also enter the name of your degree here, as the Search function doesn't have a field for this purpose.
3. To find people who went to the same school you did, enter your university name in the "School" field. Because some LinkedIn users do not populate this field, doing so may limit your results.
4. After clicking on "Search," you'll receive a list of professionals who've listed the skills you specified.
By researching some of these Profiles, you'll be able to see where they're employed (giving you an idea of companies eager for your application).
You'll also gain insight into the Groups they've joined, which can be good places for you to network.
You can also plan to reach out to these users on LinkedIn for advice and networking connections, using an informal InMail message or Connection request.
Perform a "Look Backwards" Search to Research Others' Career Paths
If you're trying to research opportunities to advance, consider looking at professionals with backgrounds similar to yours—and discover what they've been able to do with the same skills.
For example, if you're in sales within the biotech industry, but want to find out the best way to advance to a General Manager (GM) role, try these steps within Advanced People search:
1. Enter the desired job title (in this case, "General Manager") into the "Keywords" field.
2. Next, put your existing title (for example, "Sales") in the "Title" field, and select the drop-down option for "Past not current" (which will eliminate users still in sales).
3. Go to Industries, and check related boxes, such as "Biotech" or "Pharmaceutical."
4. Scroll to the bottom of the Advanced Search page and choose the "Keywords" option next to "Sort By." (This ensures that you see users based on their Profile match to your parameters).
The resulting list of LinkedIn users will show you the career histories of each professional, as well as their employers—giving you an idea of the companies that hire former biotech sales experts into GM roles, plus a list of potential informational interview contacts that may be willing to share career advice with you.
Bottom Line
LinkedIn's Advanced People Search function can turn up some surprising results that help you see new job opportunities, create networking relationships, or identify companies as likely targets for your expertise.
---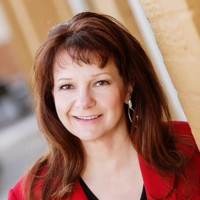 About the author…
Job-Hunt's LinkedIn for Job Search Expert Laura Smith-Proulx, Executive Director of An Expert Resume, is an award-winning executive resume writer, national columnist, author, LinkedIn and SEO enthusiast, and past recruiter. Laura is author of How to Get Hired Faster: 60+ Proven Tips and Strategies to Access the Hidden Job Market. Follow Laura on Twitter at @ResumeExpert and on LinkedIn.
More about this author…