A career change (change in job function, change in industry, or both) is one of the biggest challenges.
After you figure out what you want to do, the next big challenge is presenting and marketing yourself for this new role.
Think about it. The hiring manager needs to believe you can do the job.
If you spent 25 years in the real estate industry doing asset management work, and now want to work in software sales for a company that markets software to the real estate industry, how are you going to present yourself so the new industry and potential hiring manager find you appealing?
5 Steps to Your Career Change Resume
When I decided to research this topic of career change marketing and branding, I sought out and interviewed Wendy Enelow, one of the top industry experts on resumes and, career change resumes in particular.
Wendy and I discussed this topic at great length and came up with some concrete tips and resume examples to demonstrate our points.
1. Clarify Your Goals
Prior to writing and branding a resume for a career change (change in job function, change in industry, or both a change in function and industry) a career changer needs to think about and answer the following questions before writing their resume:
What position(s) are you seeking?
Do you have any industry preferences?
Do you have any geographic limitations?
How do you want to be perceived by prospective employers?
First, know what you want.
Before you begin writing your career change resume, you must know the position/industry you are going after. This gives your resume a focus and theme around which you can create the entre document. This theme will dictate what you include in the document and how and where you include it. Start by knowing what you want next, so you can find it.
Second, know how you want to be perceived.
Writing a career change resume is all about creating a picture of how you want to be perceived by a prospective employer. For example, if you are currently a corporate lawyer and wanting to switch to a role in legal publishing sales (career reinvention), your resume is going to look very differently than if you are a lawyer seeking another role as a corporate lawyer. These are two different career targets and for each one, the brand perception you are trying to create is different.
Specifically, when reinventing your career (lawyer to legal publishing sales), you must "reweigh" the information you include on your resume to be more relevant to your new objective.
You have to translate what you have done in your past roles in such a way that a potential hiring manager immediately understands its relevancy to the position for which you are applying.
2. Do Your Research
Continuing on with the above example, if you are a lawyer seeking to reinvent yourself and transition into the legal publishing field do your homework – your due diligence – before you write your resume.
What do I mean by doing your "due diligence"?
Do your research, both in the online and offline worlds, to know what your target industry and potential hiring manager might be seeking for skills and competencies. In addition, you need to know the "lingo" (keywords) of your new field.
Here are some examples of how you can do your homework:
During your informational meetings, ask the individuals with whom you are meeting what are the key skills and competencies they consider to be the most important for the role/industry?
Find several job descriptions online for roles in your new industry or job function. Review them and make a list of what the companies and/or hiring managers are seeking.
Read industry publications and/or blogs to get a better feel for the industry, understand industry jargon, and become familiar with some of the challenges faced by the industry.
3. Include the Right Keywords
Keywords are very important in resume writing since they are the foundation for how hiring managers search for and identify candidates in resume databases.
When writing a resume for a career reinvention, you want to be sure that your resume is includes the keywords that are relevant to your career goals and how you want to be perceived in the employment market.
These keywords can be identified in the same resources used in tip # 2 above.
Include these keywords in the Summary or Profile section at the top of the resume. You also can include them in a bulleted format in a separate section titled "Core Competencies," "Core Strengths and Capabilities," or "Professional Qualifications."
If we continue with the above example of the lawyer moving to legal publishing sales, he might want to include the following in his summary section at the top of his resume:
Over ten years' experience in the field of law, combined with innately strong presentation, negotiation, and client management skills. Proven ability to communicate and deliver high-impact presentations that communicate the value and benefit of services to key decision makers.
Depending on the terms used in job descriptions by the target employers, possible keywords for this job seeker include:
Client relationship management
Public speaking and presentations
Listening and negotiation skills
Rapport and relationship building
Customer needs assessment
Cross-functional team collaboration
Effective time management
Rapid learning of new products and services
[Read Optimize Your Resume to Be Found by Recruiters for more details on the words to choose and where to put them.]
4. Showcase Relevant Achievements
The key to resume writing, whether for a career reinvention or not, is to be sure that your resume is populated with strong achievements and success stories that demonstrate the skills and attributes you can bring to a prospective employer for a new job or industry.
This can be easier when doing a straightforward resume, moving from one position into another that is very similar.
When writing a resume for a career reinvention, you have twice as much work to do. Your job entails:
Coming up with career achievements or career success stories, in general,AND THEN
Translating these success stories into a language that a hiring manager in a new field can understand.
When thinking about your past achievements and writing success stories, I suggest that you follow the Problem, Action, Result (PAR) format and construct your stories as follows:
Problem: What was the problem or challenge that was going on at the time?
Action: What actions did you take to solve the problem?
Result: What was the result of your efforts?
Your Challenge: How can you translate this into something that will work for a reinvention target?
If we continue with the above example, I might have the lawyer write some success stories from his current role as a corporate lawyer and also from his roles as a partner in the law firms where he worked. I would want him to demonstrate his ability to perform the following competencies, all of which are critical for a role on sales or business development:
Client relationship management skills
New client acquisition and retention
Contract negotiations with clients
Here is an example of how these might be written up as achievements on the resume:
Delivered proposal presentations to clients that outlined the full scope of XYZ firm's capabilities and cost justified proposals to clients.
5. Incorporate Relevant Skills and Experience
When writing a resume for a career reinvention, do not discount older experience, community service, and volunteer roles.
Look at everything in your life and professional experience to demonstrate the skills and experience that you want to showcase to create the perception of yourself that you want a prospective employer to see.
For example, let's say our corporate lawyer is on the board of a nonprofit and is doing fund raising and development work. I would definitely recommend including this information on his resume. Fund raising is sales and by including this experience, you could demonstrate that the lawyer has good client relationship and negotiation skills.
The write-up on the resume might look something like this:
Demonstrated outstanding sales, negotiations, and client relationship management skills while orchestrating annual fund raising and corporate giving campaigns. Increased volume each year for five consecutive years.
In addition, let's assume this lawyer has just taken a sales training class to supplement his legal background with more concrete skills to support his career reinvention. That information should be highlighted in the Summary or Profile at the beginning of the resume and then again showcased in the Education section. In fact, change the heading to Education and Professional Development.
This is how this information might be included on the resume:
In the Summary or Profile section:
More than 10 years of experience in the field of law, combined with innately strong presentation, negotiation, and client management skills…

Bachelor of Science in Business and recent training in Sales Leadership from Sandler Sales Institute.
In the Educational and Professional Development Section:
Bachelor of Science – 2006
Bentley University, Waltham, MA
Major: Business Administration

Highlights of Continuing Professional Development:
Sandler Sales Leadership Training, Winning Incorporated, 2017
Update Your Social Media Visibility
Understand that the vast majority of recruiters will Google you and your online visibility (e.g. LinkedIn, Facebook, etc.) will need to by "in sync" with the content of your resume.
Continuing the example above, don't let your LinkedIn Profile present you as an attorney without any mention of your sales training and other experience and accomplishments relevant to your career change goal.
Use your research and the content you have developed to update your LinkedIn Profile. If you are currently employed, be very cautious about what you make public. Nearly half of all USA employers frequently research their current employees online, so your job search could cost you your current paycheck. Read Job-Hunt's Guide to a Stealth Job Search for more details.
The Bottom Line on Career Change Resumes
As you can see from the example and tips provided throughout this article, writing resumes for a career reinvention can be tricky and requires a strong strategy and execution. There are no hard and fast rules and each resume must be tailored to the position that you are seeking, how you want to be perceived, and what you have in past and present positions that are relevant to their current career goals. Don't forget to use the right keywords for you!
For More Information:
---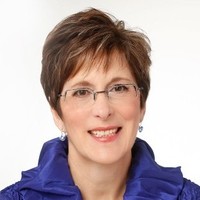 About the author…
Job-Hunt's Career Change Expert, Randi Bussin, founder and president of Aspire!, is a career coach and counselor with more than 25 years of business, entrepreneurial, and career counseling experience, including DISC assessments. Randi has experienced several major career transitions (from corporate to small business owner to career counselor to coach) and personally understands the effort and commitment involved. She has appeared on public television's "Job Doctor," and is a frequent contributor to Bridgestar's Leadership Matters newsletter, The Ladders job-search Web site (www.theladders.com) and her own blog, which offers advice on career transition, job search, and labor market trends. Follow Randi on Twitter @Aspire4Success.
More about this author…