A lot of job seekers ask me what to say in their interview.
They want to know the "right" answers.
The truth is, sometimes memorizing answers just makes you more nervous and costs you job offers. When you plan everything out word-for-word, you may panic as soon as the conversation goes off-script.
Plus, if you're giving pre-planned answers the whole time, you'll miss a big chance to build rapport with the hiring manager, which can cost you the job.
In this article, I want to suggest something better than memorization.
Advertisement
Boost Interview Performance and Beat Anxiety: Treat Your Interview like a Two-Way Street
The reason so many job seekers come to me asking for the "right" interview answers is that they see the interview as a test.
That is not how the employer views it, though. An interview is not an exam, and the interviewers are not usually keeping track of "right" and "wrong" answers.
To the interviewers, the interview is like any business conversation. They have some points they want to share, some questions they want to ask, and they're hoping you do as well.
They want to get to know you — hear what motivates you, why you want their job, what you enjoy, what you don't enjoy, etc. This is the type of thing they discuss after you leave the room; not how many "right" vs. "wrong" answers you gave.
They put a lot of weight on their gut feeling and overall impression of you after the interview, and you'll make a better impression if you treat the interview like a back-and-forth conversation.
That means doing a few key things differently than most job seekers. Below, I am going to share four things you can do in your interviews to feel calm and confident, build great rapport with the interviewer, and convince them that you're the person they should hire!
4 Steps to Turn Your Interview into a Conversation
Turning a job interview into a two-way conversation be done. This is how:
  1. Ask a lot of questions.  
One of the best ways to catch an employer's attention is to ask a lot of questions in the interview.
If you want job offers from great employers, you need to seem like you're being careful in your job search and looking for specific things, not just looking for the first company that will hire you.
Do not go into an interview without being able to explain in detail what you are hoping to find in your next job. If you can't do this, you're setting yourself up for failure.
Then, write down questions you would like to ask the employer. You need to make sure to ask the right questions, though. I recommend focusing on three main areas:
The work you'll be doing
The group you'll be joining
The company overall
Make sure you're not asking any questions that are answered on the company website, and avoid asking questions about salary, benefits, working hours, dress code, etc.
Let the employer bring these topics up first. Especially in a first or second interview, you want to seem like you're 100% focused on learning about the job and the company's goals, and determining if it's a good match for you.
  2. Don't save your questions for the end of the conversation.  
Now, if you're like most job seekers, you've already heard that you should ask questions in every interview. That's old news. Here's where we are going to do things a bit differently, though…
Rather than saving your questions for the end, you want to mix them into the conversation.
I'll give you an example:
Imagine the hiring manager asks,
"Why did you apply for this job?"
You might respond by saying,
"I was laid off two months ago, but prior to that, I was really enjoying leading a small team as a Supervisor, and was improving quickly as a leader.
"I'm looking for an opportunity to continue taking on more leadership in my next role.
"I read through your job description before I applied, and I saw there's an opportunity to build a team of 3-4 people from scratch and then lead them, so it seemed like a great next step in my career. Can you tell me more about the specifics of what I'd be doing as a leader here?"
See how you are ending your answer with a question?
And you are not asking not just any question.
This question signals to them that you are carefully considering which role to take, and that you are looking for specific things in your job hunt.
This is how to transform the interview into a back-and-forth conversation and show you're a high-value candidate.
If you are simply responding to a question, stopping, and then waiting for them to fire the next question at you over and over, you are missing a big opportunity to stand out and impress the interviewer.
Read 50+ Smart Questions to Ask the Interviewers for more ideas.
  3. Get feedback as you go.  
There's another great way to mix questions into the conversation and transform the interview into a relaxed discussion, rather than an interrogation.
I'll explain…
Have you ever given an answer in an interview and wondered if you shared the info they wanted? Or whether you should keep going or stop?
Here's an easy solution: Ask for their feedback on your answer.
Imagine they say,
"Can you walk me through what you did in your previous job?"
You might respond by talking for a few minutes, walking them through the main points.
But then you may start wondering if you have shared enough or if you should keep going.
Well, instead of starting to doubt yourself, you can ask something like:
"Did that answer your question, or should I share more detail?"
"Does that answer your question?"
"Is there an area you wanted me to go into more detail on?"
Now you are not only making the interview feel more like a natural, relaxed conversation, but you are also making sure your answers are hitting the mark in terms of what the interviewer wants!
  4. Hold your head high.
I am not talking about posture here (although that is important, too).
I am talking about walking in believing you are the interviewer's equal.
You are on their level. You are two professionals discussing whether it makes sense to work together. That is the reality of what an interview is, yet many job seekers lower themselves (and lower their confidence) by going in with the mindset that they should just wait for questions and respond.
You have just as much right to ask questions, and you owe it to yourself to gather the information YOU need to know if it's a job you want to pursue.
Remember – there are thousands of employers out there that you could interview for! You have options, just like the employer does. If you receive more than one job offer, here's how to choose between multiple offers.
If you do go in with this approach, you will stand out and make a better impression.
The Bottom Line:
In today's competitive job market, it's important to do things differently to get noticed. If you approach your interviews like a two-way conversation, it will set you apart, give you more confidence, and allow you to perform your best with much less stress. All of this will help you get more job offers from better employers.
More About Succeeding at Job Interviews
---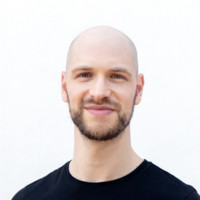 About the author…
Biron Clark is a former Executive Recruiter for multiple Fortune 500 firms and venture-funded tech startups, and founder of the job search advice website Career Sidekick. His advice is read by more than one million people a month and has been mentioned/quoted in CNBC, Forbes, Business Insider, Business.com, Yahoo Finance, The Muse, and more. Selected by LinkedIn as one of 10 "Top Voices for Job Search and Careers," follow Biron on LinkedIn and on Twitter at @bironclark.
More about this author…