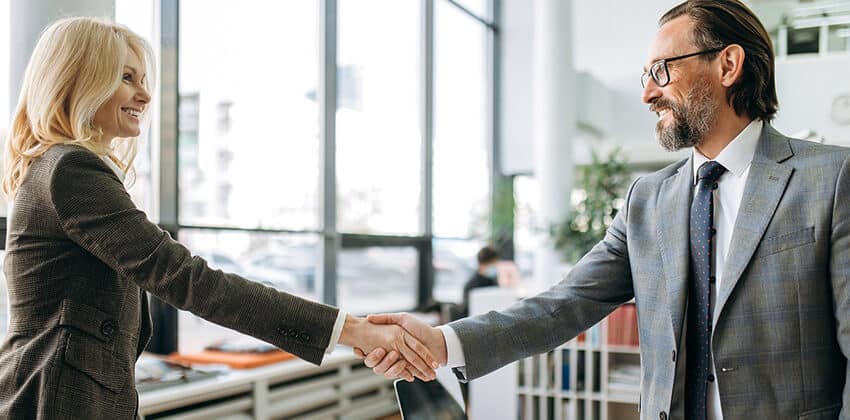 For many professionals, the mid-career stage is a time of refinement and opportunity. With a foundation of experience and expertise, mid-career professionals can often take on more responsibility and contribute significantly to their field.
If you're at a mid-career stage, this can often mean pursuing new leadership roles or working on more complex projects. You might be considering changing careers altogether.
Whether you're looking to make a lateral move or start fresh in a new field, interviews during the mid-career stage require you to refine your approach a bit more than you did during the earlier stages of your career.
Interview Tips for Experienced Candidates
Understanding the challenges and opportunities of the mid-career stage can help you make the best impact on the hiring manager. Your experience and skills are impressive, but you must ensure your interview technique is up to par for your career level.
Approach Interviews From a Leadership Perspective
Realistically, you're probably interviewing for roles that make a more significant impact on an organization. Your focus should be on preparing for questions that revolve around leadership and team-building, rather than individual achievements.
Consider situations when you've been able to help resolve conflict or create momentum for others.
Be sure to focus on how you were able to transfer your skills to new environments and what the challenges and successes looked like. Show that you're capable of taking on more responsibility and can do so in a way that benefits those around you.
More: Leadership Interview Questions and Example Answers
Emphasize Your Accomplishments
Often, mid-career professionals can make the mistake of assuming that their accomplishments speak for themselves. While you may have a wealth of experience that you didn't have at earlier stages of your career, you want to put the same amount of preparation into your submissions.
This is an area where many mid-career professionals fall short. Hiring managers want to know about the specific things you've done that have made an impact.
To prepare:
Take some time to reflect on your most significant achievements.
Write down as many details as possible, including relevant numbers or metrics.
Be ready to talk about what you did, how you did it, and what the results were.
Ensure that you use tangible, data-driven examples.
It would be best if you also prepare to talk about any challenges you faced along the way and how you overcame them. This shows that you're resilient and adaptable—two essential qualities in any leader.
Don't Neglect Your Career Plan
Hiring managers at the mid-career stage want to know that you can grow and develop in a leadership role and create continuity for the team you'd be joining.
To prepare for questions about your potential, take some time to reflect on your long-term goals. What do you hope to accomplish in the next five or 10 years? How does this role fit into those plans?
You should also prepare to discuss any continued education or professional development you've pursued. This will show that you're committed to lifelong learning and always looking for ways to improve.
Highlight That You're Results-Oriented
At the end of the day, hiring managers want to know what you can do for their organization. They're looking for someone who can come in and make an immediate impact, so you need to be able to demonstrate that you're action-oriented.
Take time to research both the organization and the specific role you're interviewing for. What are their needs? How can you help them meet those needs?
Be sure to focus on the areas where your skills and experience match. Then, back up your claims with concrete examples. The more specific you can be, the better.
Paint a Whole-Person Perspective
Most recruiters will be looking to see if you'll help the company's culture thrive as a mid-career professional. Open-ended interview questions are a great time to accentuate how your values align with the company's initiatives.
Mention any time you've spent volunteering or participating in community events or a cause that you're passionate about. Maybe you applied your knowledge or skills in a way that reveals your abilities related to the job you're interviewing for.
Play Up Recent Experiences
Depending on the role you're applying for, you may confront a bias against slightly older workers. Most of the time, it's not even a conscious thought that the recruiters have.
But you can help to counter that by highlighting recent experiences and mentioning current industry standards and technologies. This will help showcase that you're focused on staying at the forefront of the industry.
Successfully Interviewing as a Mid-Career Professional
By following these tips, you'll be able to show the hiring manager that you're the right candidate for the job. With your experience and skills, plus targeted preparation, you'll be well on your way to landing the mid-career role you've been aiming for.