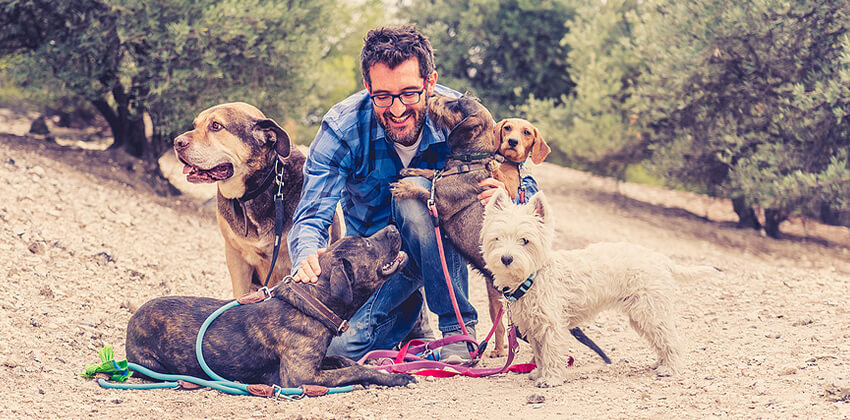 If you're unemployed at mid-life, you may think you should get a job doing what you did before.
Or, maybe you've had a dream job in mind that you needed the extra incentive of being jobless to kick-start your move in that direction.
But, what if you don't have any ideas about what to do next? Read on…
Adversity often leads to creativity as we try to move from an uncomfortable situation to one that is more desirable.
If you're looking for a new job, you might look at employment options you wouldn't give a second thought to in other circumstances.
One of the challenges we all face is knowing what jobs are available. We each have limited access to information about job possibilities.
There are career opportunities to be discovered in unexpected places. Here are some areas you might consider.
Anything to do with pets.
Dog sitting or doggie daycare. Grooming and walking services. Creating or selling merchandise for pets – fancy collars and leashes, food trays, outfits… the options are only limited to your imagination.
Luxury, green, and organic items are becoming more popular. Insurance, travel and healthcare are some other pet-related areas to investigate.
This is a market worth over $3 billion. You can probably find a job that will generate – or tap into – some of that revenue.
Personal services.
Do you like to see everything in order? Are you a good cook? Can you shop and do errands effectively? Are you organized? All of these skills can lead to jobs, either as an entrepreneur or working in an established business. Personal or executive chef. Professional organizer. Concierge service. Personal assistant.
Busy people and organizations need these services. If you're good at one of them, check it out. We all have skills beyond those used in a typical office. Your next job could be radically different from the one you had. And maybe more fun.
Helping the elderly.
And I don't mean offering your arm to help them across a busy intersection. Services for the elderly are expanding. Like pets, they need services and products designed specifically for them. Offer transportation. Help navigate the healthcare system. Become an advocate for housing or community elder services.
If you've had to assist an elderly parent, you may have developed skills others would appreciate – or managed needs no one has anticipated. Your experience and expertise could make you a pro in this booming field.
Bottom Line:
Whether you work for someone or go it alone, doing something a little different in the interim between corporate jobs might be more than a paycheck – it could be fun and personally satisfying. Think outside the box when you're stuck and consider everything as a possible new job.
---
About the author…
Dr. Jan Cannon, Job-Hunt's Mid-Life Career Expert, is author of Now What Do I Do? The Woman's Guide to a New Career, Find a Job: 7 Steps to Success, Finding a Job in a Slow Economy, co-author of Exceptional Accomplishment, and a career professional for 20 years. Visit her website, https://www.cannoncareercenter.com for more career advice and help.