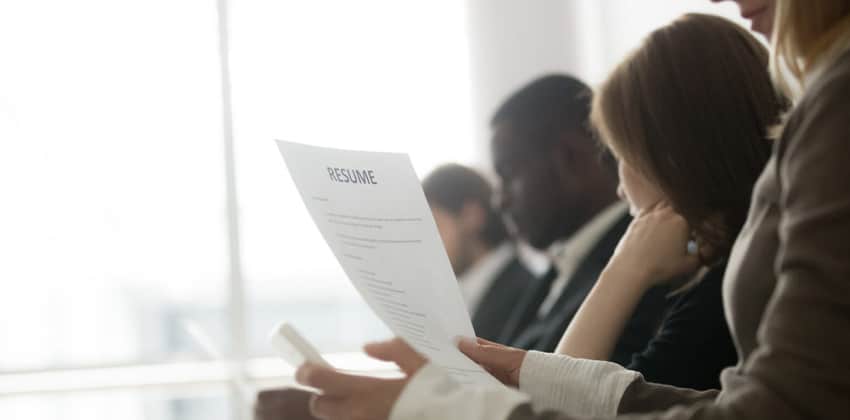 Crafting the perfect resume is an important step to land your next leadership role.
Because resumes are meant to be a concise rendition of your experience and qualifications, choosing the best words to show leadership skills is crucial. Selecting the most powerful words to describe your experience can make a huge impact for a potential employer.
Using an article from The Muse as inspiration, we came up with this list of 24 words and phrases to include on your resume to show leadership and punch up your resume.
Innovative
Using words that show that you're an out-of-the-box thinker who can offer creative solutions to challenges is important to note on a resume.
Many employers are interested in finding candidates who can think on their feet and pursue innovative ideas. Use these words and phrases if you want to convey that you're innovative:
Groundbreaking
Inventive
Original
State-of-the-art
Budget-Savvy
Not all, but many leadership positions require someone who can balance a budget and adhere to strict budgetary guidelines.
If you're applying for a position that requires financial acumen, here are some impactful words and phrases to use if you want to convey that you're budget-savvy:
Cost-cutting measures
Cost-effective
Economical
Practical
Leader
Being a strong leader is important in many industries and roles. Showing how you've reflected leadership in previous positions is important to communicate through your resume.
Words to use if you want to convey that you're a leader:
Mentor
Motivate
Direct
Pioneer
Changemaker
Sometimes being a good manager means that you've forged change in your workplace. Reflecting these accomplishments on your resume can be a good way to garner the desired attention needed to land an interview.
Words to use if you want to convey that you've created change:
Convert
Customize
Integrate
Redesign
Relational
So many high-level positions require engaging in positive client relations and maintaining important relationships.
If you're seeking a position that requires client communications or management, consider using these words to convey that you're effective with clients:
Resolve
Partner
Advocate
Inform
Communicator
Being an effective communicator is critical in many positions, whether you're communicating with clients, employees, or management.
Show that you have polished communication skills on your resume through the word choices you make. Words to use if you want to convey leadership as a good communicator:
Convey
Define
Illustrate
Persuade

More: Leadership Interview Questions and Example Answers
Finding a Flexible Leadership Role
To land an upper-level position, consider the following resume tips:
In addition to your title in previous roles, include the number of employees or accounts that you managed during that time on your resume. Also, be sure to illustrate any major milestones you've achieved to give the potential employer more "meat" for evaluating you as a candidate.
Not only should you use powerful word choices like the examples above, but you should consider providing examples of your leadership experience in other areas of your life. Add information about your volunteerism, civic engagement, and social activities that can help illuminate your leadership skills.
Any accomplishment that you can assign a number to will be useful on your resume. Quantify how much you saved as a leader in a former position or how you managed the budget and that can speak volumes to a potential employer.
Written by: Christine Bernier Lienke