Much has changed in the past few weeks due to COVID-19.
While many things have become more difficult for job seekers, this situation has also created some opportunities you can take advantage of.
One of those opportunities the Coronavirus pandemic has created is online networking. Yes. Really!
Whether you were just laid off or were job searching prior to the epidemic, this is a great time to network online to find a new job.
In this article, I'll explain why, and show you how you can get started today.
Why This Is a Great Time to Network Online
Because of recent events, people are more receptive to hearing from each other online right now. People are more understanding, more helpful, and less guarded when it comes to receiving messages.
This creates an opportunity that did not exist a few months ago, or was not as easy a few months ago. The pandemic situation is an opportunity to reconnect with past colleagues you wish you had stayed in touch with. It is an opportunity to reach out to new people.
The COVID-19 pandemic is your "ice breaker" for any conversation.
The pandemic provides a reason to contact someone. Reach out to tell them you hope they are doing well and to ask how things are going.
The pandemic also offers a reason to ask for help if you need it – because everyone is going to understand if you are facing hardship in this situation! And most will want to help you.
How to Network Online During COVID-19 (With Examples)
Do NOT ask for favors from everyone, or send long initial messages with complicated requests for help. That still won't work!
Since you are not the only person messaging someone in a typical day, focus on writing a great message that is genuine and personal — a message that is about them just as much as it is about you.
If you do this, by following the steps below, then you'll be able to strengthen your network to find a better job.
1. Catching up with past colleagues
People can see through it if you only message to ask for a favor, and it rarely works. So, start by checking in with them.
When checking in with an old connection or past colleague, ask how they are doing. Tell them that you are using some of this time at home to reconnect with past colleagues, and you hope they are doing well and staying safe.
After they respond, try to have a back-and-forth conversation that is genuine. If they mention anything that sounds like they could use help with, offer to help.
And while you can update them on your situation early on in the conversation, wait a couple of messages to ask for anything.
After you update them on your situation (for example, telling them that you were laid off recently) and have exchanged a few messages, you can mention what you need help with.
There are a lot of avenues you can take, but the best strategy is to begin with a simple, easy-to-answer question like the examples below.
This is an example of what you could say mid-conversation, after telling them you've been laid off:
"I have a question. I've been talking to some other colleagues, and it seems that layoffs in my industry have been widespread. So I'm hesitant to search again in this same industry right now when it could be a dead-end. Do you have any sense of the overall health of your industry at the moment? It is a field I have considered pivoting into but I thought you would know a lot better how that industry is doing."
From here, you can ask if their company is hiring, or if they know others that are. Or, you can tell them you were thinking of applying to a certain position at that company and ask if they know who the hiring manager is.
Or, if they are in the same industry as you, you could say:
"I heard that quite a few companies in our industry are laying people off. How has your company been doing so far? I have not heard of any layoffs from them, so I hope you have had better luck than I have!"
As in the esamples above, ask for one specific piece of information, with a question that is quick and easy to answer.
A simple question, which is not the first thing you discuss, is the best way to open the door to get help from someone.
2. Reaching out to new potential colleagues
Next, you may want to connect with new people, including employees at companies you'd like to work for, people on LinkedIn who are connected with hiring managers in your industry, etc.
Just like in the steps above, the best strategy is to ask for something small and simple to start.
If you are coming from a different industry, you could explain that you are considering a changing industries. Then, ask if they think their industry seems to be holding up well so far during COVID-19.
"I have been working in the travel industry for several years. As you know, the travel industry was hit badly by the COVID-19 pandemic. You work for a financial services company, right? How is the financial services industry doing now?"
Or, you could ask how their company seems to be handling the pandemic and adapting so far. You could mention their employer is one of the companies you thought of applying to, but that you thought it made sense to ask first-hand how things are going.
This can get you some good information to use in your job search and will help you work your way toward asking for bigger favors, for example —
"Do you happen to know the hiring manager for this position?"
Employee referral programs often pay the referring employee a very nice fee (averaging over $1,000) for referring someone who becomes a good employee.
Choosing How to Contact Someone
If you have someone's email address, that is a great way to get in touch. Otherwise, I recommend using LinkedIn.
People expect to receive work-related messages on LinkedIn, so it provides a good platform for communications: ask how someone's company is doing, check in with former coworkers, and (eventually) ask for a favor or two in your job hunt.
The best channel for you to use will depend on your industry, though. For example, if you are a software engineer in the start-up space, then Twitter may be where your peers are most active online. So think about where people communicate in your industry, too.
The Benefits of Networking
If you follow the steps above, you will learn about more opportunities (including those that have not been posted online yet), and you will have a better idea which companies and industries to target in your job hunt.
Most importantly, you will have a better chance of getting interviewed for the positions you do hear about. Hiring managers prefer to hire someone who comes recommended by someone they know. To the hiring manager, the referral by an employee makes you seem less risky or more likely to succeed (you already have a friend to support you).
Referrals will also help you stand out. If 100 people applied for a job online, they are going to struggle to differentiate themselves. But, if you are the one who sent their resume to someone the hiring manager knows, and that person dropped your resume off on the hiring manager's desk, you and your resume are going to stand out.
The Bottom Line:
The COVID-19 pandemic has made some things difficult for job seekers, but it has also given you a great reason to reconnect with past colleagues, ask them how they are doing, or even reach out to new contacts to ask how their company or industry is holding up (and then continue the conversation to ask for what you need). If you practice these methods and follow this advice, you will grow your network and find a job faster during the coronavirus pandemic.
More About Coronavirus / COVID-19 Job Search and Income Recovery
---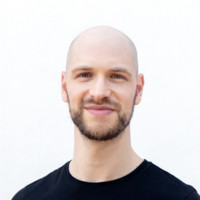 About the author…
Biron Clark is a former Executive Recruiter for multiple Fortune 500 firms and venture-funded tech startups, and founder of the job search advice website Career Sidekick. His advice is read by more than one million people a month and has been mentioned/quoted in CNBC, Forbes, Business Insider, Business.com, Yahoo Finance, The Muse, and more. Selected by LinkedIn as one of 10 "Top Voices for Job Search and Careers," follow Biron on LinkedIn and on Twitter at @bironclark.