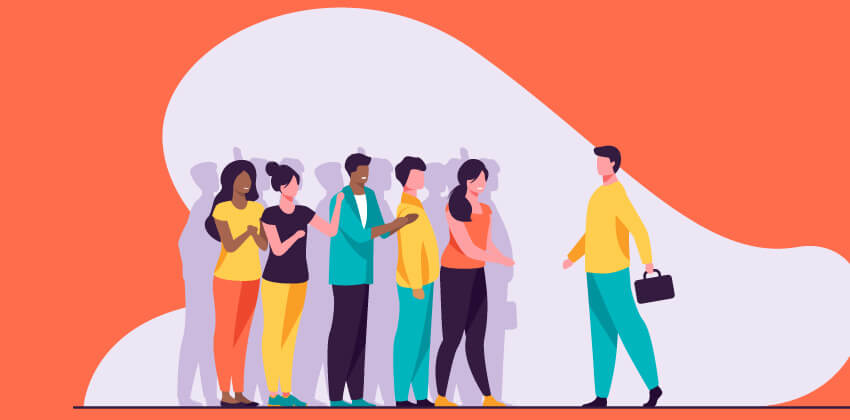 Meeting new people can be a challenge for introverts. Searching for a job involves meeting new people. A few simple strategies can make the process a little easier.
Sophia Dembling surveyed introverts for her blog in Psychology Today (The Introvert's Corner) to find out their favorite ways to meet people. She wasn't talking about job search, but the strategies apply.
1. Introductions by friends and family.
These are the people who know you best and who are generally easiest to approach. Make sure your inner circle understands the kinds of opportunities you are looking for so they can help with introductions.
2. At work or school.
This is a little trickier if you're no longer in a job or in school, but you can still reach out to former colleagues and classmates. Or, seek out opportunities for ongoing professional development, which upgrades your skills and gives you an opportunity to meet others who share your interests. (Side note – if your job search has been an extended one, "professional development" is a great answer when employers ask you what you've been doing for the past many months.)
3. Volunteering.
If you volunteer on a regular and recurring basis, you create the opportunity to become known and trusted by a new group of people, while you simultaneously get to know and trust them. At the same time, you're making a helpful contribution to a cause or organization you care about and, in some cases, continuing to use your professional skills. (Side note – this is another great answer for employers if you've been in an extended search.)
Dembling concluded from her survey that "introverts prefer meeting people in situations where they can warm up and where there's a natural subject for discussion (i.e. a club or class)."
Bottom Line:
You can meet new people in a low-key and natural manner that doesn't have to take you too far out of your comfort zone. And meeting new people expands your job search network.
More Information About Job Networking
Additional advice from Wendy Gelberg to help introverts succeed with their networking, including (from the list on the right):
---
About the author…
Wendy Gelberg is a Career Navigator at JVS CareerSolution in Boston and author of The Successful Introvert: How to Enhance Your Job Search and Advance Your Career. She is a certified career coach and resume writer whose expertise is in helping people who are uncomfortable "tooting their own horn." Wendy writes resumes, gives workshops, coaches individuals, and writes articles and blogs on all aspects of the job search process. Samples of her resumes and career advice appear in over 20 books. Wendy has been a career coach and resume writer for over 15 years. She has been an introvert her whole life. Contact Wendy at [email protected].