Searching for a job takes time and effort for you.
Wouldn't it be nice if your next job found you?
In the not-too-distant future, it might!
We now have this relatively new method employers use for filling jobs. It is called "social recruiting."
Today, you must understand social recruiting to leverage it for a successful job search.
What is social recruiting?
"Social recruiting" is finding qualified job candidates by searching through social media sources for people with the right skills, accomplishments, education, and personality required for their openings.
Social recruiting is the main way many, if not most, employers recruit now. They leverage the social media like LinkedIn, Twitter, and Facebook to find candidates for their job opportunities.
Employers also use these networks as windows into each candidate's personality and communications skills.
When you understand how social recruiting works and how to make your best impression on employers using social media, your next job (and the jobs after that) may find you.
The Rise of Social Recruiting
In 2017, as in the past few years, LinkedIn stays in the lead for social recruiting. It is known as the "professional social network." And, it is clearly the social network that recruiters have preferred, although, as the chart below from JobVite.com indicates, Facebook is not far behind.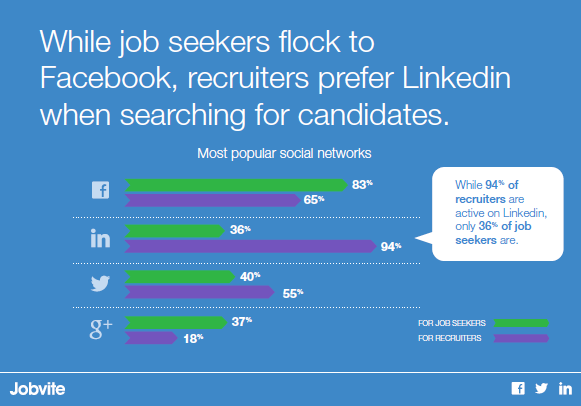 Notice that only 36% of job seekers are active on Linkedin while 94% of recruiters are!
Note that 83% of recruiters are also looking at Facebook, but LinkedIn is still the winner, as it has been for nearly a decade.
The Hazards for Job Seekers of Social Recruiting
Social recruiting is not an un-mixed blessing. It provides employers with a much more robust representation of the job seeker than any resume or application provides.
Rather than going to the expense of hiring a service to do a background check on a job candidate, much information can be gathered quickly from a Google search.
Often, too much information may be available — from party (and other) photos which should not be viewed by a potential employer to information about age, chronic illnesses, politics, religion, financial, and family situations, etc.
This personal information is not usually part of the decision-making process in an employer's hiring decision (and may be illegal to ask), but when the information is public, it may be considered — even unconsciously.
With social media, the boundaries between personal and professional networking can become dangerously blurred.
Job seekers (and employees!) must carefully consider what they post in a public network.
Before you post something, ask yourself a few questions:
Who will see this post or comment?
What could be the consequences if my current or future boss saw this?
Is this post safe for public consumption?
Google and the other search engines devour social postings, so everything Tweeted or posted on Facebook, LinkedIn, your personal blog, or a comment on someone else's blog may be shown to a potential employer by a search engine today or next year.
7 Ways to Leverage Social Recruiting for a Successful Job Search
Carefully using social media when you're actively job hunting – and when you are employed – can boost your job search, connecting you with opportunities you didn't know existed and would never have discovered any other way.
  1. Separate your personal and professional online visibility.  
If you must share your views on religion, politics, and other personal and controversial topics, establish and use social network identities that are not easily traced to you, or use a different version of your name (and a different email address).
When using LinkedIn, which is clearly a professional network, stick to topics related to – and enhancing – your professional image. And be sure to check – and periodically re-check – your privacy settings on all the social networks to keep those roles separate.
  2. Market yourself and, if you are employed, market your employer, too.  
Make your skills and accomplishments visible in social media, particularly in LinkedIn. Your spelling, grammar, and ability to compose a coherent and effective message or post will be seen and noted. Focus on sharing the skills and accomplishments that show you are successful and well-qualified for your job (and for your future job, too).
If you are employed, describe your employer and your job as positively as possible.
Assume that someone like your manager, PR, or HR will see what you share. Know that trashing your employer is worse in social media than in a job interview because it can can cost you both your current — and possibly your future — employment.
  3. Establish your "brand."  
Show potential employers your depth of knowledge, your ability to communicate effectively, your good spelling and grammar, your ability to find and share excellent information, and, if possible, your writing skills.
Focus on topics and information related to your field. Avoid political and religious sharing in social media, and be sure that your public visibility is error free — no typos, bad grammar, or trashing anyone (partacularly a former employer).
For more on "personal branding," read Job-Hunt's Personal Branding Expert Meg Guiseppi's excellent Personal Branding articles.
  4. Expand your network.  
All of the social networks offer search capabilities to help you connect with people you know (family, friends, former classmates, former co-workers, customers, clients, professors, neighbors, etc.). But, don't limit your connections only to people you have met or spoken with in person.
To be most effective, you also need to connect with people you have not actually met. Connect with people who look like people you should know, and accept connection invitations from people who look like they would be good members of your network.
In addition, connect with important people in your field. For example, if banking is your industry, look for new connections you can make in banking to expand your network. You can follow/connect with banking industry sites, banking news sites, banking industry career and job search experts, as well as other thought leaders.
These connections will enable you to stay up-to-date in your field as well as providing the connections and advice that will help expedite your job hunt. They may help you do your current job better and also help you connect with that next job when the time is right.
Read Should You Refuse or Accept LinkedIn Connections? and 3 Ways to Effectively Grow Your LinkedIn Network for more details.
  5. Connect with your target employers.  
Most employers pay attention to who is following their social media profiles, so this can be a good, but quiet, way to bring yourself to the employer's attention.
Both Facebook and LinkedIn have pages specifically for companies, filled with excellent information (the company's "party line") for potential customers and potential employees.
LinkedIn shows you company employees who are in your LinkedIn network, Groups that may be associated with the employer, and other information about the employer. Jobs with the employer may be posted, too.
Many employers also have established company pages on Facebook, promoting the company as an employer with the ability to make job postings public if they choose.
Many, many employers have an HR or recruiting account on Twitter used to send out job postings. Find and follow those accounts. Again, employers often pay attention to who is following them, even on Twitter.
  6. Stay active and visible in social networks.  
Focus on establishing and maintaining one social network profile when you are getting started with social media. Then, add additional networks as your time and attention allow. If you have time to be active in only one social network, LinkedIn is probably the one which will be most effective for professional social networking.
When you "go silent" after establishing a profile, few recruiters will spend time trying to contact you. Perhaps you shared an excellent article that was exactly on-topic for the job they have open. However, if you posted it early-2017 with nothing else posted since, your account appears to be abandoned, and recruiters will usually move on to the next candidate.
Read Expand Opportunities by Optimizing Your LinkedIn Contact Information for more information on being reachable after you are found.
  7. Monitor your online reputation.  
Social recruiting is not without dangers to job seekers, as mentioned at the top of this article. Without actually seeking negative information, employers constantly uncover content online disqualifying candidates from consideration.
To stay informed, practice "Defensive Googling" once a week, preferably using a private browser window like "Incognito" (on Chrome) or "Private" (on Firefox). Using an Incognito/Private browser enables you to see what the search engines show the rest of the world, like an employer. Otherwise, the search engine will show you what it thinks you like to see rather than what everyone else sees.
More aboout Personal Online Reputation Management.
The Bottom Line
Social recruiting is a fact of life. It is not going away, and job seekers must learn how to manage it. People have been fired for using social networks inappropriately, and they lose job opportunities for the same reason.
More Information about Social Media for Job Search
---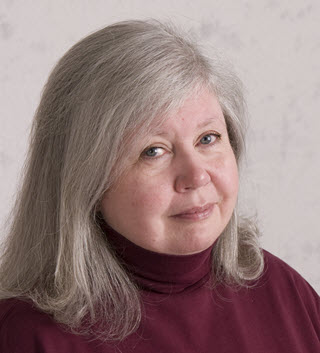 About the author…
Online job search expert Susan P. Joyce has been observing the online job search world and teaching online job search skills since 1995. A veteran of the United States Marine Corps and a recent Visiting Scholar at the MIT Sloan School of Management, Susan is a two-time layoff "graduate" who has worked in human resources at Harvard University and in a compensation consulting firm. Since 1998, Susan has been editor and publisher of Job-Hunt.org. Follow Susan on Twitter at @jobhuntorg and on Facebook, LinkedIn.
More about this author…