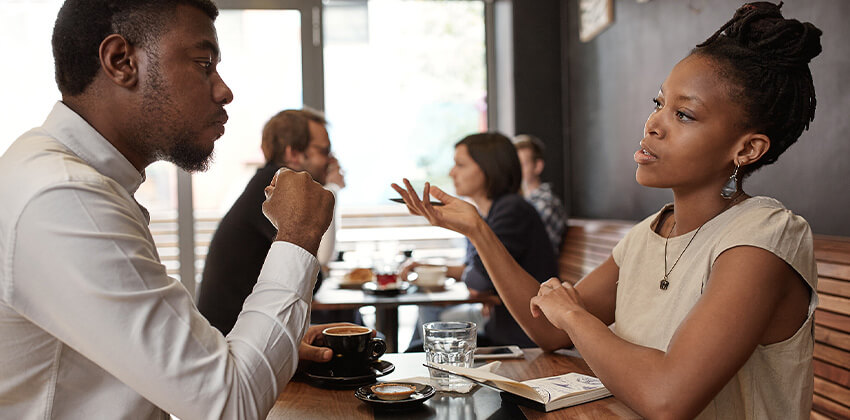 One of the most effective ways to learn more about a potential career path, company, or job is to set up an informational interview with a professional who already works in your field of interest.
An informational interview is less formal than a job interview since the intention of an informational interview is information gathering for the future, rather than immediate employment.
While you may end up hearing about current job openings during an informational interview, your purpose for this type of interview is not to land a job based on your conversation.
Instead, the goal of an informational interview should be to emerge armed with valuable research about an area or organization where you may want to work.
Below are some tips to get the most out of an informational interview, maximizing the time spent with your interviewee.
Be Intentional About Choosing Who to Interview
The first step to ensuring a strong informational interview is to identify the right person to speak with.
The UC Berkeley Career Center suggests mining your own contacts for potential people to speak with. "People you already know, even if they aren't in fields of interest to you, can lead you to people who are. This includes family, friends, teaching assistants, professors, and former employers," the Career Center states on its website.
But many informational interviews are conducted with someone who you, as the interviewer, have never met before, particularly if you're new to an industry and don't have contacts in it yet. This means it's important to spend some time researching thought leaders in the industry or company that you'd like to learn more about.
Professional networking sites like LinkedIn are excellent resources for this, as it's easy to use the search tools to quickly find potential interviewees with certain job titles, or identify people in roles that you'd like to know more about who work at a specific company.
You can also use LinkedIn to make initial contact with someone you're interested in interviewing, either through a request to connect or by responding to an article or other content that they post about industry topics.
Be Specific and Finite in Your Ask
Once you've pinpointed someone who you'd like to interview for their career insights, Founder of Career Fixer LLC and certified Career Coach Dawid Wiacek advises giving the person you'd like to interview a definite time frame. "Whether it's 10 minutes on the phone or a half-hour coffee chat, let them know the parameters," Wiacek said. "That way, the other person has an out if it ends up being awkward or unpleasant."
Also, by narrowing down your request to your interviewee by specifying in advance the questions you'd like to discuss, you'll give the person time to prepare. This courtesy may make them feel more willing to schedule time with you.
Do Some Research in Advance
You don't want to show up to your informational interview, whether online or in person, as a blank slate about the career you'll be discussing.
In order to conduct a meaningful interview, you first need to spend some time researching the field or organization that you'd like to learn more about. This will allow you to ask smart questions and approach the informational interview with an understanding of the basics.
The UC Berkeley Career Center also recommends that your preparation include developing a brief introduction of yourself that you can share at the start of the interview, along with your hopes for the meeting. Additionally, plan to ask some open-ended questions, like the questions on the Career Center website.
Ask Tons of Questions
According to Wiacek, studies show that the less you talk and the more the other person talks, the more likely they are to enjoy the conversation and leave with a positive impression of you.
Remember, the point of an informational interview is information gathering, so while you'll be the one leading the conversation through the questions you ask, you don't want to dominate the discussion.
Wiacek recommends asking questions like these to open the door to your interviewee sharing more:
What was your career progression?
What are you most proud of?
What are your career desires and passions?
How can I support or help you?
End It Right, With Follow-up
The key to a successful informational interview is emerging with "news you can use"—information that you can leverage to help you learn more about the industry, ways you can meet other people in the industry, and ideas about the next steps you can take.
The UC Berkeley Career Center advises keeping records from your interview about what you learned, as well as what else you'd like to know, and keeping in touch with the person to let them know how you used their advice.
Finally, Wiacek advises using this step to close the conversation: "End the informational interview by asking for one person in their network who they can introduce you to. That way, the informational interview isn't a dead end."