Here is Mark Noonan's story. Following a family tragedy, Mark reexamined his life and decided to leave his fast-paced corporate career and found new meaning as a volunteer manager for Elders in Action, a nonprofit organization tackling important issues for older Americans.
Mark and I recently discussed his transition. He spoke candidly about the challenges and excitement he found in his transition. Anyone considering a career change later in life will find useful encouragement and practical tips in his story.
Marks' story, in his own words:
"My story is a journey of starting over, starting anew. It began tragically. In 2004 I was 52-years-old and at the peak of my career as an executive in the high tech industry."

"I was in China outsourcing a factory when I heard that my wife Carrie had an accident. She'd fallen in our home and passed away suddenly. I was devastated and began questioning my motives and purpose."

"I had invested thirty years of my life in populating the world with computers and now wished I had spent more of my time at home, with my wife and kids."

"Even before the sad death of my wife, I'd been growing more and more concerned about the effect of downsizing and outsourcing. I saw how it tore apart the lives of my employees and their communities."

"In my questioning was a seed of a new beginning and I began a quest to find something I could feel passionate about again."

"A lot of Baby Boomers are reaching this transition point for many reasons. Some are very tired of their sixty-hour work weeks, and Blackberry-driven existence."

"Some have been laid off or downsized themselves. Many of us are at a point where we need to look at what we want to do next."

"I'd had a successful career working for large companies like Intel and IBM, and also for smaller start-ups. I'd worked as an engineer, a purchasing agent and as a director of engineering. But now I knew I wanted to refocus my energies to make a social contribution and leave a positive legacy."

"So I began to explore. I first thought of being a chef. I love cooking but realized that the job is very physically demanding; you spend the day on your feet and work odd hours."

"I realized that passion isn't enough. I needed to combine passion with realism to create a sustainable career – something I could stay engaged with for the second half of my life, another 20 years of work."

"I became curious to learn more about the growing 'age-wave' and discovered how unprepared our society is for the impact this immense shift in demographics will have on the world."

"Through guidance at my local community college, Portland Community College (PCC), I researched gerontology as a field. I found I could leverage my experience to give back to an under-supported population."

"My vision was to assist and motivate older adults as they entered the next phase of their lives. I saw it as a tremendous opportunity, an area that was really growing."

"At PCC almost all of my classes were online. This alleviated one of my discomforts about going back to school, the thought of sitting at a desk with lots of young students." The school was also accommodating, transferring in all of the credits from my Bachelor of Science in engineering I had earned 30 years ago. This enabled me to get a degree in gerontology in a year and a half."

"While at school I worked part-time as a peer mentor through an intern-like program sponsored by 'Civic Ventures.' I worked at 'Loaves and Fishes' which is our local meals on wheels, at 'AARP Oregon' and at 'Elders in Action.' "

"I owe a lot to PCC. They helped me get a degree, experience, and to segue quickly into employment. I left with a resume with relevant experience through the internships, a network in my new field and one of the most ideal jobs I could imagine."

"When I graduated, Elders in Action offered me a paid position. My current title is 'Volunteer Engagement and Social Media Manager' which is quite a mouthful."

"I am able to use my management skills to recruit volunteers and make sure they have a good experience. I work with 150 volunteers who help our clients connect with community resources that assist with issues in the areas of housing, healthcare, crime, and elder abuse. Our organization is dependent on their passion."

"Also, my experience with computers helps me be on the edge of the new stage of communications – social media. This helps us stay in touch with our partners, our volunteers, and the community at large."

"Every night when I return home I feel deeply satisfied. I love interacting with people who are thankful for assistance."

"Older adults are very collaborative. They may not do what you would like, but it's always an interesting discussion. Many of our clients are low income, and they need a little extra help, especially in current times. With a bit of problem solving they're off making a difference in their lives."
Lessons Learned in the Process
Mark's advice for Boomers who are thinking of changing careers to find more meaning:
It's key to spend the time up front to find something that you can be passionate about as well as make money at.
Changing careers involves risk and you have to confront the fear of the unknown – and it's worth it. The unknown can hold great possibilities for new engagement and meaning.
If you're moving from the for-profit to the not-for-profit world be prepared for a reduction in salary. Many Boomers who opt for work at a nonprofit are willing to accept less income in return for the opportunity to make a contribution.
Leave your arrogance at the door. Nonprofit culture is different. Many organizations are succeeding with their mission, even if they're not extremely efficient. If you act like you have all the answers you won't get the opportunity to fully contribute your skills.
Listen. Take your time to adapt to the tempo and tone of your new organization. Be observant and you'll discover ways to explain how you can help – and you'll find the opportunities you seek.
As Mark Noonan's story demonstrates, it's possible to transcend tragedy and find personal and professional renewal at any age.
Bottom Line:
Are you longing for this kind of change? Take the time to identify your passions and priorities at this stage of life, and consider the nonprofit sector, especially if you want work that matters and you're willing and able to adapt to the opportunities and constraints of a service career.
As H. Jackson Brown Jr. said, "Remember that the happiest people are not those who are getting more, but those giving more."
For More Information:
---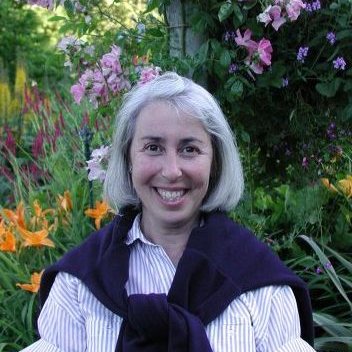 About the author…
Phyllis Mufson is a career / business consultant and a certified life coach with over 25 years of experience. She has helped hundreds of clients successfully navigate career transitions. You can learn more about Phyllis and her practice at PhyllisMufson and follow Phyllis on Twitter @PhyllisMufson.
More about this author…