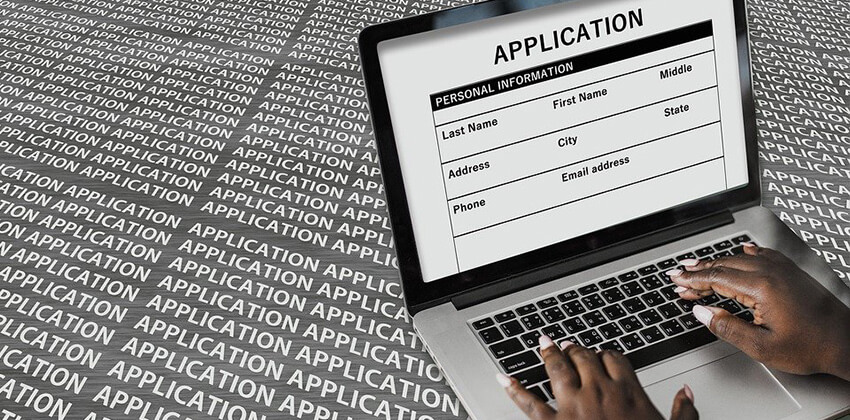 Filling out a job application has never been on anyone's favorite task list. Maybe your first or second one is exciting. After that, they can become repetitive and boring quickly.
Set yourself up for success by creating a routine for your job search, including organizing your application materials. This way, you'll be ensuring that the first impression prospective employers get is that you're thorough, timely, and detail-oriented.
Job Application Best Practices
Employers use applications to ensure they get the same information from each candidate. The details needed are in a consistent location so hiring managers don't have to comb through resumes in various formats. They'll be able to compare each applicant quickly and find the best match.
1. Have Your Materials Organized
When you're ready to start a job search, organize all of your application materials into a folder or a file. Rather than relying on an online list, print materials out to take with you if you'll be completing a paper application.
An organized location ensures that you won't accidentally miss any details by relying on your memory. This helps keep your applications consistent. Also, you'll be able to speed up the process, so that's a win all the way around.
2. Double-Check Your Employment Dates
Before beginning, double-check any employment and education dates. Check your W-2's or bank accounts for beginning payroll, rather than guess what month you started with a company. Often, you can verify your employment dates with a larger company's HR department if needed.
Are you still working on your degree? Whether your high school diploma or an advanced degree, list the "expected completion date" with your anticipated graduation date.
3. Read the Instructions First
When all of your information is gathered, and you're ready to begin filling out the information, read through each job application first. Most follow similar structures, but you might come across one that requires information you don't have in front of you. Or, they might ask for details you didn't gather, such as a previous manager's official title.
When you've already invested time filling out most fields, it could be tempting to improvise or leave it blank rather than start over, especially if you're worn down in the middle of a lengthy job search. Instead, read the entire form before beginning to ensure that you have all the necessary information.
Note: It's never a good practice to lie or stretch the truth. Inevitably, you'll get found out, and lying on your application is often grounds for termination.
4. Complete the Entire Application
Don't leave areas blank. If they don't apply, place an "N/A" there to ensure you're conveying that you didn't simply skip the information. Consider this application your first chance to honestly communicate with the prospective manager. You'll want to present yourself as detail-oriented and good at following directions.
5. Use Available Space to Give Details
Similar to resume best practices, don't simply list your qualifications. Offer data-driven examples that support your position as the best candidate. Suppose you had a previous role as a server. You might consider details such as:
Friendly and personalized service resulting in a consistent 25% increase in sales by upselling dessert and appetizers.
Verify that you're not using jargon, even if you're moving into the same field. Spell out the acronyms and utilize professional tone and phrasing.
6. Utilize Keywords That Match Your Resume
As a best practice, find keywords in the job posting and utilize those throughout your application. Ensure that each piece of your personal brand tells the same story and you're showcasing the same skills as you do on your resume.
For example, if the recruiter has listed reliable several times, you can share your excellent attendance record at school or in your last job. Customer-focused or friendly is a requirement? You'll want to highlight any service awards, teacher evaluations, or customer feedback you've received.
7. Include Your Verified References
After you've verified contact information for your references, have them neatly organized and ready to add. Ideally, these will be the same references that you list on your resume.
If you're in the middle of a job hunt, contact them ahead of time to seek permission. You'll notify them to look for unknown numbers or email addresses coming soon. Ensure that they'll answer the requests promptly rather than think that they might be spam.
8. Don't Specify Salary Requirements
Employers will often have a field for salary expectations. They'll use this as a means of screening candidates. You want to be identified for your qualifications, rather than the number you put down. Input "open" or "negotiable" if you're asked about salary on your application. When it comes down to the actual offer, you'll be able to negotiate your salary or politely decline if it's not going to meet your requirements.
9. Triple-Check for Accuracy
Before submitting, go over your information several times to ensure that there aren't typos or missing data. Typos and grammar errors are some of the biggest pet peeves that recruiters have. If you're applying online, consider copying and pasting your information into a Word document, as it's easier to edit there.
10. Include Your LinkedIn Profile in Your Contact Information
Include professional contact information, including your completed LinkedIn profile. Also, if your email is fun and trendy, like [email protected], for example, you should create an email specifically for job searching. The easiest way is to create a simple version of your name. If it's already taken, consider adding a period or your middle initial—something simple that keeps it professional.
More: The Complete Guide to Job Applications
Prepare for Your Interviews
Regardless of what type of application you're filling out—paper or online, single or multi-page—being detail-oriented, neat, and concise ensures that you make the best first impression. Ensuring that you keep your message consistent and professional across all of your job search materials will help you quickly land more interviews.