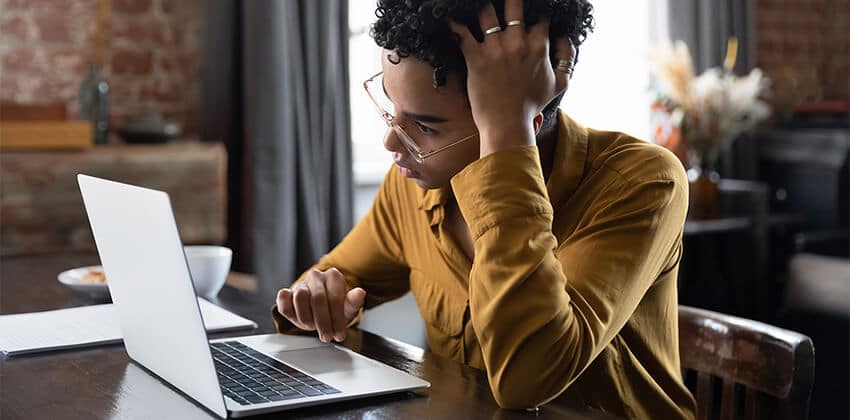 Few things in life are as eagerly anticipated as a job interview. But sometimes, despite our best efforts, something comes up, and we have to cancel our appointment. So, what do you do when your kiddo is home sick with a 103-degree fever? Or your current job suddenly schedules a meeting that you would be risking your employment by skipping?
Or, perhaps, you've had a different interview for a role that's a better job or schedule fit for you. How you move forward is mainly dependent on whether you're still hoping to be considered for the role or if you're withdrawing your application.
How to Professionally Cancel Your Interview
Don't despair. There are ways to cancel that won't automatically rule you out as a candidate. Or, at the very least, it won't damage your personal brand and prevent you from future consideration at the company.
Even if you're no longer pursuing the role, it's essential to notify the recruiter to maintain your professional reputation. Do your best to avoid simply not showing up, as you'll be burning your bridges with the company and possibly damaging your professional networking options. Use the following four tips to move forward.
1. Ensure You Truly Want to Cancel
While it's always important to be thoughtful about your career choices, it's also helpful to keep an open mind. Declining a job interview because you're unsure if it's the right fit can be a mistake. Attending the interview allows you to learn more about the role and the company and decide if it's something you'd be interested in.
Even if, ultimately, the job isn't for you, attending the interview can be a valuable learning experience. You'll get new perspectives, grow your network, and gain interview practice. And remember that you might be able to negotiate for a higher salary or flexible work options if you've discovered they won't meet your needs. Why not keep the interview and consider it more of an informational interview that helps you grow your professional perspective?
2. Give as Much Notice as Possible
When it comes to canceling a job interview, there are a few things to consider. First and foremost, you want to be as professional as possible. This means being respectful of the interviewer's time. Secondly, you'll want to make sure that you cancel the interview promptly. The sooner you cancel, the better, as it shows professional respect for the recruiter's busy schedule.
3. Ask to Reschedule
What do you do if life happens and situations beyond your control mean you have to reschedule a job interview? While it's never ideal, if you find yourself in this situation, don't panic. The best thing you can do is contact the interviewer as soon as possible to explain the situation and give them some potential dates and times you're available for a rescheduled interview.
Always apologize for the inconvenience and assure them that you're still interested in the position. In many cases, the interviewer will understand that life happens and accommodate you if possible.
4. Don't Share Any Drama
It can be tempting to try and explain the circumstances that are outside of your control. However, it's often in your best interests to leave extra details out so you don't appear to have negative energy or drama. You don't always need to give a reason, but it can help when you're hoping to reschedule.
However, ensure that you're keeping your tone businesslike and don't share any personal or work drama that has created the need to change. Instead, be brief and professional. It'll help you maintain your network and keep you in good standing with the interviewer. Politely apologize for the inconvenience and thank them for their time.
How to Cancel an Interview Via Email
Suppose you're relocating or have accepted a different job and are confident that you don't want to proceed with the interview process. In that case, your email to the recruiter can be concise and professional. Consider the following example as you're writing your correspondence.
Subject Line: [Your Name] – Interview [Date/Time]
Dear [Hiring Manager's Name],
Thank you for the opportunity to interview for the [role]. I truly appreciate your consideration but need to cancel my upcoming interview on [date] at [time].
I would like to withdraw my resume from consideration. Once again, thank you for your time and consideration.
Sincerely,
[Your Name]
How to Reschedule an Interview Via Email
When you're hoping to reschedule your interview, you'll need to ensure that you include all of the essential information that makes it easy to remain a top contender.
Subject Line: [Your Name] – Reschedule Interview Possibilities
Dear [Hiring Managers Name],
Thank you for the opportunity to interview for the [role]. I'm eager to meet with you but am unable to meet on [date] at [time]. Would it be possible to reschedule? I'm available on either [date] or [date] if you have any openings in your schedule.
I apologize for any inconvenience and truly appreciate your time.
Sincerely,
[Your Name]
Maintaining Your Professional Reputation
Regardless of why, if you need to cancel or reschedule your interview, doing so in a professional manner with the most notice possible can help ensure that you don't lose any of your credibility. Before you cancel, ensure that you aren't letting nerves sway you. After all, an interview is simply an opportunity to learn more about a position. You might discover that you end up more excited about the possibilities than you had anticipated if you attend the interview.