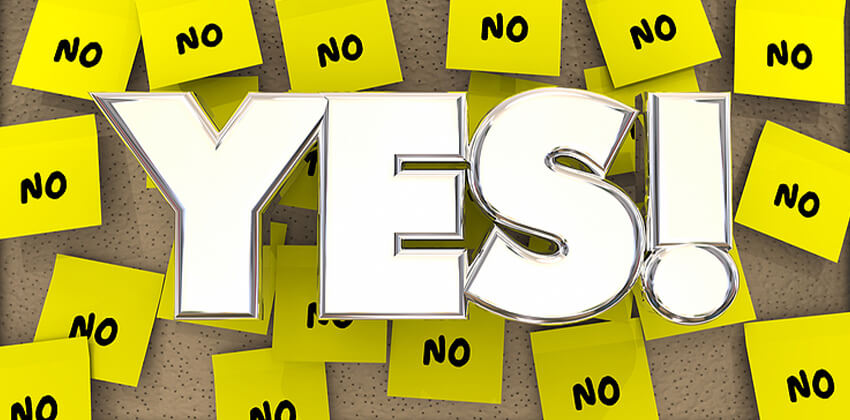 Here's a recent success story from one of our clients that should motivate you to follow up after each and every rejection you get from employers.
"No" Doesn't Mean "Never!"
Because, as we preach continually, when an employer says "No" it doesn't mean "Never."
The rejection only means "Not today." Not this job. Not now.
You can do exactly what our client Barry did below, every time you are "rejected" for a position.
Simply write or call the employer and ask, in effect, "Could you please provide feedback about why I was not considered for this job?"
Doing this gives you two important advantages in your Guerrilla Job Search:
It will usually provide input from employers as to why you did not make the final cut.

Use this! Fine-tune what jobs you're applying for, what you're saying on the phone, what you're writing, how you're interviewing, etc.

This information is priceless and you can use it to continuously improve, which will reduce the time you spend looking for work.
You may prod employers to reconsider your candidacy, simply by asking them to explain why they turned you down.

This is what happened to our client, Barry. As you can see from his emails below, the persistence he demonstrated by following up and asking "Why?" got his name back into contention for the position. Shazam!
The three emails below are in the order we received them from Barry.
The email you should pay the most attention to and learn from is the one dated: Wednesday, July 23, 2008 4:52 PM
————– BEGIN EMAILS FROM BARRY
From: [email protected]
Sent: Friday, July 25, 2008 11:27 AM
To: David Perry
Subject: Re: Executive Director
David,
I wanted to forward the emails below to you. You suggested I contact some of the companies again to follow up on rejections, and it looks like I may be now back in the mix for consideration. I'm a bit shocked, but I wanted to share a success from another of your tactics.
Barry
—–Original Message
From: XXX
Sent: Friday, July 25, 2008 11:27 AM
To: [email protected]
Subject: Re: Executive Director
Dear Barry,
We received an incredible amount of excellent resumes, but since you continue to express great interest in this position, I will contact your references and have the search committee once again review your resume.
—– Original Message
From: To: [email protected]
To: 'xxx
Sent: Wednesday, July 23, 2008 4:52 PM
Subject: RE: Executive Director
I want to begin by thanking you and the committee for considering me and my record as the Executive Director for your XYZ Project. I am humbled and quite appreciative of your consideration and wishes for my job search. I believe that I could be an asset with the XYZ Project, but also understand your need to choose only those candidates that you feel are best suited for the job.
I would like to ask you a question: Is any part of the decision to not move forward with my candidacy related to that fact that I do not live in Illinois at present? If that is not the issue, could you give me some feedback as to what may have not brought me into the group to be further considered?
I ask this only to gather feedback as I continue my search for the right position to use my skills, experience, and passion, and I appreciate your time and willingness to respond.
Also, should there be a reason that the XYZ Project would like to reconsider my application, I would be open and interested in speaking with you or the committee.
Thank you in advance for your response.
Sincerely,
Barry
————– END EMAILS FROM BARRY
Why can following up like this after a rejection work?
First, regular follow-up with employers proves that you are persistent and thoughtful — two qualities every hiring manager is looking for. (Why hire lazy dolts?)
Second, no other candidate is likely emailing hiring managers after being turned down to ask why. And I mean nobody is doing this — are you?
So … how much easier could it be for you to stand out and impress employers than this?
Finally, there's a marketing maxim that applies perfectly to your job search: It often takes at least seven contacts — emails, phone calls, in-person appointments, letters by mail, etc. — before the average person will make a purchase.
So, you should make a plan to contact your ideal employers at least seven times before you can expect them to "buy" — even if it's to follow up after being rejected for an interview.
Because, to end where we began, "No" from an employer doesn't mean "Never," it only means "Not today."
Now, go get 'em Guerrilla — today, tomorrow, and every day after that!
More About Recovering from Rejection:
About this author…
Job-Hunt's Guerrilla Job Search Expert David Perry is a recruiter, co-author of the book "Guerrilla Marketing for Job Hunters" and managing partner of Perry-Martel International. Find David on LinkedIn.