Want to quickly distinguish yourself from job-hunting competition on LinkedIn?
Look no further than your LinkedIn About section (formerly known as the Summary).
The "elevator pitch" of your social media profile, a powerful About section can compel employers to take a second look at you for their needs, particularly the first two lines.
Crafting Your Knockout LinkedIn Summary
So how do you craft a knockout message of brand value for your LinkedIn About section?
First, you will need to master the concept of writing for an online audience and take the principles of SEO into consideration, then wrap your content into an attractive package.
To rework your LinkedIn Profile About section into a power-packed description that elicits attention from recruiters, start fresh with the following steps:
1. Pay special attention to the first two lines of your About section. 
As of 2020, your About is not immediately displayed in full – at least, not until the reader clicks on "…see more" (on desktop and mobile).
Most readers will see only the first approximately 90 to 150 characters when viewed on mobile, with around 300 characters viewable on the desktop version.
Why should you care? Employers will only see a smattering of words added at the TOP of the About – and those words better represent your personal brand almost immediately. Otherwise, your LinkedIn readers will not "get" your value or be sufficiently compelled to click through for the remainder, as their short attention spans will take over and they'll quickly move on to the next candidate.
Here are some ways to circumvent this problem, differentiate yourself, and persuade LinkedIn users to drill further into your Summary for details:
Put your objective front and center.
Instead of droning on about your value as an "experienced and results-driven professional," use those first few LinkedIn Summary characters to position yourself appropriately, as shown by these examples (which will be seen immediately when using LinkedIn's mobile app):
HR Executive. Global Sourcing & Onboarding Strategies for Strong Talent Retention
CIO, VP IT. IBM Distinguished Engineer. Cloud Solutions, Cost Savings, Digital Transformation
By incorporating job titles and areas of expertise you plan to use in the future, you'll set an expectation for the type of roles you want to pursue.
You could also note your job stature and signature accomplishments in the first part of your LinkedIn Summary, as demonstrated in this example of a team leader who improves customer service performance:
Customer Service Leader. 45% better service metrics in 6 months from team coaching…
What if you are a new graduate with limited work experience? Early-career professionals can also use the first characters of the LinkedIn Summary to show job targets, credentials, and related educational achievements, as shown in these examples:
Top BA Economics Graduate, U of Michigan. Poised for financial services, data analysis…
Marketing & promotions are my forte! With a Northwestern BA, I offer branding, social media, …
When setting up your LinkedIn Summary, be careful when adding extra characters, such as bullets or dashes. While these graphics can help set off the text in your LinkedIn Profile, you will also want to ensure they are not blocking the view of your content within the first few lines of text.
Add job-specific keywords at the beginning of your LinkedIn Summary.
Here's a secret: keywords count more strongly in nearly any field when they are placed first.
This is true for many types of databases, including your Google searches. Try it by typing any string of words into a search engine and you will find the top results match your query, word-for-word.
By placing relevant keywords at the front of your About section, you can help satisfy the site's search algorithm AND your human reader – making your career goal and stature more obvious.
Of course, you will want to capitalize on all 2,600 available characters of your About, as more keywords and accomplishment details will also be indexed and help draw traffic.
Incorporate a powerful message of results.
Not only will you want to spark interest with your career goal and important keywords, your first few About sentences will carry weight with recruiters. Consider these examples (all viewable immediately on LinkedIn's desktop version):
HR Executive. Global Sourcing & Onboarding Strategies for Strong Talent Retention. I have decreased turnover 30%+ by identifying what matters most to employees. IBM is now on track for cutting-edge 2018 releases…
VP Sales. Enterprise Technology & Channel Partnerships. Top Deals in History. Reaching up to 170% of goal, I have coached sales teams to build relationships among social media providers, expanding our market share…
These examples show LinkedIn About text that begins with a job title, but you could also switch things up by mentioning your reputation for results in the first few characters, as shown here:
154% Average YoY Gains in Sales Growth at SAP America – Peak Revenue Growth in Division. Often sought to turn around challenged sales teams as Senior Sales Manager, I have infused teams with consultative selling skills…
By putting the important information first in your LinkedIn Summary– where it's most likely to be viewed on any device platform – you're not only using precious real estate wisely, but also capturing attention that could lead to more views by recruiters.
It's important to leverage your social media presence to impress employers by trimming words, noting your value proposition, and getting to the point in just a few characters. By doing so, you will ensure your brand message is front-and-center on LinkedIn
2.  Pump up the keyword volume.
LinkedIn SEO doesn't have to be a mysterious concept. Basically, to rank strongly in searches for employees with your skills, you'll need to add more Connections (which helps your Profile become more "important" in LinkedIn's perspective), and you'll need to use better keywords.
The keywords most important on LinkedIn are what employers use to find a candidate like you: job titles, skills, industry names, and other related terminology.
As an example, an Operations Director who finds production, Lean Six Sigma, manufacturing, process improvement, and cost savings in job descriptions could add this achievement to her LinkedIn About section:
Leveraged Lean Six Sigma for process improvement and 31% cost savings on manufacturing production line upon promotion to Director of Manufacturing Operations.
The benefit of keywords? They'll bring your Profile more traffic from interested employers, and when woven into your success stories, demonstrate how you used these skills to produce results.
With space for 2,600 characters available, your About section is a great place to inject keywords into each sentence, repeating them for greater density.
[Related: Double Your LinkedIn Visitor Traffic with Keywords, Choosing the Best Keywords for Your LinkedIn Profile, and LinkedIn SEO.]
3.  Skip the big paragraphs.
Large paragraphs of 4 lines or longer are hard to skim in a LinkedIn About (or descriptions of your jobs). Remember, you are writing for the web, not an academic research report!
Instead of plopping your long-winded resume About or bio into LinkedIn, break up those large paragraphs.
Short, easy-to-digest sentences reel in all types of readers, especially those with short attention spans, and bullet points highlight important information for people scanning a webpage.
In addition, shortening your descriptions of career success stories will also force you to write tight, keyword-rich content, which is perfect for online reading.
As an example, this LinkedIn About for a Chief Operating Officer ("COO") uses brief statements to outline the scope of his authority and describe career accomplishments:
After my recruitment as XYZ Company's first COO, I led 500+ reports to deliver:
◆ $32M revenue improvement from new sales channels
◆ Strategic alliances with manufacturing and supplier partners
◆ M&A integration for acquisition of AB Company
As in the bulleted list above, add interest and draw the reader's eyes to specific parts of your About by adding these interesting characters. Copy and paste characters from this list.
| | |
| --- | --- |
| Character | |
| Black Square | ■ |
| Triangular Flag | 🚩 |
| White Check Mark | ✅ |
| Double Diamond | ◈ |
| Double Square | ▣ |
| Black Circle | ⚫ |
| Small Black Circle | ● |
| Pushpin | 📌 |
| Bullseye | ◉ |
| Double Circle | ◎ |
Be cautious about over-using symbols. But, do not limit use to your About. They can also add distinction to your Headline, Experience, and other sections of your Profile. For step-by-step directions on how to add these symbols to your Profile plus 50 symbols to consider adding to your Profile, see LinkedIn Profile Eye Candy.
4.  Give readers an idea of your ROI (in first person).
If you are to be hired, emphasize the employer's Return on Investment (ROI).
Your LinkedIn About offers one of the only glimpses into your personal brand – so make it memorable!
What business problems do you solve?
How are you unique among others in your field?
Instead of copying "Highly accomplished professional with more than 15 years of sales expertise" from your resume, kick things up a notch with "I have brought employers a competitive edge (and up to 53% more revenue) by building executive relationships inside Oracle, Bank of America, Sony, and AIG Insurance."
Adding up your years of experience or rattling off a list of your skills doesn't help employers figure out where you add value.
Tell them – in powerful, keyword-rich sentences that include metrics – why you've advanced in your career, and how you can meet their needs:
I have earned quick promotions for improving software revenue reporting, trimming headcount 28%, and implementing new IT systems… preparing me for a Controller role in the tech industry.
As IT Operations and NOC Manager, I am considered a go-to expert for global connectivity strategy, eliminating 24% in vendor costs and improving bandwidth between Frankfurt and Chicago offices.
Note the keyword content (NOC Manager, software revenue, IT systems, Controller, IT Operations, global connectivity) leveraged throughout these sentences.
5. Upload or link to demonstrations of your expertise. 
LinkedIn now offers you the ability to add proof of the quality of your work.
At the bottom of your About, LinkedIn offers you the ability to upload documents, images, and videos which are samples of your work. These add both color and also proof of your skills and knowledge.
Document formats that may be uploaded and successfully displayed include Microsoft PowerPoint, Microsoft Word, Open Office presentation document, as well as images like jpg, gif, and tiff files. You can also link to samples of your work like your website and blog as well as linking to articles you have written and videos you have done.
For more details read the LinkedIn Help post on this topic. You may also add these elements to each of your jobs in the Experience section of your LinkedIn Profile.
Bottom Line on Writing a Great LinkedIn Summary
Your LinkedIn About (formerly known as the Summary) is a make-or-break section of your Profile! Take every opportunity to add a meaningful picture of your ROI in this section, with extra steps to boost your keyword content. The result will be better findability and renewed employer interest.
More LinkedIn Tips:
---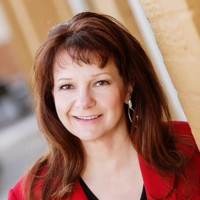 About the author…
Job-Hunt's LinkedIn for Job Search Expert Laura Smith-Proulx, Executive Director of An Expert Resume, is an award-winning executive resume writer, national columnist, author, LinkedIn and SEO enthusiast, and past recruiter. Laura is author of How to Get Hired Faster: 60+ Proven Tips and Strategies to Access the Hidden Job Market. Follow Laura on Twitter at @ResumeExpert and on LinkedIn.
More about this author…