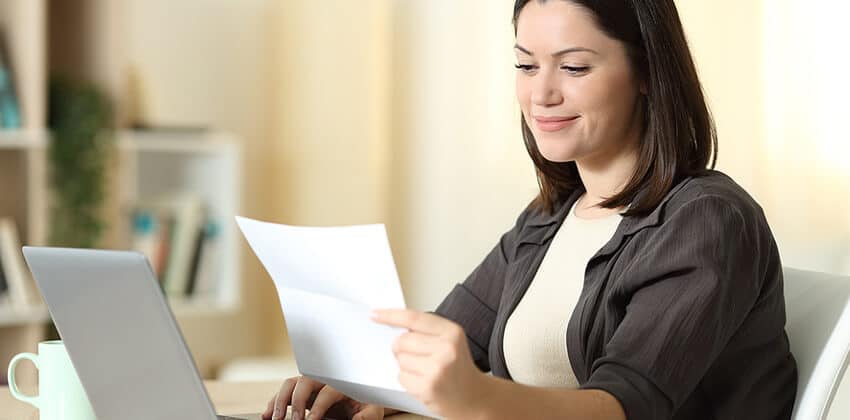 It's an undeniable reality: everyone will need a reference sooner or later when applying for work. In fact, employers can be held legally responsible if they don't do their due diligence in verifying a prospective employee's history. Regardless of whether you're newly graduated and seeking your first role or you've had a lengthy career, you'll need someone to give you a strong recommendation.
While you can, and should, have recommendations on your LinkedIn profile, you should also have written references. Although you don't always need them until later in the hiring process, some job postings will request that they be submitted when you apply. Your submission will be delayed if you aren't prepared and have to wait for a response from your references.
You may even consider submitting your list of references and letters with your resume, regardless of whether they're requested. Or perhaps, with your thank-you note after the interview. Both actions can help you stand out from other applicants.
Who Should You Ask
Former supervisors will be the obvious first choice. They have the best insight into what it was like to work with you. Supervisors can speak professionally and frankly about your work ethic and how you contributed to the team.
Outside of your supervisors, you should ask former coworkers that you collaborated with. Their perspective will endorse your soft skills from a different perspective than your managers.
Stick to Professional References
Avoid asking friends and family. Generally, employers will recognize a biased letter of reference and discount it. They'll wonder why you couldn't obtain a professional recommendation and have to resort to personal relationships.
Are you new to the job market? You can ask any professors, department heads, or internship supervisors that you've worked with. Also, consider any professionals that you may have interacted with through a social network or a volunteer opportunity.
How to Ask For a Reference Letter
Admittedly, it can be intimidating to ask someone to take the time to write a reference for you. However, you might be surprised at how willing professionals are to do so. Generally, most supervisors with whom you had a great rapport will feel proud that you're succeeding and that they were part of your career development.
It would be best to reach out beforehand, rather than send an email out of the blue. Especially if it's someone you haven't been in contact with for a while, you'll want to reconnect. Touching base will help jog their memory about specific circumstances or skills they will highlight. Ask with plenty of time, rather than expecting them to scramble at the last minute.
Follow Up With an Email
After you've spoken to them, you'll want to send an email that includes your resume, cover letter, and the job posting if you're asking for a specific reference. Let them know if there is a deadline and when you need the letter returned for you to look over. Some recruiters will request that the letter be sent directly to them. In that case, your reference may still ask you if you'd like to review it before they send it in.
If you're reaching out to a former supervisor and couldn't have a face-to-face conversation, you can still request one with some flattery and a few essential details.
Sample Reference Letter Requests
For inspiration, consider a template like this for your reference:
Dear Mr. Green,
I hope you're doing well!
I am touching base because I'm currently applying for a [job title] role with [ABC Company], and part of the process is submitting letters of recommendation.
I thoroughly enjoyed working with you and felt that the skills I learned through several of the projects we collaborated on were an excellent fit for this new opportunity. For example, I thought you'd be a great person to touch on my [example skill] and [example skill], as I thought back to the great feedback you gave me after we worked on [example project] together.
Recognizing that your schedule is generally hectic, I'm happy to help in any way that I can.
The deadline for the letter is [date]. If your schedule doesn't allow you to fit this in prior, please let me know.
I appreciate your consideration.
Best Regards,
Your Name
Phone
Email
A Slightly More Casual Template
If you're reaching out to a supervisor or coworker that you could connect with, you can be slightly less formal. Although, you'll still want to ensure you have all of the information included.
Hi Jessica,
I hope you are doing well today. It was great touching base with you again yesterday. I appreciate your willingness to write a letter of recommendation. To help you brainstorm, I'm including a few of the job duties that I'm tailoring my submission to, along with the projects we worked on together that I feel supported those skills.
[Example #1]
[Example #2]
[Example #3]
The deadline for submitting this is [date]. If anything comes up and you cannot complete the letter, please let me know as soon as possible.
Again, I truly appreciate it, and if I can be of any assistance, please don't hesitate to reach out.
Best Regards,
Your Name
Your Phone
Your Email
Network Your Way Into a New Job
One of the best things you can do for your career is maintain your network. It's much easier to ask for a letter of recommendation if you're in regular contact with your references.
While you'll want to maintain contact information for five to 10 professional references, there may come a time when you're required to (or would like to) submit a letter of recommendation. Having a generic one on file to submit with your resume can help you land an interview.
However, if you're specifically asked to submit one during an interview process, it's an excellent opportunity to tailor your references for the role. The templates above will help get you started as you reach out to your network.