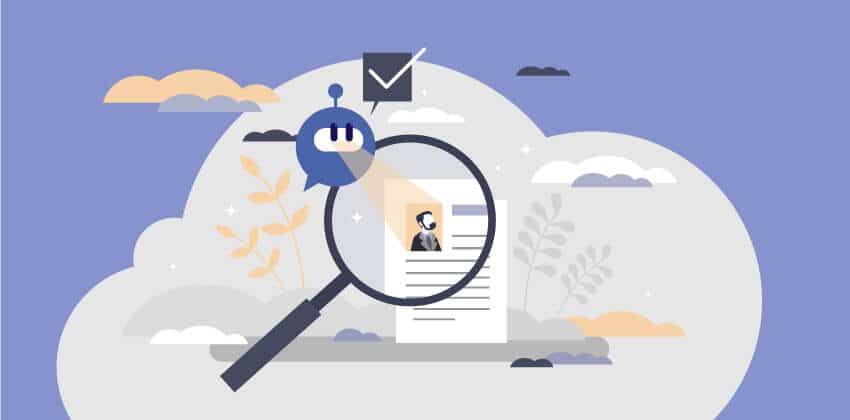 If applying for jobs online is part of your job search strategy, you've interacted with applicant tracking systems ("ATS") whether you realize it or not.
Whenever you upload a resume to an online form or fill out a questionnaire during a job application, an ATS is tasked with making your information visible to employers — or not.
These systems are a necessity for many hiring companies.
They streamline the hiring process and allow recruiters to navigate high volumes of incoming resumes and job applications.
Unfortunately for job seekers, ATS also introduce new hurdles, mysteries, and frustrations to the job search process.
Job seekers know the feeling of submitting a resume and never hearing anything back. It's known as the "resume black hole," but it's actually the ATS. There are dozens of ATS used by employers and all of them work a little differently. Failing to account for common ATS behaviors could mean your resume is ignored or missed entirely.
Many of these behaviors and functionality are based around keywords.
ATS look for specific skills, words, and phrases in your resume in order to search, rank, or reject candidates.
How 3 Top Applicant Tracking Systems Work
Thousands of different companies offer ATS services to employers, and no single vendor is used by all employers. Here are three examples of how top ATS manage resume keywords:
Taleo – "Knockout" Keywords
Used by companies including Starbucks and Nintendo, Taleo is the most-used system around. According to Ongig's 2017 report, they dominate the ATS market with a 25% share.
Taleo offers a wide array of functions and options that allow recruiters and hiring companies to create a customized strategy for narrowing the applicant pool and selecting candidates.
Most online job seekers are familiar with "knockout" questions. These questions typically come early in the application process and are designed to automatically rule out applicants with obvious red flags.
These knockout questions can include:
Legal and logistics ("Are you legally able to work in the United States?").
Basic qualifications ("Do you have a valid Commercial Driver's License?").
Even culture fit ("Do you prefer to work alone or as part of a team?").
Answering incorrectly to any of these questions will trigger an automatic rejection without a recruiter even being aware of the application.
Taleo is not unique among top ATS for its knockout questions feature, but it does give recruiters the ability to take auto-rejection to the next level.
Taleo allows recruiters to automatically reject candidates based on the absence or frequency of keywords.
For instance, let's say a recruiter is using Taleo to sort through applicants for a Sales Development Representative position. If the recruiter knows that the department head doesn't have time to train new hires on their customer relationship management system Salesforce, they can set a trigger to auto-reject any applicant who doesn't have at least one mention of "Salesforce" on their resume.
On the flip side, they can also set a trigger to highlight candidates who meet certain criteria. For example, the same recruiter can automatically highlight any candidates who have at least five mentions of "inside sales" on their resume.
This feature isn't used by every recruiter or company out there, but it's one of the many options Taleo has available.
iCIMS – Frequency Matters
Like Taleo, iCIMS has been around since the 1990s and is one of most well-known ATS. They have close to 7% of the ATS market and customers that include Amazon, Uber, and Southwest Airlines.
When a recruiter searches their iCIMS candidate database for specific skills and keywords, the default results are sorted based on a match percentage.
Among other considerations, one of the things that determines a candidate's rank is the number of times the search term appears.
For example, a recruiter's search for "Content Marketing" might show Jane Smith as a 90% match because she has five mentions of "Content Marketing" on her resume, while Bill Jones is ranked lower at 27% because he only has one mention.
SilkRoad – Job Description "Hot Match"
SilkRoad comes in as the 11th most-used ATS according to Ongig's research.
SilkRoad features something they call "Hot Match" technology which automatically analyzes and rates applicants' resumes against active job descriptions. SilkRoad then places applicants into tiers based on match rates of at least 50%, 75%, and 90%.
Recruiters are unlikely to ever see your resume if it ends up in a low tier.
How to Beat the ATS
Whether it's Taleo's knockout keywords, iCIMS's keyword frequency, SilkRoad's match rates, or many other ATS features, the solution for job seekers is the same.
Tailor your resume to the job description.
Carefully read through the job description to identify keywords and skills that appear most often or seem to be the most important for the job. There are tools online that automate this process.
Make sure these top keywords are in your resume.
Use the most important ones multiple times in an authentic way — blatant resume keyword stuffing is a red flag for recruiters.
Use the exact keywords as they appear in the job description, matching plurals, tense, or verb form in order to get the best match rate.
Pay close attention to the exact form used (for example, strategy, strategize, strategized, strategist) and be sure to include at least one matching term in your resume or application. If you have space, mix in some variations of these terms to account for manual recruiter searches.
The Bottom Line on How an ATS Works
Most hiring companies use ATS. Acknowledging them and following the right strategies is a sure-fire way to get your resume and application noticed. Only pursue jobs for which you're actually a good fit. When you find one, take the extra time to craft a resume that emphasizes the same skills and experience found on the job description. Facing ATS in the midst of a job search can be daunting, but the only way past them is to be thoughtful and strategic with your resume.
More About Personal SEO:
---
About the author…
Jon Shields is a writer and editor focused on uncovering the hidden obstacles faced by today's job seekers. He a member of the team at Jobscan, a Seattle-based startup specializing in resume and LinkedIn optimization technology for job seekers. Jon is the managing editor of the Jobscan Blog, which features in-depth articles from himself and expert contributors on the topics of resume writing, applicant tracking systems, LinkedIn for job seekers, and other job search topics. You can follow or connect with Jon on Linkedin.