Craigslist (officially, craigslist.org) is an enormous, widely-distributed, mostly-free online classified ads site, one of the most popular websites in the world.
Craigslist offers two important advantages for job seekers:
1. Jobs from employers you won't find on most job boards.
If you are looking for work with a small local employer, Craigslist is often a gold mine because it is very visible but also inexpensive for small employers to use to post their opportunities.
2. Many different kinds of jobs or work.
Craigslist offers a wide range of jobs beyond the typical professional office jobs that dominate most job boards, including local construction, retail, transportation, restaurant cooks and wait staff, crews for movies and TV shows, and more, depending on the location covered by the Craigslist.
Relentlessly organized by location, Craigslist offers all of the traditional classified ad sections plus quite a bit more. The locations covered include the US, Canada, Mexico, Europe, China, India, Japan, the Philippines, the Middle East, Australia, New Zealand, Latin America, the Caribbean, Africa, Australia, New Zealand, and more so it's easy to search for a "job near me" in the right help-wanted section.
Each Craigslist site has the same "look" and organization – but not the same content – as all the others, with many categories of classified ads, including jobs and gigs (projects), as well as events, housing, and things for sale.
2 Important Cautions
Like all job boards and websites, you need to be cautious and careful in choosing and responding to job postings on Craigslist, too.
Craigslist is different from most sites you have used in looking for a job because the cost of posting a job is very low ($10 to $75, depending on location, vs. hundreds of dollars for job boards).
This is very inexpensive in comparison with most job boards. As with most things on the Internet, there can also be a downside which you need to keep in mind when doing an online job search:
Watch out for scams.
The Craigslist people work hard to minimize the scams posted, but they aren't perfect. Since posting a job ad is low cost, scammers, scammer wannabe's, and just plain inept people do abuse it. So, be careful.
To help their visitors, Craigslist has a section called "avoiding scams and fraud." Be sure to read it!
If you find a job that is a scam, you can "flag" it by clicking on the "prohibited" box at the top of the posting.
Protect your privacy and your current job if you post your resume.
There is a category where people can post their resumes and view them without paying a fee to Craigslist (unlike most job boards). This is a big advantage, but. BE VERY CAREFUL!
Posted resumes will be visible to anyone who visits the site, so limit the contact information and details that you include. Anyone, including your current boss, can view your resume on Craigslist if you post it there.
Read the CyberSafe resume article for tips on methods to use to protect your privacy while enabling your job search, Guide to a Stealthy — and Successful — Secret Job Search, and use the contact information sources described in To Be Hired, Be Reachable – How to Safely Publish Your Contact Information on LinkedIn.
Craigslist for Job Search
When care is taken, Craigslist can be extremely useful for job hunting.
Finding the "Right" Craigslist
To find the Craigslist for your state or town, or where you want to live, go to Craigslist, click on your continent (Craigslist is in MANY countries!), and select the location you want from the map. Craigslist also provides a list of links on the right side of the home page of every craigslist location. Just click on the appropriate location link from those listed.
The home page for every Craigslist location will look like all the other Craigslist home pages except there will be a different name in the heading at the top of the page (and maybe a different language, depending on your choices).
For example, below is the heading for the New York City Craigslist, including 9 large NYC neighborhoods.
Most Craigslist locations have only the name of the city (e.g. Philadelphia or Denver) without neighborhoods available.
If you pick a state in the USA with several local Craigslists, you will get a page that offers you a choice of towns and cities in that state. See the list of locations in the far right column of every craigslist home page.
If you can't find the job you want in the Craigslist for your location, check the locations on the home page to see the Craigslist available for nearby locations.
Understanding Craigslist's Organization
The listings are organized by category, in reverse chronological order which means that the newest ones are at the top.
Today's postings are at the top (with the newest postings at the very top), yesterday's postings will be next, and on down to the oldest at the end.
So, you can pick a category and/or a sub-category to see the listings. When you click on a posting, Craigslist will show how old it is (in hours or days, depending on how new it is).
Listings may be miss-categorized by the people who post them, so focusing on a sub-category can be a mistake if something you want is listed in a sub-category you don't check. The search function is a BIG help overcoming that problem (more below).
Finding the Jobs in Craigslist
Craigslist offers many ways to find jobs — by location, by category, and by keyword.
The Jobs Section of Craigslist
Near the top right center of the home page, you'll find the column heading -"jobs."
The jobs are organized into 31 categories, as you see (partially) in the image on the left, starting with "accounting+finance." The "etc / misc" category contains the jobs that didn't fit into any of the other 30 categories.
The people posting their jobs don't always post them in the best category (or maybe they can't find a category that is a good fit), so check out the listings with an open mind. Also, use the "search" Craigslist option to search for a job title or kind of work.
One way to get started is to click on the word "jobs" at the top of the column and scroll down to see what was posted today, regardless of category.
Typically you can scroll through 30 days worth of postings, but I doubt that all employers notify Craigslist when their job has been filled, so I would focus on the newest (last 3 to 7 days).
Finding the "Gigs" Section Below the Jobs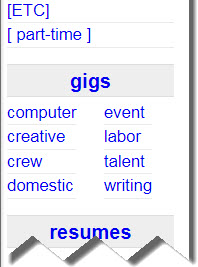 Looking for a short-term job? Below the bottom of the jobs categories listed on the home page, you can find the "gigs."
As with the other sections of Craigslist, the gigs are in reverse chronological order with the newest jobs at the top.
"Gigs" are mostly short-term jobs, both full-time (35 to 40 hours a week) and part-time. Craigslist organizes Gigs into sub-categories — 8 of them from "computer" to "writing" and, of course, presented in reverse chronological order within each category.
Browsing through the gigs is usually very interesting in most locations. They can be good ways to fill the gap between "real" jobs, generating income and showing potential employers that you are serious about your work.
Sometimes gigs can transition into a "permanent" job, and that intention may be stated in the postings. Gigs can also be good ways to test a new career and to transition into a new field or industry.
Searching in Craigslist
Craigslist also has a search function that works very well. They provide different search capabilities depending on what page of Craigslist you are visiting.
If you type your query into the search bar at the top of the Craigslist home page on the left side of the page, the search includes every section of Craigslist.
To have Craigslist search only part of the site, which will probably be more effective, select the category or subcategory you want, in "jobs" or "gigs." Then, your search is limited to that category or subcategory.
To search in a specific section (like "jobs") or sub-section (like "accounting+finance"), click on that section's name, and at the top of the home page for that section, you will find a search bar, like the ones below.

Searching through the main jobs category allows you to find jobs that might be good options for you but put into a sub-category you might not have checked.

Note that you can click on "save search" and have Craigslist rerun that search for you. You can also set up "Search Alerts" which will automatically send you an email when a job meeting your search criteria is posted.
Networking with Craigslist
Networking is still the best way to find a job! And, in addition to the jobs and gigs on the home page, Craigslist offer "community" and "discussion forum" sections which may also be helpful to your job search. In the community section, you'll find activities, groups, events, volunteers, classes, and politics.
All of those are potential sources of opportunities for networking. And, volunteering to help less fortunate people in your community usually makes you feel better about yourself while you help someone else (and network, too). In the discussion forums, there is a "jobs" discussion group, although at this point there isn't a separate forum for each location – the forums are combined into one very large one.
Subscribing to Craigslist Updates
As described above, you can save searches and also set up Search Alerts so that Craigslist will email notifications to you when a new post meeting your criteria is made.
The Bottom Line on Craigslist Jobs
Craigslist is easy to underestimate because it is so plain, but it can be very helpful for your job search. Remember to choose the right location for you, and Craigslist will serve up a collection of jobs.
---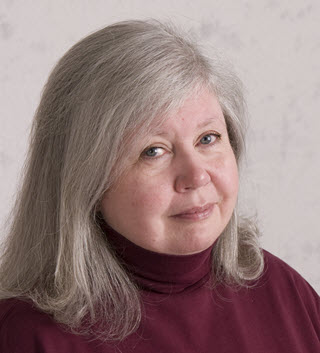 About the author…
Online job search expert Susan P. Joyce has been observing the online job search world and teaching online job search skills since 1995. A veteran of the United States Marine Corps and a recent Visiting Scholar at the MIT Sloan School of Management, Susan is a two-time layoff "graduate" who has worked in human resources at Harvard University and in a compensation consulting firm. Since 1998, Susan has been editor and publisher of Job-Hunt.org. Follow Susan on Twitter at @jobhuntorg and on Facebook, LinkedIn.
More about this author…