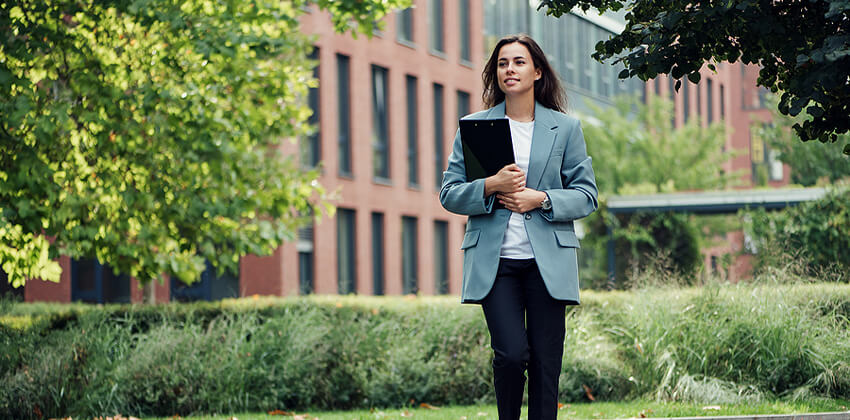 When you're prepping for your job interview, you know you need to practice your answers to common job interview questions and pick out the right interview outfit. But you also need to figure out what you need to bring to the interview to ensure you're prepared for any situation.
Whether virtual or in-person, here are some tips on what to bring to an interview and what you should leave behind.
What to Bring to a Job Interview
Names and Phone Numbers
Sometimes the person coordinating your interview isn't the person you're meeting with. You might have multiple interviews in a day or even have a panel interview with several people interviewing you at once.
Bring the name of your contact and their phone number (or email if that's all you have) on a separate piece of paper or as a note on your phone. If you're running late or something goes wrong on the day of the interview, you have an easy way to get in touch, and you don't have to waste time searching your messages to find the information.
Likewise, you may have to give the name of the person you're meeting with when you arrive at the interview. While that could be your contact, it could also be someone else. Having everyone's names handy makes it that much easier for you to get in the building and to your interview.
Your ID
While you shouldn't give anyone a copy of your identification until you're hired, it's possible you'll need to show your ID before you're allowed in the building. Some buildings have strict security procedures that require your identification, so it's best to be prepared.
Address, Directions, and Parking Info
Was it 102 South First Street or 120 South First Street? Keeping a copy of the exact address handy will stop you from going to the wrong building in case your memory fails you. Also, bring directions (no matter your transportation) and parking information if you're driving.
Pens and a Notepad
Taking notes is an essential part of the interview. Not only will it help you formulate questions at the end of the interview, but you can also refer to your notes when you write thank-you notes after the interview. Bring multiple pens (just in case!) and at least one full pad of paper to write down questions, take notes, and get everyone's full name, title, and contact information.
Multiple Copies of Your Resume
Though you've emailed everyone your resume, it's always a good idea to bring several paper copies to the job interview, along with any supplemental materials you've shared or want to highlight (like your portfolio).
Sometimes, interviewers ask for a paper copy of your resume as a test to see if you're prepared. Other times, interviewers forget their materials, so having extra copies of your resume makes things easier for you and them.
Your Questions
Most interviews include time at the end for you to ask questions. Knowing that this is the case, it's wise to prepare a few questions in advance, write them down, and bring them with you to the job interview.
First, while you might think you'll remember your questions, you might be so overwhelmed at the end of the interview, anything you want to ask may fly out of your head!
Second, having questions at the ready shows that you've prepared and demonstrates that you're truly interested in the job.
And finally, you can refer to your written list of questions throughout the interview to see if your questions are answered or not (and form new ones on the fly!).
A Water Bottle and Snacks
Sometimes interviewers offer you a drink, but not always. And because you're probably doing a majority of the talking, bring a water bottle in case you get a case of dry mouth or even a cough.
After the interview, you might be a little worn out. And if it's been a series of interviews, you might even be a little hungry. A snack to eat afterward will help keep your blood sugar and spirits up!
Emergency Items
No matter how much you prepare, sometimes things go awry. But a few emergency items can help you manage the unexpected. Consider bringing:
Breath mints or mouth wash
Dental floss (or floss picks)
Cash
Deodorant
Band-aids
A phone charger or external battery
A change of shoes
A Bag
As you review this list of what to bring to an interview, you can see you should bring a lot of stuff!
You'll need a bag to help you organize and carry everything. While you could use a grocery or beach bag, that sends the wrong message. Use a professional bag, briefcase, or even backpack to corral everything you're bringing to the job interview.
What to Bring to Your Virtual Job Interview
Virtual interviews are different from in-person ones in that you won't need to worry about transportation or parking. But there are items you should bring to your virtual interview that you may or may not bring to an in-person one.
An Up-to-Date Computer
You don't need the latest model computer for your virtual interview, but you should find out what platform your interviewer uses. Make sure you have the current version installed on your computer, then give it a test run for good measure.
A Professional Background
No matter where you are for your virtual interview, make sure you have a professional background. It doesn't need to be full of books and diplomas. As long as whatever's behind you is neat, clean, and professional, you'll send the right message.
Unfortunately, however, being neat, clean, and professional isn't always an option (say you have to conduct the interview from your car). If that's the case, blur your background, or select a virtual one that's interview appropriate.
A Solid Internet Connection
The last thing you want during a virtual interview is a laggy connection that skips, buffers, or even cuts out. Again, no matter where you are for your virtual interview, you also need to make sure you've got a solid internet connection.
Privacy (or Peace and Quiet)
You don't want to bring your pets, kids, or the barista to your job interview. Find someplace that is private or, at a minimum, quiet and interruption-free. That could be your car, the closet, or a private study room at the library.
Good Lighting
To make sure the interviewer sees you in a positive light, make sure you're well lit. You don't want your face to appear shadowed or have an image that's difficult to see. Before your interview, test out your webcam settings and adjust your lighting accordingly.
You might need a ring light, but in a pinch, a few well-aimed lamps can do the trick. Likewise, sitting by a window with natural lighting will help put you in the spotlight.
Paper Copies
You might want a paper copy of your resume and portfolio handy. Even if you have two screens, one will be devoted to the interviewer's video, and the other might have a copy of a job description or project on it, making it impossible to refer to your resume if you need to.
Paper copies can sit on your desk and are easy to refer to if needed.
Pens and Paper
Of course, you'll take notes in your virtual interview. But the best way to do this is with paper and pen! While you could type your notes, the clicking of the keyboard may prove too distracting to you and the interviewer.
A Whole Interview Outfit
Though your interviewer will likely only see you from the waist up, pants (or a skirt) are not optional during a virtual job interview. You never know when you might have to stand or lean during the interview, and the interviewer will see that you're only half-dressed.
While there's nothing wrong with superhero PJ pants, only getting half-dressed for the interview may signal that you'll only do half the job. 
To make a great impression, follow these tips to choose the right interview outfit.
What Not to Bring to an Interview
Though the list of what to bring to an interview is extensive, there are several things you also shouldn't bring to your interview.
Your Phone
Of course, you'll have your phone with you during the interview. But make sure you turn it off or, at least, mute notifications before the interview. Likewise, if you're in a virtual interview, mute desktop notifications, or exit instant-messaging programs.
Earbuds
It's fine to listen to music, a podcast, or even a guided meditation before your interview using earbuds. But once it starts, stow them in your bag. Even if you use the wireless kind, keeping your earbuds in during an interview sends the message that you're not totally invested in the job.
Lunch
Small snacks, like a granola bar or bag of chips, are fine to have stashed in your bag after the interview. But a full lunch is probably not a great idea. Not only will it take up a lot of room in your bag, but there's also a chance it could leak and damage the other items inside. Or, worse, it might start to smell.
Odors
Speaking of smells, you want to leave all kinds of odors at home. So, don't eat a garlic and fish meal right before the interview. And try not to use perfumes, colognes, or any other personal care item with a strong smell. Your interviewer may not find them as pleasant as you do, or worse, they could be allergic.
Bring Your A-Game
You know that the key to wowing your interviewer is to bring your A-game. And while that includes excellent answers that illustrate why you're the best person for the role, including (or excluding) the items from this list will help you shine as a well-prepared candidate.