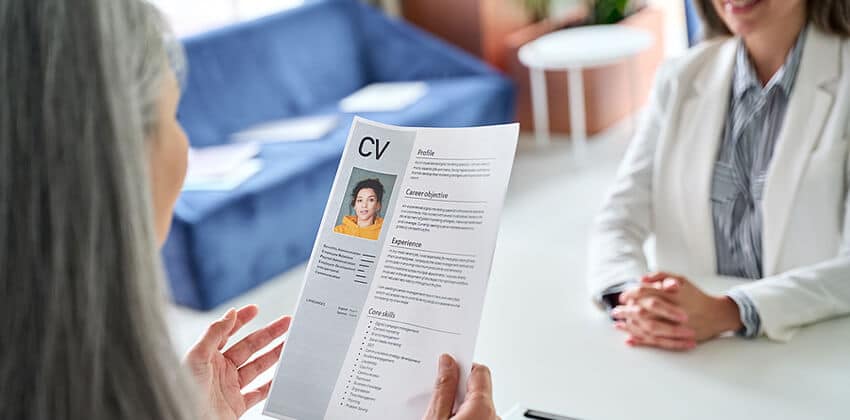 The very end of the job posting says, "please submit your resume or CV for consideration."
Resume you've heard of, but CV? What the heck is that?
Though not widely used, a professional CV is not uncommon for job seekers in specific industries and other parts of the world. Though you likely won't need one for your job search, here's what you need to know about CVs.
What Does "CV" Mean?
"CV" is short for "curriculum vitae," a Latin phrase that means "course of life." These days, a CV is a detailed accounting of your entire professional history, from the very beginning to the present.
How Is a CV Different From a Resume?
Though it sounds like a CV is the extended version of your resume, it's actually quite different.
Your Resume
Your resume (which is French for "abstract," which means "summary") is only one to two pages long and generally covers the last 10 to 15 years of your work history. In addition to limiting your work history, each job doesn't include every duty or accomplishment from that role. Your resume only lists the top three to five achievements from each.
And though you include your educational history, it's limited to the name of the school, your major or the degree you received, and your dates of attendance.
Finally, each time you apply for a job, you tweak your resume and tailor it to the job posting. Using keywords from the job description, your resume highlights your top experiences and abilities that are relevant to that particular role at that particular company.
Your CV
Unlike a resume, your CV is much, much longer. Most CVs are three to five pages long, with some as many as 10 pages. This is because a CV includes every position you've ever held, along with detailed information about what you did in each role.
CVs also include the research you've conducted, speeches and presentations you've made, grants you've received, awards you've won…pretty much everything related to your professional history.
And unlike resumes, CVs are static. While you update your CV every time you start a new job or have new achievements, CVs are not tailored for a specific job posting.
When to Use a CV vs a Resume
As a rule, a resume is the correct application document for most job seekers. CVs are used mainly in academic settings, where information like how much research you've conducted or how often you publish your findings (and where) plays a role in hiring. They are also common in science and research-related fields.
However, if you're applying for a role outside the U.S. or Canada, you'll likely be asked for a CV. But depending on the specific country (India, Australia, and South Africa, for example), the terms resume and CV mean the same thing.
If you're not sure which document is appropriate, check the job posting. The information is likely in the instructions.
How to Format a CV
Your CV is in reverse chronological order. Each of the below sections starts with the most recent accomplishment or experience and works back to the beginning.
Contact information (only include current information)
Academic history (education)
Professional experience (work history)
Teaching experience
Honors and awards
Publications and presentations
Grants and fellowships
Licenses (optional)
Volunteer experience (optional)
The details under each are specific to the section. For example, under "Publications and Presentations," you want to include not only the title of the publication but also when it was published and where (the name of the publication and the volume). You'll also write a brief summary and mention any other authors.
Under honors and awards, you could include the name of the award, the year you received it, and any other relevant details, like how often it's awarded, how many recipients there are, or what the selection process is. For more tips, read How to List Awards, Scholarships, and Honors.
Is a CV Right for Me?
As a rule, no, it's probably not the right document for your job search. However, in some situations, a CV is the correct choice. When in doubt, check the job posting to help guide your decision.