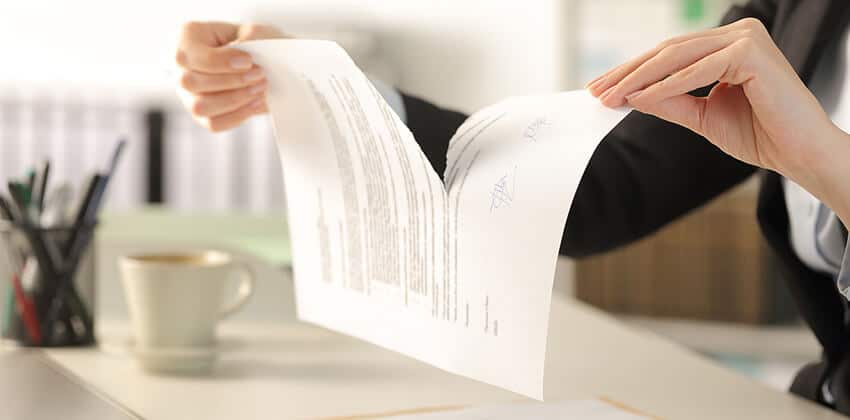 When you've been extended a job offer, it's natural to feel confident and optimistic about the future. However, in some cases, a job offer can be rescinded—meaning the employer takes back the job proposal, usually due to extenuating circumstances.
One of the best ways to prevent having an offer rescinded comes before you even apply. Ensure that you're conducting thorough research and avoiding companies with a history of canceling job offers or questionable employment practices. Beyond prevention, if it's an excellent company that you are excited to work for, you can minimize the risk with some job search best practices.
What Is a Rescinded Job Offer?
A rescinded job offer is not something that any candidate wants to hear. In most cases, a rescinded job offer results from unforeseen circumstances on the employer's side. This could be anything from budget cuts to a change in company priorities.
Changes That Occur to the Employer
Whatever the reason, candidates need to remember that a rescinded job offer often does not reflect their skills or qualifications. Instead, it is simply a case of bad timing. That said, candidates should not hesitate to reach out to the employer to understand why the offer was withdrawn.
Changes That Occur to Your Eligibility
Sometimes, a job offer can be rescinded due to something on the candidate's end. The most common is if the candidate was found to have been misleading on their resume or application.
In today's competitive job market, employers are increasingly resorting to background checks, checking candidates' social media accounts, and other screening methods to verify information that candidates provide.
If anything seems amiss, it's not uncommon for employers to rescind their job offers. Other reasons for rescission include the candidate being unable to provide references who can vouch for their qualifications or the candidate attempting to negotiate after terms were already agreed on, which most employers feel is highly unprofessional.
In any case, it's always best to be honest when applying for a job, as any discrepancies are likely grounds for a reversal of the job offer.
What Are the Warning Signs of a Rescinded Job Offer?
There are some warning signs that a job offer might be in jeopardy. If you notice any of these red flags during the hiring process, the employer may be having second thoughts about hiring you, and the offer might be at risk.
For example, suppose the employer asks for additional references or requests a second interview after the offer has already been extended. This could signify that they are unsure about your qualifications or that your contacts didn't report what the employer was anticipating.
Similarly, if the employer starts to negotiate salary or benefits after they've already agreed, this should signal that they were not ready to make a firm offer. Some other warning signs that a job offer might be rescinded include:
The employer is taking longer than expected to get back to you with an offer.
The employer seems less enthusiastic about hiring you than they did during the interview process.
The employer says the start date might be delayed or pushed back.
If you notice any of these red flags, it's crucial to stay professional and polite and keep communication lines open with the employer. By doing so, you may be able to salvage the offer.
How to Protect Yourself From a Rescinded Job Offer
While receiving a job offer is always exciting, it's vital to take the time to understand all the details before accepting. Beyond the job title, this includes salary, benefits, and start date.
Clarify All of the Details
Prioritize clarifying any hiring bonuses or moving stipends as well. Will they need to be repaid if you haven't begun working with the company? Once you have a clear understanding of the complete offer, you can make an informed decision about whether or not to accept.
Ask For Everything in Writing
A verbal job offer usually precedes a formal, written agreement. Ensure that you get the offer and accept it in writing after you've spoken. This protects both you and the employer from any miscommunication surrounding the details of the role, salary, benefits, etc. Then, take your time to review the offer fully to ensure you're comfortable with all aspects of the job before committing.
Respond to Requests Promptly
Finally, keep in mind that job offers are often contingent upon completing a background check or drug test carried out by an independent third party. If you are asked to undergo either of these procedures, follow through promptly. Proactively communicate and follow up if you haven't received them, as it's possible your contact information wasn't conveyed correctly.
Delay Giving Notice
Typically, during a verbal offer, you and the hiring manager agree on a target start date. However, you won't want to notify your current employer until you've received your written offer. Written offers frequently carry more intention and follow-through than verbal offers, as most employers won't want to put their reputations in writing without intending to follow through.
What to Do if Your Job Offer is Rescinded
When a job offer is rescinded, it can be shocking and anxiety-inducing—similar to any job loss. All is not lost, though; there are steps you can take to possibly salvage the position.
Clarify the Decision-Making Factors
First, try to find out why the offer was rescinded. Was it due to budget cuts? Did the company hire someone else? Was there a problem with your references? If you can identify the reason, you may be able to resolve the situation with additional references or context.
Consider the Legality of the Withdrawal
Second, consider if the withdrawal was fair and valid. Most employers are at-will employers, meaning it's not illegal for them to withdraw an offer. However, if you feel that the offer was rescinded based on discrimination, take the time to consider what information came to light directly before the agreement was withdrawn.
For example, did you notify them that you're pregnant, and they immediately withdrew their offer? It might be wise to consult with an employment lawyer to help you determine your case's legal validity.
Respectfully Request Job Search Assistance
Finally, if the situation was outside the employer's control, such as the business is downsizing or going out of business, ask them to consider supporting your job search. Many employers are genuinely regretful and will be happy to provide a letter of reference or severance pay based on the financial challenges you will now face while you resume your job search.
Moving Forward With Your Career
If you are the unfortunate recipient of a rescinded job offer, take a deep breath and gather as much information as possible about why it was reversed. Do not contact the employer immediately. Instead, wait until you can discuss the withdrawal professionally and concisely. Try to reflect on what may have caused them to change their mind.
You may find that there is still an opportunity for dialogue and resolution. In any case, remember that this experience does not define you—keep your head up and stay focused on your goals.