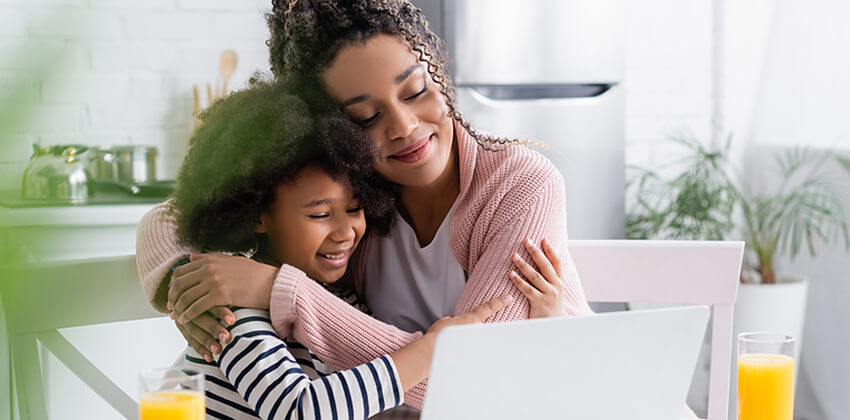 In my first installment of career tips for working mothers. I will share how stay-at-home-moms can customize their resumes to transition to Superwomen-working-moms!
Above all, your resume should communicate your personal brand.
Transform your resume from the traditional chronological or functional format to a resume based on transferable skills.
Focus on what skills you used outside of the work place that are easily transferable to a job — event planning, conflict resolution, and negotiation, to name a few.
Choose the Best Resume Format
Consider using a "combination" resume, which includes both functional and traditional chronological resume aspects, with a Summary of Qualifications section.
In the Summary of Qualifications section, you focus on your qualifications and skills relevant to the job you are applying for.
This section can be supported by your previous professional experience.
The Summary of Qualifications can also be supported by the transferable skills you gained during the time you spent raising your children. (Yes! You did gain transferable skills raising your children! More on that below.)
Avoid Raising Resume "Red Flags"
To help avoid employers finding red flags on your resume, place the work history section of your resume directly under a professional qualification summary. If you choose, you can go into more detail in a cover letter or in the interview, but use caution.
An interviewer cannot ask personal questions not relevant to the position, such as questions about family, marriage, children, etc.
Remember, the purpose of the resume is to get the interview. The purpose of the interview is to get a second interview, and ultimately get a job offer.
For more information, read How to Manage Resume Red Flags.
The Combination Resume Format
Don't use a functional resume – a resume that does not list any dates or career chronology. While I emphasize starting with a summary of qualifications, I do not suggest leaving off dates.
Instead, what I suggest is using a combination resume
The top third of the resume contains a Summary of Qualifications, highlighting your fit with the opportunity.
Follow the Summary with a listing of your positions with dates.
Your resume will have gaps on it, but those gaps are not dead time.
For more about why the combination resume works best, read How to Choose the Best Format for Your Resume.
What Filled "the Gap" Between Jobs on Your Resume?
Stay at home mothers find ways to be involved, from leading a Daisy group, to serving on a PTO, to volunteering at a local food shelter. These activities help to fill gaps on your resume, keeping your experience recent and relevant.
These experiences can be included on your resume as "Relevant Experience." During your time out with your children, you can also consider creating a consulting company, and list all the volunteer, pro bono, and consulting projects.
If you have little or no work experience, you might consider leading off with your education, especially if it is relevant to the position you are applying to.
Remember, the resume is not a static document! Sections can, and should be moved easily. With this approach, you may consider using the old-fashioned career objective – as long as it is focused on the position you are applying to, and is not vague with canned language.
For more details How to Handle Employment Gaps on Your Resume.
Identify Your Stay-at-Home Mom Transferrable Skills
Remember, being a stay-at-home-mother is one of the hardest jobs, and a job that is rich in transferable skills:
Multi-tasking

What is a stay-at-home-mother's number one skill? Multitasking! As a mother, you need to use every moment wisely, especially when you have just 15 minutes between activities. You can get a load of laundry started, respond to teacher's emails, and prepare lunches for the next day, among a myriad other tasks!

Communication

Communication skills you've developed or increased: speaking effectively, speaking other languages, facilitating group discussions, persuading, interviewing, listening, writing.

Research

Research skills you have used: creativity and idea generation, identifying resources, gathering information, setting goals, specifying needs.

Organization

Keeping everything running as smoothly as possible: handling details, coordinating tasks, managing groups, leadership, setting realistic deadlines, reviewing progress, adapting to change.

Managing people

Being a mother is the equivalent of being a full-time supervisor. We are teachers, mentors, and behavior managers. Through the years, we learn how to redirect our children from inappropriate behaviors to making positive choices. These people-management skills are perfect real life examples for the resume.

Negotiation

Moms know how to bring others together and reconcile differences. In dealing with schools, doctor's offices and local businesses, while advocating for our children, moms develop strong ability to persuade others through respectful communication.

Collaboration

Moms know how to compromise. Meal time is a perfect example – we give our children the chance to have a choice, but limit the choices (do you want juice or milk with your dinner?). We enhance these collaboration skills through our service with Band Booster Committees, leadership roles in our children's school PTO, and through volunteering on various boards.
This is not a full and comprehensive list of transferable skills a mother gains through raising children and running a household. Just Google "stay-st-home-mom transferable skills" (with the quotation marks), and you will find many more!
The Bottom Line on Resume for Stay at Home Moms:
Spend the time to identify your transferable skills, and highlight them in summary section at the top of your resume. (See Resume Sample: Mom Returning After a Gap, Making a Career Change.) Leverage your networks, and hand that resume to people who can refer you for the right job.
More About Resumes:
---
About the author…
By day, Rachelle Lappinen, working mother of two, serves as a college and career advisor for GEAR UP. When Rachelle is not writing her blog or advising her students, she enjoys camping and going to the theater with her children. Follow Rachelle on Twitter at @RLappinen, connect with her on LinkedIn, and follow her blog SolutionsByRachelle.