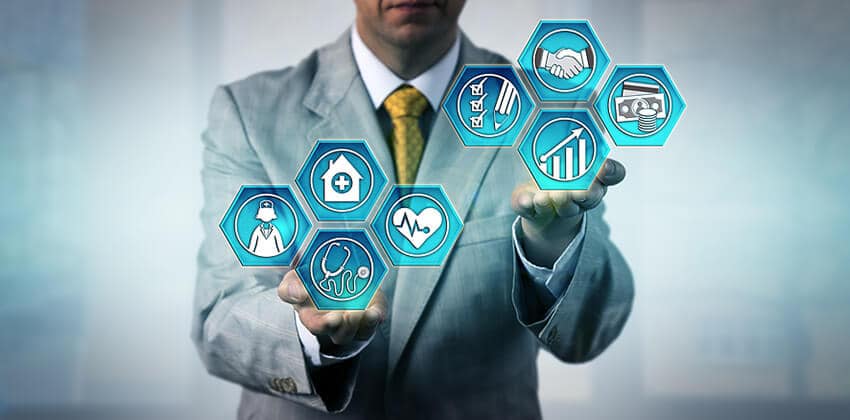 It's common to hear about great career opportunities in healthcare, but if you're squeamish around blood or prefer more standard hours, you may feel this industry isn't right for you.
However, you don't have to work with patients directly to exist in this thriving field. A healthcare management job may be exactly what you're looking for if you're a more business-minded, introverted person who prefers to improve patient care rather than the patients themselves.
Healthcare Management Professional Overview
Healthcare managers (or administrators) take care of the business side of healthcare. Their duties include scheduling, budgeting, and finding ways to improve client care. Healthcare managers need impressive communication and organizational skills to thrive in their careers.
Healthcare administrators spend most of their time coordinating and managing healthcare services in hospitals, clinics, and nursing homes. They are similar to an HR staff member and may handle payroll tasks, such as administering paychecks, but that isn't common.
According to the Bureau of Labor Statistics, healthcare managers make approximately $104,280 per year, or $50.13 per hour, and have a job outlook of 32%, which is much higher than average.
What to Expect From a Healthcare Management Program
To become a healthcare management professional, you have to take health and human services courses at an accredited university or college. Most students have to get a four-year bachelor's degree in healthcare management, but there are fast-track courses you can take.
Most healthcare management programs will cover the following topics:
Healthcare Marketing
Managed Care
Quality Improvements in Healthcare
Healthcare Laws and Ethics
Project Management
International Healthcare
Although a degree in healthcare management will put you in a good position in the field, you can get a health service, nursing, liberal arts, or business degree instead. Some universities or colleges won't have a bachelor's program in health management, but they will have a master's.
To be more hireable, you should consider a project management certificate from a reputable college. These certificates typically take less than a year to achieve. Keep in mind that additional certification isn't required in most cases, but it can show your commitment to the role.
Certain jobs will require a master's degree, ranging from one to two years on top of the four-year program. However, most employers will promote you if you have relevant industry experience.
Skills Healthcare Management Majors Have Gained
There are several in-demand healthcare management skills, like the following:
Hard skills: Budgeting, business administration, scheduling, staff management, basic patient care, marketing, project management, and basic to advanced tech knowledge
Soft skills: Stress management, leadership, empathy, a strong work ethic, humility, attention to detail, confidence, a positive outlook, and a receptive attitude
Transferable skills: Research, collaboration, public speaking, communication, problem-solving, planning, critical thinking, time management, adaptability, and industry experience
Healthcare managers learn several hard, soft, and transferable skills that are necessary for health management and other medical fields. Some healthcare managers can transition into project managers, HR, or accounting roles provided they become certified accountants.
Common Industries for Healthcare Management Majors
Healthcare administrators typically find jobs in an outpatient or hospital setting. Clinics and doctor's offices allow managers to explore broader disciplines, from HR to budgeting. On the other hand, hospitals and larger practices offer more in terms of growth.
Administrators that want to take a more personal approach to management may prefer to work in residential care or nursing facilities, as you're required to maintain a relationship with your patients. Healthcare admins may also work for insurance companies or the government.
Common Job Titles for Healthcare Management Majors
Most healthcare managers stay in their field and are unlikely to seek employment elsewhere. However, the roles a healthcare manager takes are varied and welcome a lot of growth.
Health Information Manager
Health information managers are responsible for accurately and efficiently inputting data. In this role, employees must understand specific treatments, billing codes, coding, and software.
Whether they work in a small facility or supervise teams of employees, their job is to oversee and manage all things pertaining to a facility's profits and losses. For this reason, you may be required to get a CPA license.
Healthcare Administrator/Manager
It's common to see healthcare administrators and managers be used interchangeably, as we did in this article, but some employers still consider both professions different in subtle ways.
An administrator works with the daily operations of the faculty, such as HR and staffing issues. A manager is responsible for the operation of the facility and focuses on the business side (accounting, policies, facility management issues).
Hospital Administrator
A hospital administrator has similar duties as the healthcare administrator, except they work in a hospital setting. They may take on more responsibilities and typically make more money.
Besides the typical administrator duties, hospital administrators will interview doctors, secure funding for the institution, schedule staff, and take a more active approach to improve patient care.
Pharmaceutical Product Manager
A pharmaceutical product manager deals directly with pharmaceuticals and equipment. They're in charge of researching, creating, and marketing products that serve their patients' needs.
Pharmaceutical product managers need to understand medical codes to market their products effectively. They also need a science, business, and data analysis background, meaning a bachelor of science or management is preferred.
Hospital CFO
A hospital chief financial officer (CFO) ensures the hospital runs as efficiently as possible. CFOs must be forward-thinking, result-oriented, and understand finance and management.
To become a CFO, you need a bachelor's degree, a CPA certification, and years of experience. In larger facilities, CFOs may coordinate or supervise staff, but they're mostly responsible for the accuracy and timeliness of financial statements.
Is Healthcare Management Right for You?
A career in healthcare management is perfect for people who want to enter the healthcare industry but don't want to be on the front lines, like a doctor, nurse, or surgeon. However, managers can work in nursing homes or care facilities if they prefer to speak with patients.
---
About the author…
A growth hacker at heart, Jess Perkins helps SaaS companies rapidly scale their inbound leads through lean marketing strategies. She views content marketing and advertising as the perfect concoction of growth and loves to write about her insights and experiences.
More Career Paths: