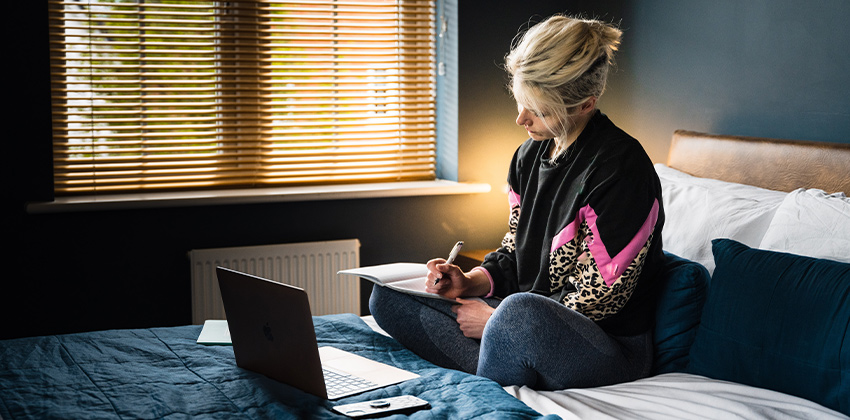 We're taught that when you tell a story, you should start at the beginning. This makes it easier to follow the chain of events. But if you're trying to get to a destination, you need to start at the end, where you want to be.
When you're in search of a physical destination, you would use a map or, even better, a GPS. But when the destination is less concrete, such as a new career, you have to develop your own mapping system.
Chronic Illness: Career Game-Changer?
This is unfamiliar territory because most people take their first job based on what's available. You might have an industry in mind (e.g., IT, healthcare) or have specific jobs (e.g., administrative assistant, data entry) that interest you. But most people start on a career path by choosing the first job that's offered. For many, the job search process doesn't get much more thoughtful or complicated throughout their career.
But chronic illness is often a game changer.
Whether difficult symptoms mean that your current career path will become a dead end or that you can no longer do the job you've been doing, chronic illness often leads a person to seek a new job or career. And most are unprepared.
My Story
That happened to me at age 45. I'd spent 15 years taking twists and turns on a career path trying to make working with illness possible. But when I developed a second autoimmune disease, I decided I had to do something different – both for my physical health and my mental state.
But I didn't have a clue how or where to start. It's taken me 15 years to reinvent myself to the point where I feel as confident and settled as I had in my former work life. In fact, in most ways, I'm much happier.
What I've learned from this is that illness, like any adversity, is a challenge that can be managed with motivation, clear thinking, and strategic planning.
The Career Design Process
In my work as a career coach, I've tried to distill my own career transformation journey into identifiable points. It seems to me that whether you're developing a career for the first time or reinventing one, it relies on good project management. And as any project manager can tell you, start with the end point, where you want to land, and work back.
1. The End Point – design your vision.
Create a list of what you want (and need) from work – schedule, salary, environment, career potential, activities, etc.
Identify your "must-have."
Prioritize this list so you can see what matters and where there is flexibility as you make decisions.
2. The Beginning – prepare with what you know.
Create a time frame – keep in mind deadlines you're working within.
Create an action plan of what you need to do with a realistic time frame for each activity.
Create a list of people and resources who might help you with this process.
3. The Middle – work on specific tasks.
Job analysis —
Identify jobs and/or careers that are realistically possible for you – using brainstorming and networking techniques to expand your thinking.
Identify 2-3 best options —
Write why you believe this to be the case because it's easy to keep this fuzzy and forget when things get tough.
Research —

What does a job like this look like, and how does that match with your priority list?
What is the job market like?
What training or new skills would you need to get this job?
For a much more detailed exploration for career change, Susan Strayer's book, The Right Job, Right Now, has some very useful models for finding a new career path. My own workbook, Keep Working With Chronic Illness Workbook, is designed specifically around the issues people with illness face, and it offers concrete ideas and systems you can use.
---
About the author…
Rosalind Joffe is a recognized national expert on chronic illness in the workplace. As a leading career coach specializing in working with the chronically ill, she has been quoted in numerous national publications and media. Rosalind holds a Masters in Education, is a certified Mediator, and has completed the Corporate Coach University certificate program. Rosalind's website ciCoach.com (Chronic Illness Career Coach) offers advice and resources for people working with chronic illnesses. She also publishes a widely read blog, WorkingWithChronicIllness. In addition, find more of Rosalind's insights at Facebook.com/cicoach and on Twitter @WorkWithIllness.