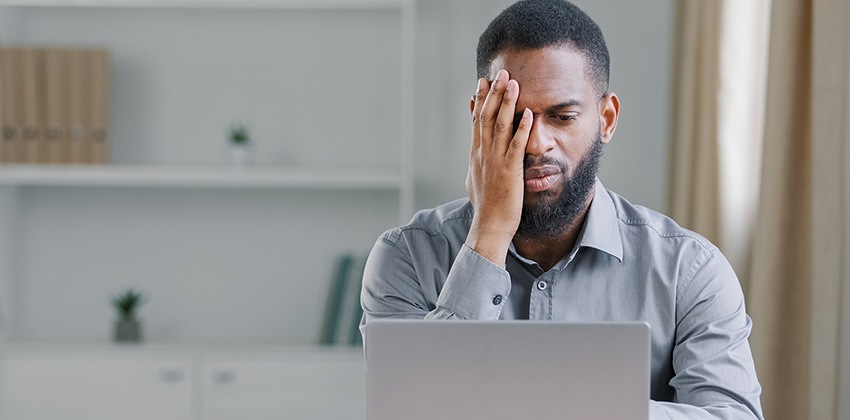 Whether this is your first job search or you're a seasoned pro, it's easy to make common job search mistakes if you're not looking for them. Before you know it, you've accidentally sabotaged your job search and aren't any closer to landing your dream job.
The good news is that you can learn from common job search mistakes and implement better strategies in the future. You might need to make minor tweaks and renew your focus in a few key areas, but with some attention, you can breathe new life into your job search and overcome any blunders that might be holding you back.
Top Job Search Mistakes and How to Avoid Them
Ask yourself if any of the following job search mistakes sound familiar. Then, adjust your approach.
Mistake #1: Not Tailoring Your Resume and Cover Letter
Sure, the job search process would be much easier if you could submit the same resume repeatedly. On the surface, it seems like you should be able to. Your qualifications are the same regardless of which position you're applying to, right?
Well, yes, but that approach needs to be corrected for a couple of reasons. For one, if you don't customize your application materials, you'll struggle to get past applicant tracking systems (ATS). An ATS is set up to rank how well an applicant's skill sets align with the job requirements. And unfortunately, an ATS won't understand nuances in your bullet points. So, tailoring your resume to each role will ensure that your resume better aligns with the job.
Also, recruiters can spot a generic resume a mile away. Reports suggest you have less than 10 seconds to snag the attention of a recruiter or hiring manager. To stand out, you must let your passion for the job shine, rather than come across as if any job will do.
Mistake #2: Ignoring Networking Opportunities
Do you feel like you're too busy to take time away from more tangible job search tasks? Networking is one of those job search boosts that might not show immediate results. It doesn't always tally nicely in a spreadsheet, like the number of resumes you've submitted or follow-up emails you sent.
But networking is impactful in a completely different way. Frequently attending industry events, interacting in LinkedIn groups, and connecting with other professionals will boost your brand. And a strong brand can signal you as a thought leader, open doors, and keep your name top of mind when hiring managers consider their options.
Mistake #3: Neglecting Your Online Presence
How's your business card looking? Not the one you're carrying in your pocket but the virtual one that recruiters and hiring managers are analyzing. Are they seeing personal sites or social media profiles that lack professionalism, maybe even going so far as to have concerning posts and images?
Your online presence is your chief marketing agent, and it's working for or against you around the clock. Make sure the online message you're sending closely aligns with your resume.
Mistake #4: Failing to Research Potential Employers
When you're updating your resume, are you looking beyond the keywords? How will you align your job search materials with the company culture if not? What about during your interview?
One of the best ways to stand out in a competitive job market is by expressing your passion for the values the company stands for. That means you've got to dig deeper than the job description.
Take the time to research each employer before you apply. Set a time limit and review their website, career page, and social media. You don't need to dive too deep here, but you should understand whether the company is fun-loving, serious, community-focused, etc.
When you get a call for an interview, you can go back and take a more thorough look at the company and, hopefully, the hiring manager you'll be interviewing with.
Mistake #5: Applying to Too Many Jobs
Job search goals are great! In fact, they might be the critical factor in staying motivated in your job search and utilizing your time effectively. However, make sure you're not playing a numbers game, thinking that the best way to land a job is to submit as many applications as possible. Quality over quantity should be your mantra throughout your job search.
Look at your job search as it relates to your career as a whole. Rather than focus on this one stage of your professional life, focus on how it fits your long-term goals. Be selective about the jobs you apply to, ensuring they align with your strategy.
Mistake #6: Not Following Up After Interviews
Once you've finished the interview, you may think it's time to take a step back and give yourself a high-five. You've finished with this application, so there's no more that you can do, right?
That's not the case. Your job's not done after the interview. Not only do you need to send a thoughtful follow-up to the interviewers, but you'll also need to send timely follow-up emails to express your continued interest and stay top of mind.
Mistake #7: Limiting Your Job Search to Online Job Boards
Niche job sites are a gold mine for job postings. But they're not your only resource. Target companies you'd like to work for and proactively contact recruiters. Sending your application in when a job has yet to be posted can land you a role before it even makes it onto a job board.
Work through your network and attend industry-specific forums and networking events. When there are job fairs, either in-person or virtual, show up and interact with the recruiters.
You also want to expand your job search beyond large, well-known organizations and apply for various companies, including startups and midsized companies.
Mistake #8: Not Preparing for Interviews
Despite your friendly nature and ability to converse with anyone, you must prepare thoroughly for each interview.
Practice common interview questions and research employee reviews to look for mentions of specific topics that are discussed. Then, practice your responses.
Beyond preparing an elevator speech, review your body language and active listening skills to ensure you're conveying the message you intend to. If possible, work some mock interview practice into your schedule.
Mistake #9: Neglecting Professional Development
Job searching can feel like pausing your career. You step out of your professional trajectory while focusing on entirely different tasks. And while you're doing that, your industry continues to evolve.
As such, you should make time for professional development during your job search. Not only will you stay current with industry standards and software, but you'll also continuously increase your value to prospective employers.
As a bonus, you'll have something tangible to add to your resume, helping you avoid having to highlight any extended career gaps.
Mistake #10: Having Unrealistic Expectations
Balance your ambition with a bit of reality. You can make a career change, land your first flexible job, or achieve a higher salary with enough effort and the right strategy. But you probably can't do everything within a week or two.
Set career goals with room for what-ifs. Don't let yourself get so financially strapped that you must take a job that isn't a great fit. Instead, be realistic about where you're starting and what you must do to hit your target.
If you're pursuing a significant change, there's a good chance it will take longer than you'd prefer. You can do it, but set yourself up for success by being practical about how you'll get there.
Consider working with a mentor or career coach to create a realistic timeline that fits comfortably into your life and allows you to meet your needs.
Create Job Search Success
Navigating a job search requires strategy, persistence, and self-awareness. If you're struggling to gain traction, review this list and decide where to adjust your approach. Avoiding common job search mistakes can help you build your dream career.