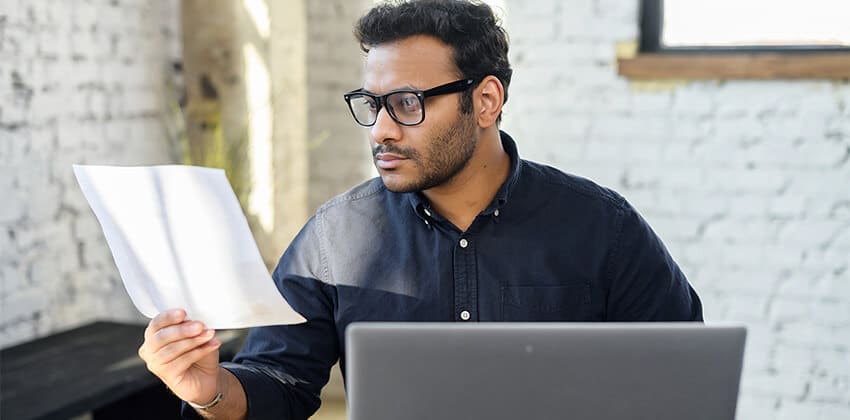 Cover letters. Who likes writing them? Not many people, that's for sure. But, they're a necessary part of the job search process. Although, if you look at the opportunity they present and find a simple template to follow, they might actually become your favorite part of the job search.
Why do we say that? Well, you already know that a tailored resume and cover letter are critical. So, you're most likely struggling to create a unique one for each job that catches the recruiter's eye, right? And ideally, you don't want to spend all day doing it.
Have no fear! With a few simple tips, you can make your cover letter stand out from the crowd. When you take a step back and realize the potential that a cover letter gives you to really express your enthusiasm for the role, you might start to actually enjoy the process.
Cover Letter Basics
Why do you need a cover letter to begin with? After creating a tailored resume, what more is there to share?
A cover letter helps the hiring manager better understand who you are and why you want to work for their company. It's more than just a piece of paper; it's your opportunity to tell your story. You get the chance to infuse your personality and energy into a cover letter with far greater impact than you can in a resume. You'll tell the recruiter what makes you the perfect person for the job by sharing your thoughts on aspects unique to the company and signifying your focus on this position.
Do You Always Need a Cover Letter?
While some resumes can get away without one, most recruiters expect to see a cover letter. After all, if you're passionate about working for a specific company, then it should be easy for you to explain why! Plus, using a cover letter gives you a chance to introduce yourself.
More: Are Cover Letters Necessary?
Basics of Writing a Great Cover Letter
Writing a good cover letter is like writing an essay. You need to make your piece interesting and exciting! You'll want to follow some basic instructions, and start with a clear introduction, but after that, it's all about your tone of voice and finding inspiration in the company's mission statement or job requirements. It might not be easy at first, but with practice, you'll find it's easy to express your enthusiasm.
What Should You Include in Your Cover Letter?
Essentially, your cover letter should include four key elements:
Who you are
What position you're applying for
How you got interested in the job/company/industry
What skills and experiences make you a terrific fit for the role
Here's an example of how you can put these elements together:
Dear Mr. Smith,
I am writing to express my interest in the open accountant position at ABC Inc. As I was researching your company, I found myself impressed by your mission statement and the strides you've made as a corporation over the past decade. You care deeply about your customers and their experience with your products. It's displayed in the volunteer events that your team participates in, such as the Habitat for Humanity build last December and your veteran support initiatives.
I was delighted to see an accounting position open up, as that is a perfect match for my skills and experience. Ever since I was little, I have loved numbers—they're so precise! So, taking an interest in finance seemed like a no-brainer when I went to college. While working for three years at XYZ Corporation as part of their accounting department, I managed the community giving fund. I realized that accounting roles do much more than just record numbers. They ensure that the company can continue to thrive and support its mission and goals.
I'd love to help you take the next step with ABC Inc. and grow your company even further! I look forward to meeting with you in person, and I hope that this letter shows you how truly invested I am in working for your team.
Sincerely,
[Name]
[Phone number]
[Email]
As you can see, the first paragraph shares what position the applicant is interested in and expresses interest in the company. The second explains why the applicant is passionate about the role and how their skills are a perfect fit.
Essential Cover Letter Guidelines
To make sure that your piece stands out, follow these guidelines:
Keep it under one page
Leave some white space
Use paragraphs, rather than bullets or blocks of text
Make it easy to read by using clear fonts and keeping the reader in mind
Use action verbs, present-tense, and active language throughout
Make sure that you reference specific job requirements. Don't just summarize your resume or say that you meet all their qualifications!
Proofread constantly for typos/grammar mistakes!
This last one is essential. Typos and spelling errors are the first things that employers will notice. If they think you aren't detail-oriented and can't communicate effectively through writing, they will generally send your submission to the "pass" file.
Writing a Cover Letter Without Experience
Can you write an effective cover letter when you don't have any experience in the field? Yes! Consider any volunteer experience that you've had. You can also use student internships, coursework from your major, or an alternative spring/summer program, like AmeriCorps.
If you're still having trouble thinking of experience that directly relates, focus on the skills that you have developed. Can you speak another language? Are you great at accounting for your budget every month? Do you know how to build a strong network of professionals in your field? Express your enthusiasm for the role and share how your transferable skills would be a great fit.
A Cover Letter Allows You to Share Your Story
Remember, the employer already has your resume. Your cover letter is meant to communicate why you think the company is incredible and why you'd love to work for them. This is an ideal place to show some of the research you've done. They'll see that you're not simply submitting applications en masse but genuinely think they are a great culture fit.