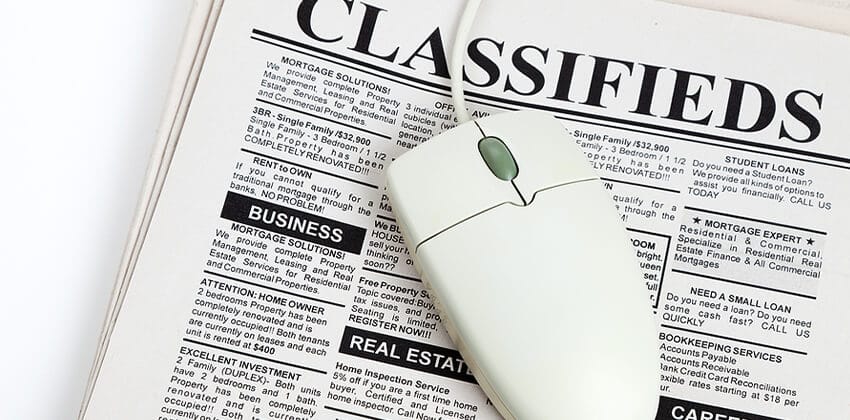 For decades, the newspaper classified ads were one of the most important sources of leads for most job seekers.
With ink-stained fingers, pens, and paper, job seekers in the past poured over the daily or weekly newspaper's Help Wanted classified section.
When we found promising ads, we followed up by telephone or typewriter.
Not so much, now…
The Internet has provided us with many new options and opportunities for job searchers and has also created new hazards.
Classified Jobs and Help Wanted Ads
In addition to the print newspaper, we have many more options today.
Instead of publishing traditional classifieds online, these classifieds usually appear only in their online form, and they are a useful source of job postings.
Craigslist.org

The most obvious of them is craigslist.org. The biggest and probably the oldest (founded in 1995), craigslist is an enormously popular online marketplace covering hundreds of locations in 70 countries and 15 languages.
Although ads originally were free, craigslist now charges employers to post their jobs. Now, the cost for employers in the USA is between $10 and $75 per job posting, depending on location.
Unless the employer notifies craigslist when a job is filled, the job posting remains viewable for 30 days.
Good news about craigslist –
Like local newspapers, craigslist is organized by location. Pick your location (far right column of the home page), and then choose your category of job from the list in the "jobs" column, as shown here on the left.
Because job posting is low cost for employers and because craigslist is so simple to use, small and medium-sized employers use it often. You will find real jobs with small employers on craigslist that you won't find anywhere else. You will also find job postings from larger employers as well.
Check out both the "jobs" and the "gigs" categories for options for you. As you can see on the left, jobs are organized into 31 categories.
Within each category, jobs are presented in reverse chronological order with the newest jobs presented at the top of the category.
When you view a job posting, craigslist tells you how old the posting (hours or days)is with a notice at the top.
By clicking on "jobs" you can search through all of the jobs posted for that location (but not the "gigs"), regardless of category. That can be a good option if someone has posted a job you want in a category you don't expect.
You can also, of course, click on the category you prefer, and search through the jobs posted in that category.
When you click on a job, craigslist tells you how old the job is at the top of the posting – in hours or days. Jobs stay on craigslist for 30 days, unless the employer deletes the jobs which have been filled.
Bad news about craigslist –
Be very cautious about posting your resume on craigslist.
Because the cost to post a job is low, "junk" is posted and so, unfortunately, are scams. You need to be relatively cautious and skeptical about applying for jobs you find online. Read 9 Characteristics of a Job Scam for more information.
Craigslist is self-policing through several "community moderation" methods. More than 15% of all craigslist postings are removed as a result of community input. Some cities appear to be more tolerant than others, so each craigslist location/site demonstrates its own unique personality.
See Job-Hunt's Guide to Using Craigslist to Find a Job for more details on effectively using craigslist for your job search.
Traditional "Help Wanted" Classifieds – Online
"Your mileage may vary" depending on the newspaper. Some do a very good job of posting local ads, and some outsource this part of their website to a big job board or a few smaller job boards.
These days, many newspapers have put those Help Wanted ads on their websites. For the web, these are usually unique listings, specific to the location. It is worth checking out your local newspaper's website to see if they post their own classified job ads on their website.
Local businesses like dentists' or doctors' offices, car dealers, and apartment complexes that have always advertised in the Help Wanted are still advertising there, but probably reaching a smaller audience. Often, those are the only places you will find those particular job postings online.
Sometimes the ads are presented as un-searchable images, organized into the traditional classifieds categories – perfect duplicates of the printed paper. Sometimes the printed classifieds are converted into searchable text.
Sadly, the number of those "classic" classifieds actually being published online seems to be declining.
Pseudo Classifieds
Many newspapers and other organizations outsource the "Jobs" portion of their website to employment super sites, often Indeed, CareerBuilder, or Monster. Essentially they provide a window into the existing database of jobs at a different site, quite disconnected from the "real" Help Wanted ads appearing in the printed editions of the paper.
The Bottom Line on Classified Ads Jobs
When it comes to online classifieds, craigslist really doesn't have any competition. Many (perhaps most) newspapers, the original source of classified ads, seem to have opted out of the job posting process and use jobs come from the traditional job boards.
---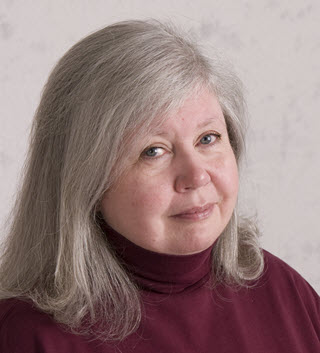 About the author…
Online job search expert Susan P. Joyce has been observing the online job search world and teaching online job search skills since 1995. A veteran of the United States Marine Corps and a recent Visiting Scholar at the MIT Sloan School of Management, Susan is a two-time layoff "graduate" who has worked in human resources at Harvard University and in a compensation consulting firm. Since 1998, Susan has been editor and publisher of Job-Hunt.org. Follow Susan on Twitter at @jobhuntorg and on Facebook, LinkedIn.
More about this author…